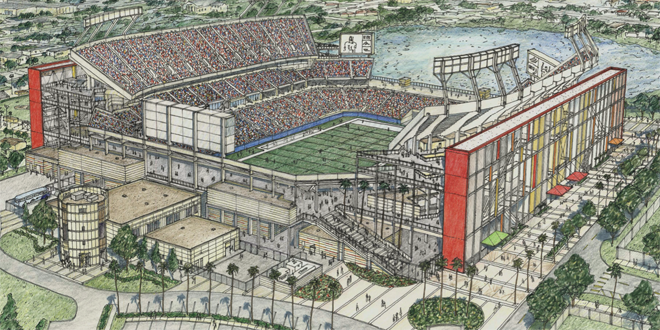 Help support the No. 1 Independent high school sports website in the State of Florida by becoming a FRIEND of FloridaHSFootball.com for as little as $3.00 per month by clicking here.
The FHSAA finally has let all the suspense go and announced today that Orlando will remain the home of the FHSAA State Football Finals.
First reported by Buddy Collings of the Orlando Sentinel, the two-year contract extension will extend the current deal for two more years going through the 2015-16 football season at the Florida Citrus Bowl.
The FHSAA Football Finals, which have been held in Orlando since 2007, have been hosted by the City of Orlando, The Central Florida Sports Commission and Orange County Public Schools. Edgewater High serves as the host school for the state finals.
Key financial stipulations remain unchanged for the extension which guarantees the FHSAA $250,000 if ticket sales meet or exceed $360,000. The guarantee is prorated if the guarantee is not meet on the ticket sales.
However, one of the biggest things that comes from the contract extension also includes a title sponsor.
Champion, which produces sports apparel, has signed a three-year deal with the FHSAA that pays the association $100,000 each year in connection to the football finals.
Champion is the first title sponsor of the FHSAA State Football Finals since 2009 when it was last sponsored by Dodge.
After the 2015-16 football finals conclude, the FHSAA will seek out bids for the state finals, something that will likely end Orlando's time of hosting the state finals  due to conflicts arising in the sports schedule for December 2016.
Some of those events that will occur in December 2016 will be a new college bowl game, the Cure Bowl as well as possibly needing the stadium for the Orlando City soccer team if they have to host an MLS playoff game. Orlando new soccer stadium is scheduled to host the NCAA's Women's Final Four for soccer around the same time as the MLS playoffs.
But for now the Citrus Bowl is expected to be ready come December.
"Stadium should be 95 percent complete," Dr. Dearing told FloridaHSFootball.com. "Some areas that the FHSAA does not use is part of the five percent [that will not be complete at the time of the state finals].
The FHSAA Football Finals is scheduled to take place over two weekends on December 5-6 and once again on December 12-13
Artist rendering of the new Citrus Bowl from the City of Orlando