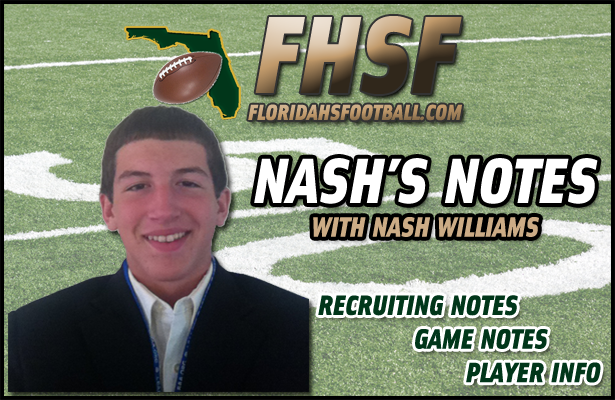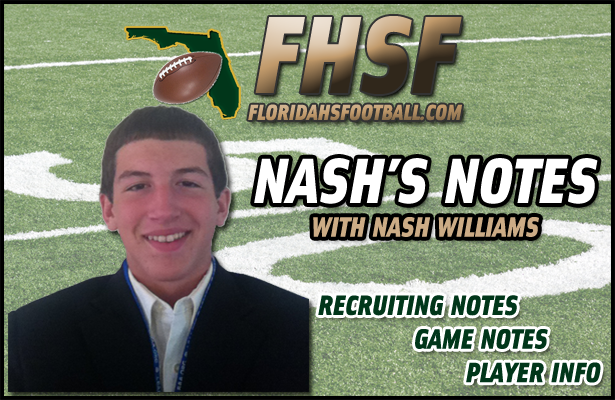 On a weekly basis now, I have introduced you to five new prospects in the state of Florida who are going to be making an impact heading into their senior season. While the class of 2014 is filled with magnificent prospects, the class of 2015 and 2016 are just as talented. Through camps, combines, and other off-season events I continue to learn about many more talented players. While I will admit I spend way too much time watching highlight tapes and scouting rising players, there is no better feeling for a player or coach knowing that their hard work is paying off and are making their presence felt.
MLB Cecil Cherry | 2015 | Frostproof | 6'2 | 224 | Watch Highlight Video
Aside from some of his great physical characteristics, Cherry is the heart of his team's defense. For most teams, running up the A-gap against Cherry is near impossible. Cherry is a real strong kid who has good pursuit and real nice tackling abilities. Just watching his highlights and seeing some of the violence he imposes makes me cringe. Cherry could be defined as the heart of the Frostproof defense and with a kid like him in the middle of your defense, you can breath easy as he will do one thing real well, make plays.
WR Isaiah Ford | 2014 | Trinity Christian | 6'2 | 174 | Watch Highlight Video
Aside from also being a standout basketball player, (Averaged 26.3 points a game), Mr. Ford is also getting it done on the gridiron. For a kid to be talented as he is, that speaks volumes about his athletic ability. He has decent size for a wide-receiver and has real nice leaping ability. Ford is as fast, if not faster than anyone else on the field. He really can take the top off the defense and beat you deep which is a major threat especially at the high school level. He has real good potential and can go as far as his hard work will take him.
LT Isaiah Wynn | 2014 | Lakewood | 6'3 | 270 | Watch Highlight Video
I have been watching and evaluating offensive lineman for a good deal of time now and I haven't seen one with as much upper body strength as Isaiah Wynn. That is a bold statement I know, but Wynn is easily one of the best tackles in the state. He has real nice footwork and is explosive out of his stance. That first burst is nearly enough to knock the opposing defensive lineman off their feet. He is a high-level tackle and is one of the most sought after prospects in the state. Wynn, in my opinion, could be just as valuable as Laremy Tunsil who was a big part of Columbia's success last year. Wynn is the real deal.
CB Duke Dawson | 2014 | Dixie County | 5'11 | 188 | Watch Highlight Video
This Florida Gators commit is a real talented one. He is, in my opinion, a kid who is multi-dimensional which makes him that much more of a intriguing prospect. He can be left on an island and he can also rush the passer. He isn't the fastest kid on the field, but yet, he is one of the most aggressive. Dawson stays real close to his man and allows very little, if any sepearation. He really does have all of the intangibles for an ideal corner. If you were imagining a perfect cornerback, Dawson would have a similar skill set to match it.
QB Treon Harris | Miami Washington | 5'11 | 180 | Watch Highlight Video
With his father as his coach, this talented prospect has a long lineage of football history in his family. Even though he is projected not to play quarterback in college, this is one of the best quarterbacks, not just in the state, but in the nation. After winning a state championship in 2012, Harris' hard work hasn't stopped as he is headed to Oregon for Nike's 'The Opening' this summer. With a strong arm and fast legs he is the head of this high-powered offense. It's hard to name an area of his game that needs work. He is one of the best.
If you have an up and coming prospect that you would like everybody to know about you can email me at Nashwillliams01@gmail.com or tweet me @Nashwilliams1