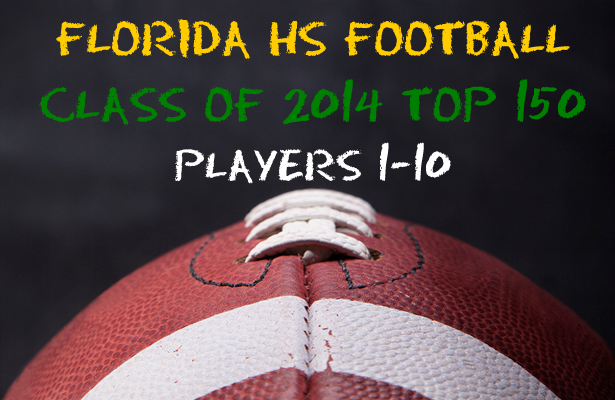 We are counting down the top 150 players in the state as researched, analyzed and complied by FloridaHSFootball.com staff members. While rankings are always subjective and players move up and down the charts, this list is meant to show you the fans who are some of the best players are in the state to keep a solid eye on this season and to see where they might head for their college career. Expect this list to change one more time right before National Signing Day, which will include information from the 2013 season.
Here are players 1-10 on the Florida HS Football Top 150.
1. RB Sony Michel | 5'11 | 205 | American Heritage (Plantation)
COLLEGE COMMITMENT: Georgia
We saw why a few years ago that Michel was going to be a special player when he started as a Freshmen, but tearing his ACL the first week in his sophomore year. However, as a junior he came back and hasn't skipped a beat since. Overall, when you look at his speed and agility to make to plays and score, you see why he is at the top of this list.
2. OT David Sharpe | 6'6 | 288 | Providence
COLLEGE COMMITMENT: Undecided
Sharpe is what everyone wants in an offensive tackle. He is smart, he has the right size and weight, plus did you know that he plays basketball? He will be under some great leadership this season as Tony Bosseli, the former Jacksonville Jaguar great, will be coaching the offensive line
3. WR Ermon Lane | 6'2 | 175 | Homestead
COLLEGE COMMITMENT: Undecided
Lane is one of the best wide receivers in the nation and he showed what he was made of last season and helped Homestead remain in playoff contention all the way until the very end. Lane also can kick return and play defensive back which could help a lot of the next level as well.
4. Dalvin Cook | 5'11 | 181 | Miami Central
COLLEGE COMMITMENT: Florida
Cook is part of the 1-2 punch in the backfield for Miami Central and he has been very instrumental in helping keep the Rockets a state championship contender the last few seasons. If you take one look overall at his film you will honestly know why he is in our Top 5.
5. ILB Kain Daub | 6'3 | 245 | Sandalwood
COLLEGE COMMITMENT: Florida State
Ever since transferring from Nease Daub has risen up the charts to become one of the top linebackers in the nation. His aggressiveness, strong instincts and his technique for tackling are just some of the biggest reasons Daub is here.
6. RB Joseph Yearby | 5'9 | 190 | Miami Central
COLLEGE COMMITMENT: Miami (FL)
Yearby is another reason why Miami Central has the best backfield in the entire state and possibly the nation. His speed, quickness to get up field and to score points have helped Miami Central become the team to beat in Class 6A and nevermind a coaching change in the process.
7. OT Kc McDermott | 6'6 | 301 | Palm Beach Central
COLLEGE COMMITMENT: Miami (FL)
McDermott is another offensive tackle that most Division I programs would love to have help block on everydown possible. However he is following in the footsteps of his brother Shane and this year he plan on helping Palm Beach Central win its district again and go deeper in the playoffs.
8. DT Travonte Valentine | 6'4 | 295 | Champagnat
COLLEGE COMMITMENT: Miami (FL)
Valentine is part of an impressive group of players that Champagnat will have this season on the roster. Valentine's aggressiveness to go after the ball is just one of the reasons why he is here. Valentine was at Bayside in Palm Bay prior to moving to the Miami-area and transferring into Champagnat for this season.
9. OLB Dillon Bates | 6'3 | 215 | Ponte Vedra
COLLEGE COMMITMENT: Tennessee
His father is former NFL pro Bill Bates and if you look at Dillon he is following very well in his father's footsteps. His commitment to Tennessee is just one part of the previous statement, but when you look at his ability to tackle and keep opposing teams from going anywhere, then you can see why he is one of the top linebackers in the country.
10. DE Chad Thomas | 6'5 | 240 | Booker T. Washington
COLLEGE COMMITMENT: Miami (FL)
Chad is who you want when it comes to an all-around defensive end. He is aggressive, gets off the line well and makes plays every time you need him to. He is just one of the many Division I prospects Booker T. Washington has for this season as they try to defend their Class 4A state championship.