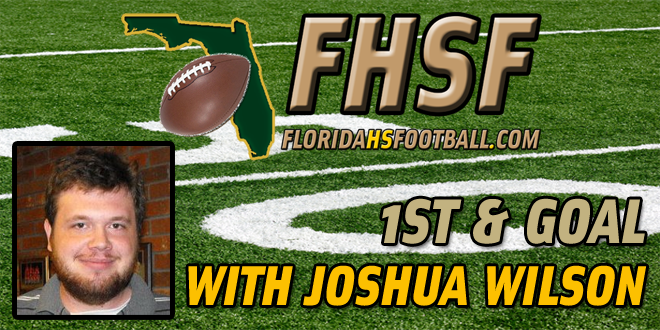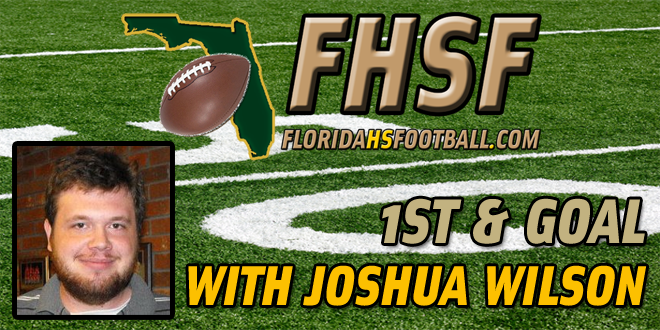 Welcome to the first edition of 1st & Goal in what hopes to become a weekly column on different thought and opinions from Florida HS Football Owner & Publisher, Joshua Wilson. I welcome you feed back at anytime in the comments section below, sending a DM to us on Twitter @FlaHSFootball or dropping an email to me at joshua.wilson@floridahsfootball.com.
This first column is free to everyone, but future columns will be available to MVP Subscribers. To subscribe for an MVP Account click here. Rates are $5.99 a month or $59.99 a year!
EAST GADSDEN
The unofficial start of the 2013 season started on Friday night when the East Gadsden Jaguars took the short trip over the state line to Bainbridge, Georgia to get their season going.
The Jaguars are starting this season with a new head coach in Trace Laing, but Laing is no stranger to the program having been an assistant under former head coach Corey Fuller. The Jaguars have several Division I prospects on the roster, so I thought this game would against Bainbridge would be an easy win for them.
NOT SO FAST!
Turns out after watching some highlights, Bainbridge got better on defense during the offseason compared to last season when East Gadsden took them into woodshed 33-14.
Actually, it turns out both teams really couldn't muster any points on offense except for the three points that Bainbridge manage to put through the up rights and that was enough for them escape with a home victory.
If the defense was this tough for East Gadsden I wonder what the result of the game will be this week when they host Pine Forest out of Pensacola. That should give us some indicators just which way East Gadsden is taking 2013.
APOPKA
I would like to forget about this game in all honesty.
Yes I know it counts on the record, but after Zack Darlington went down with the concussion he suffered, the game didn't matter at that point. At that point an Apopka come back was really out of the question.
However, I must focus on the game some because Apopka did show some sparkle in the early part of the game.
They certainly had two guys that made a name for themselves and will certainly be talked about a lot more on the recruiting circuit. Ray Ray Smith and Daquan Isom showed up big time in the game Saturday, showing us what the future of Apopka football could be like with their dominating speed and abilities to get the ball down field.
It is truly impressive they are just starting to get talked about now.
I will also throw a third player in here, Chandler Cox who will step in this week at quarterback and likely will be there until Darlington is cleared to return. He showed some promise with his skills and he is the future for Apopka once Darlington graduates after this season.
Besides the fact, Apopka showed it is still a title contender despite the loss and it should be a fun season watching the Blue Darters defend their state title.
LINCOLN
I seriously thought Lincoln was heading for a down season this year after making it to the state finals for the second time in three years. Well a lot of people thought that, but my opinion has since changed.
I surely thought South Gwinnett, Georgia would pull out a win over the Trojans (sorry guys), but again I was surely wrong.
Instead the performance Lincoln put on is what I would expect in a state championship game. No, seriously it would be!
Kendall Randolph was truly impressive on the field and I was not surprised he perform at a high level, but the rest of the team equally performed at the level of what Randolph was doing.
Here is a name I feel we should be watching out for (thanks to Lincoln assistant coach T.Y. Conyers for dropping this name) is WR John Burt. Burt put up 132 yards receiving, 2 touchdowns and had an interception on defense. Keep in mind Burt is only a junior, so I would suspect Burt is going to be a rising prospect this season and should be a big name in the 2015 class if he keeps up at this level.
Overall, I look for Lincoln to seriously blow by Pensacola this week after what I saw this weekend from this outstanding Trojans team.
UNIVERSITY CHRISTIAN
The defending Class 2A state champions went on the road to Kentucky to play a tough Highlands team. I will give it to them for accepting the challenge.
And for a while I thought they were going to get out with a win.
Highlands however proved its strength after University Christian started to take command and once they started scoring it was pretty much over for the Christians.
However, I don't believe for one second that this game will truly show what this team is made of for the 2013 season. I am a high believer that this team can easily repeat as the Class 2A state champions.
I know its been a longtime since University Christian has been talked about as a dominant team, but I think those days are finally back and looking at it is nice to see the rebirth of  a team that has a lot of pride and history under its belt.
BOOKER T. WASHINGTON
Saving the best team for last…yes that is what it is all about right?
The Tornadoes…oh wait the EF-5 Tornadoes just literally tore through what is now a previously ranked Top 5 Norcross, Georgia team.
AND THE TORNADO SIRENS SOUNDED IN FLORIDA!
No kidding about that last statement…they went off!
There are so many names to mention from the game here that just literally performed a track meet on a football field, I know I will likely miss someone, but in all honest the entire team was on their A game.
I was really impressed with Treon Harris' improvement at his position. Yeah he was great to start with, but he is even more dangerous now than he was against Bolles in the 2012 Class 4A state final. Lets throw in Krondis Larry at running back, Chad Thomas at defensive end and Lamar Parker at wide receiver…yeah you get the picture right?
Also let us not forget about Jordan Ingraham who literally blew up Norcross' Lorenzo Carter during the entire game. It was interesting just to watch ESPN having to try to defend themselves as one of their five-star prospects got taken down during the game and didn't want to give Ingraham the credit he deserved.
Overall, the GAME OF THE YEAR is under two weeks away against Miami Central at Traz Powell Stadium. This will likely determine which team should be the likely mythical national title holder this season.
I am excited to watch this team do what it did Saturday night the rest of the season.
1st & Goal is a weekly column on different thoughts and opinions about current trends and topics on high school football in the Sunshine State, written by Florida HS Football Owner & Publisher Joshua Wilson.