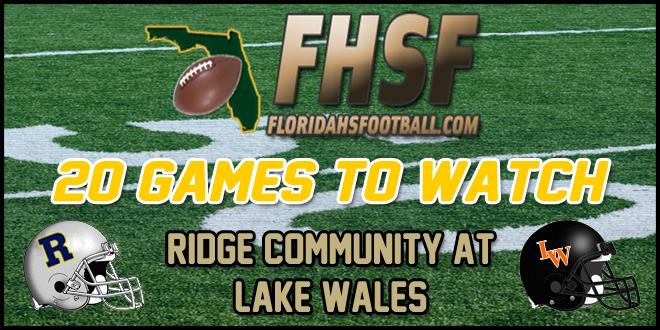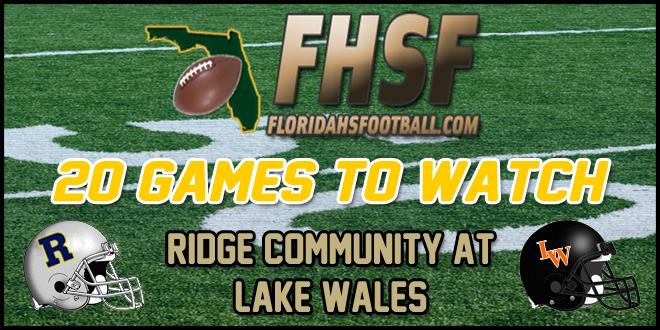 20 Games To Watch – Week 1
Free Florida HS Football MVP Preview (Signup Today – $5.99/mo. or $59.99/yr.)
WHO: Ridge Community Bolts at Lake Wales Highlanders
WHEN: Friday, 7:00 P.M.
WHERE: Legion Field, Lake Wales
RECORDS (FROM 2012): Ridge Community, 9-3; Lake Wales 8-5
PLAYERS TO WATCH
Ridge Community: FB/LB Inglesson Sanon, Sr., RB Kareem Smith, Sr., WR Isaiah Harvey, Sr., QB Michael Chandler, Sr.
Lake Wales: QB Railond Garrett, Sr., RB Justin Henderson, Jr., OL Luke Heirs, Jr., DB Dedric Brinson, Sr.
QUICK HITS
Ridge Community: The Bolts have a new head coach coming into the season in Russ Rogers. Rogers might sound familiar to people from the Panhandle, who was once the head coach for the Vernon Yellow Jackets. For the Bolts, they are having to replace several key playmakers from last season that won the district over Lakeland and will also have to fill in a hole at quarterback as well. However with plenty of talent back on the roster, Ridge Community should be a team to keep an eye on District 7A-5.
Lake Wales: After dropping the district title to Auburndale, the Highlanders pushed deep into the playoffs making it to the regional finals before falling to Class 5A state runner-up Immokalee. The Highlanders are looking to have a strong junior class that will see a lot of action and that could put help put the Highlanders back on the map this year. This might be one team that could be a state title contender later this season or possibly next season.
INSIDE THE NUMBERS
139 – The amount of points Ridge Community allowed all season in 2012.
20.5 – Average amount of points Lake Wales scored per game in 2012.
2 – Lake Wales head coach Rod Shafter has been the head coach for Lake Wales two times, first from 1989 until 2001 and again since the 2006 season. Where was he between 2002 and 2005 you ask? Shafer was the first head coach at NAIA program, Webber International in nearby Babson Park.
THE RANKINGS
Ridge Community is ranked #11 in the Florida HS Football Class 7A Super 12. Lake Wales is unranked in the Class 5A Super 12. Neither team is ranked in the Florida HS Football Media Poll – Large Schools Division.
WHAT COULD HAPPEN
This game could go either way like some of the other season openers are looking to be projected at as well. Both teams are almost evenly matched talent wise, but Lake Wales seems to be pulling more of an advantage here because of the strong junior class it will have on the roster. Overall, expect points to be scored and someone to come out on top in the end of this one.
ADVANTAGE: Lake Wales