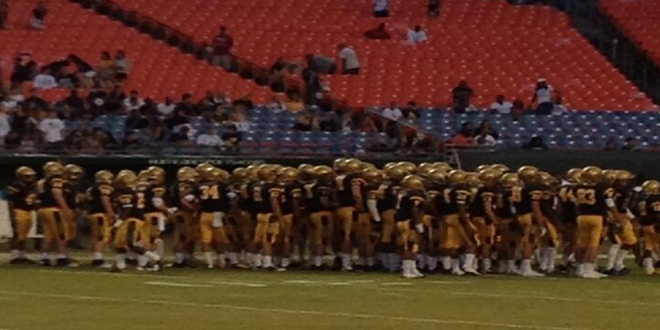 Miami Gardens –  It took many years to see two of South Florida's most powerhouse programs face each other when the Miami Northwestern Bulls and the St. Thomas Aquinas Raiders met for the first time at Sun Life Stadium on Saturday night. However the result was not what fans were looking for.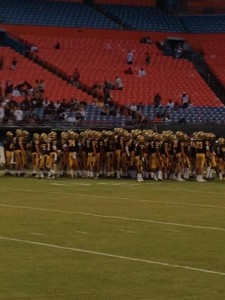 The Raiders went all out to put on a performance that proved why that they will add to their history this season, defeating Miami Northwestern 38-3.
"It was a great win for us; Miami-Dade has some great schools," said Raiders coach Rocco Casullo. "We played tremendous in all three phases of the game, I'm proud of my guys."
\
Between both teams, they have combined for 12 state championships and three national titles.
St.Thomas Aquinas (1-0) started off slow early in the game, but the third possession it was a turn around for the Raiders and they never looked back.
The Raiders' offense took control in the first quarter with running backs Deltron Sands and Madre London, each scoring touchdowns to build a wide lead and crushing the Bulls' defense along the way.
Miami Northwestern had a chance to make it a closer game in the first half when Leon Brown ran the ball to the 1-yd line, but came up short.
St. Thomas Aquinas kept the ball on the ground during the second half, helping to protect their wide-margin lead.
Trailing already by 31 at the start of the 4th quarter, Miami Northwestern got it's only points when kicker Ruben Piraquvie nailed a 30 yard to make the score 31-3.
However, that would not last very long.
On the next possession, the Raiders answered back when backup quarterback Jake Rizzo hit Devante Peete for a 60-yard touchdown pass to increase the score to 38-3. It would be the last score for St. Thomas Aquinas on the night.
The Bulls' defense attempted to make the game close, but their offense struggled all game and could not muster and rhythm to add points to the scoreboard, something that has been an issue since spring football.
Miami Northwestern (0-1) will host Jacksonville Raines next Saturday night at Traz Powell Stadium in Miami in a Miami versus Jacksonville showdown, while St. Thomas Aquinas (1-0) will be off in preparation for a September 13 match up against national powerhouse John Curtis from Louisiana.