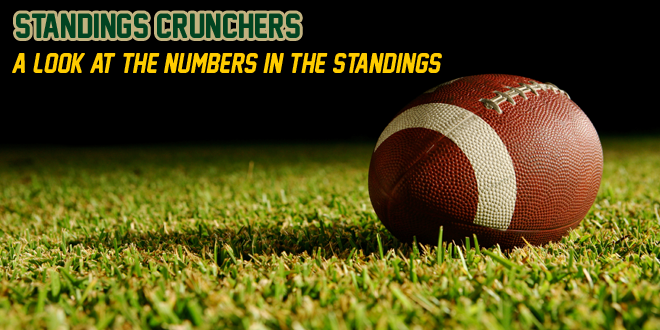 After three weeks of high school football already in the books we take an in depth look at the numbers from the standings and the points scored. A lot of this information you may not see right off the bat when look at a standings page so this where we do the work to bring you that information.
There are only seven  teams in Class 8A that have qualified for the 100/42 Club after three weeks in. It is a very elite group that rewards both offenses and defense for a job well done on the field. However, you ask where did we get 42 from. 42 is the number of points allowed with in the first three weeks which averages out to just 14 points per game allowed. Minimum three games played was required.
Here are the teams in the 100/42 Club after Week 3:
Niceville – 141/27
Atlantic Coast – 108/6
Fleming Island – 114/28
Haines City – 134/31
East Lake – 119/0
Fort Myers – 127/20
Dwyer – 119/7
Note: Bartow is at 104/23 with only two games in, so we want to denote the performance they have put on despite the fact they didn't meet the three game minimum to be in the 100/42 Club.
There were a few teams that came close to making the cut those include: Charlotte (119/67); Eau Gallie (109/44) and West Boca Raton (108/69).
UNDEFEATED TEAMS LEFT IN 8A AFTER WEEK 3: 20
Teams giving up the most amount of points? It is there and we hate to point this out, but with the good there is also comes the bad in some of these numbers. Here are the teams that have given up over 100 points so far this season.
Chiles – 118 (Record 0-2)
Oak Ridge – 116 (Record 1-2)
East Ridge – 119 (Record 0-3)
Celebration – 115 (Record 0-3)
Durant – 107 (Record 0-3)
Clearwater – 140 (Record 0-3)
Lakewood Ranch – 100 (Record 1-2)
Hollywood Hills – 126 (Record 1-2)
South Broward – 124 (Record 0-3)
Goleman – 104 (Record 0-3)
Hialeah Miami-Lakes – 109 (Record 0-3)
Here are some other crunchers to chew on for now:
– Only four teams have given up 7 points or less through three weeks of the season: Dwyer (7 points); Port Charlotte (6 points); East Lake (0 points) and Atlantic Coast (6 points)
– Niceville's 141 points scored within the first three weeks are the most by any team in Class 7A
– District 7A-3 and District 7A-11 are the only two districts to have multiple teams that have scored more than 100 points in the first three weeks of the season.
– All five teams in District 7A-3 have a winning record, the only Class 7A district through three weeks to achieve that feat. Overall combined record is 24-6
– Lakeland, Bartow and Ridge Community are a combined 7-0 after three weeks and District 7A-5 is an overall 11-4 through three weeks.
– Five teams (Gateway, Harmony, Liberty, Osceola and St. Cloud) are 1-2 right now in District 7A-6
– East Lake has literally shut out every team so far through three weeks including Largo (Largo had two players suspended the night they played East Lake, so that is a factor to consider in this cruncher).
– Braden River only undefeated team left in 7A-11? Seems like this district got flipped upside down. Besides the point, could this be the year for the Pirates?
– District 7A-5 and 7A-11 are the only two district to have more than two teams still undefeated through three weeks of the season.
– Eau Gallie and Viera are the surprises this year in District 7A-12. Both teams which have had struggles in recent years are a combined 6-0 through three weeks.