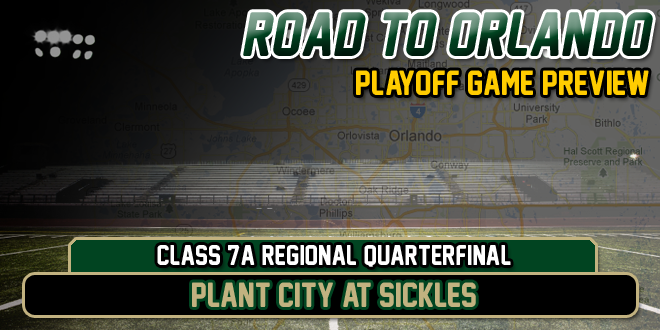 WHO: Plant City Raiders at Sickles Gryphons
WHEN: Friday, 7:30p
WHERE: Gryphon's Lair at Sickles High, Tampa
TEAM RECORDS: Plant City, 8-2 | Sickles, 9-1
HEAD COACHES: Plant City – Wayne Ward | Sickles – Bryan Turner
LAST PLAYOFF APPEARANCE: Plant City – 2010 | Sickles – 2009
The Storyline
Sickles is a district champion for the first time in school history, but this will be the fourth playoff appearance overall for the Gryphons. Plant City has been to the playoffs since 2010, but comparing the 2010 team and the current team, it is clear that Plant City is doing a lot better. However, for Plant City they have not won a playoff game since 1999 when they defeated Venice on the road 35-28. For Sickles, they have not won a playoff game in school history, but this team that is young will be looking to make even more history like they have done so far this season.
[divider] The Turning Point
The turning point for Sickles in getting to the playoffs this season started last season where they just missed the playoffs in heavy-loaded District 6A-8. Despite a loss to Plant mid-season, it actually helped the Gryphons build upon the goal already at hand. For Plant City, the turning point came at the time they lost to East Bay 19-13 in their second District 7A-8 contest this season in a 19-13 decision in favor of East Bay. After dropping one more game next week to Tampa Bay Tech, Plant City won out the rest of the district to force a tiebreaker that resulted in them in becoming the District Runner-up.
[divider] Key Players
Sickles – The key player to watch has definitely got to be junior running back Ray Ray McCloud III. He has been the workhorse of the offense this season amassing over 1,700 yards on the ground so far. Look for him to be the key factor for this game.
Plant City – As weird as it might sound the key players to watch are going to come from the line on this team. OG Montel McBride has been living up to his billing this year while DE Sedrick King has been able to give opposing defenses headaches. Key note to watch is to see if McBride shift to the defensive line for a plays that could be part of stopping Sickles' offensive attack.
[divider] Average Scoring & Points Allowed
Plant City – PF: 274 total points / 27.4 ppg | PA: 131 total points / 13.1 ppg
Sickles – PF: 357 total points / 35.7 ppg | PA: 116 total points / 11.6 ppg
[divider] Predictions
Florida HS Football – Sickles 36, Plant City 10
Massey Matchups/USA Today – Sickles 34, Plant City 14
Joe Pinkos – Sickles 20 over Plant City