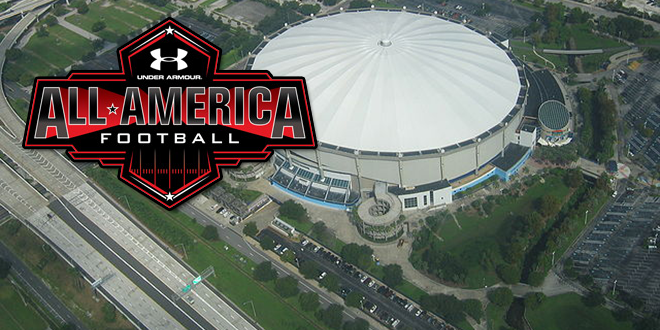 ST. PETERSBURG – The 2014 Under Armour All-America Game had its fair share of surprises and glimpses into what we can expect on the collegiate field over the next few years. Team Highlight led by University School (Fla.) quarterback Sean White and Arlington Martin (Texas) defensive end Myles Garrett, defeated Team Nitro by a 31-21 score inside Tropicana Field.
White opened up the scoring with a 23 yard touchdown pass to Westlake (La.) product Jacory Washington with 6:19 left in the opening frame. The two teams would trade several first half drives that resulted in punts a missed field goal and an interception Adoree Jackson with 4:29 left to go in the first half.
Coppell (Texas) kicker Adam Centers and Team Highlight attempted a field goal with no time left on the clock to close out the first half, but was blocked by Paramus Catholic (N.J.) CB Jabrill Peppers. However, on the play, Team Nitro was flagged for illegal defense forcing a redo on the field goal attempt which was made by Centers from 25 yards out bringing the score to a 10-0 Team Highlight halftime lead.
Team Nitro would pull within three on the opening drive of the second half as Miami Central (Fla.) RB Dalvin Cook took a score in from 12 yards away. Cook's 12 yard run would be the game's only rushing touchdown while the Florida commit would run for an Under Armour Game record 82 yards on eight carries.
Three of the next four scores would then come from Team Highlight including one 64 yard touchdown catch from Texas A&M commit Speedy Noil. The Edna Karr (La.) product, who committed to the Aggies in the first quarter of the game, collected 116 all-purpose yards with 90 of those yards coming through the air.
Before a crowd of 21,031, another New Orleans-area product, Leonard Fournette of Saint Augustine would seal the deal for Team Highlight with 7:48 remaining off a 36 yard Sean White pass. Minneapolis (Minn.) Washburn RB Jeff Jones would then close out the scoring via an 18 yard Morgan Malalak throw with 6:30 remaining.
Defensively, Arlington Martin (Texas) DE Myles Garrett would collect six tackles with four for loss and a sack. The Texas A&M commit's four tackles for loss tied an Under Armour Game record, shared by current Ohio State DE Noah Spence in the 2012 game.
Sean White was named MVP for Team Highlight, while Jeff Jones grabbed the honors for Team Nitro.
Commitments in the game are as followed:
1st Quarter: Speedy Noil (Texas A&M)
2nd Quarter: Travis Rudolph (Florida State); Jamal Adams (LSU)
Halftime: Gerald Willis III (Florida)
3rd Quarter: Tony Brown (Alabama); Jalen Tabor (Arizona)
4th Quarter: Leonard Fournette (LSU)