After posting one of the highest Nike SPARQ scores of the year on Saturday in Orlando (117.03), 2015 Orlando Olympia running back Dexter Williams saw his first two offers roll in. First from the Miami Hurricanes on Monday, next from the Florida Gators on Tuesday.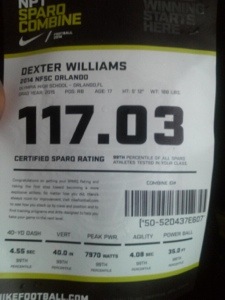 "I was focused and I had my mind set on what I was going to do," said Williams. "I just went out there and did work. Then at the end of the day, I just came out on top.I was proud of being underrated, and finally, the hard work paid off."
Williams, a six-foot-one, 190-pound tailback, is known for his overall athletic ability and his burst around the edge. He is easily one of the fastest kids in the state with a 4.45 40-yard dash, something that colleges like in him.
"Right after practice my coach called me and he said that I needed to call Miami, because they want to talk to you," said Williams. "So I called Miami and I was on the phone with (running backs coach Hurlie) Brown and we had a nice little talk. So he just offered me right there on the spot."
"Hurlie was telling me that I need to come down. He says he wants me in the family and that we could talk about more things when get down there," said Williams. "I don't really know what it is, but It's Miami so it's got to be some good things."
Then, Will Muschamp's Florida Gators came calling on Tuesday and offered the 2015 star. Also, Williams has visited Gainesville a few times he says.
"The Florida offer was basically the same thing, my coach told me to call Florida, and we just got straight to business,"said Williams. "Coach Brian White kept telling me that I was an excellent player and that I could do big things for us and then he offered me officially."
Williams has all of his attention right now on his football career, but he knows football isn't going to be in his life forever.
"I'm looking for academics," said Williams. "Because I'm not gonna have football all my life so I'm looking for the best offer and the best thing I can get. I'm looking for someone who is gonna be on me about academics and make me better."
Williams, who is often referred to as "Flex-Man Dex," can expect a lot more offers in the near future.
You can view Williams' highlights here.
Featured image courtsey of Dexter Williams' Twitter account.