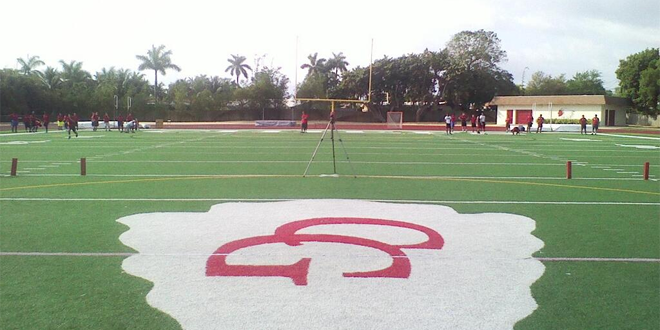 As the high school football offseason rolls on, another great exposure opportunity comes along as well.
This one being the Elite Scouting Services combine at Cardinal Gibbons high school in Fort Lauderdale.
All the players were tested in the 40-yard dash, vertical jump, and 5-10-5 shuttle, then also did position-specific 1-on-1's.
Top Perfromers:
2015 Stranahan OC Keyion Batten:
Where do I begin with this stud? Batten was the most dominant player all day without a doubt. His low center of gravity gave him a nice edge against opposing defensive linemen. His play style was flat-out relentless and aggressive. Taking every repetition he could get, Batten was the ultimate competitor today.
"I wanted to come out here an compete. I was not letting the man in front of me beat me," said Batten.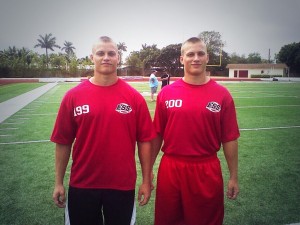 2015 Miramar DL Bryton Dieujuste:
Dieujuste has been a key component for Miramar these past few years and will now look to be one of the stars as his Senior year approaches. Dieujuste has a great burst off the line and displayed that against opposing offensive linemen. At 6-foot-3, 210-pounds, Dieujuste will likely be playing linebacker at the next level. He has been receiving interest from UCF, Arkansas, and Kentucky.
"During this offseason I've been improving on everything. Academics, and trying to be the best player at my position," said Dieujuste
2015 Coral Shores ATH's George and Henry Jacobsen:
Hard to think of a set of twins anywhere in the country as athletically gifted as these two brothers. As they both play on both sides of the ball at running back and linebacker. Henry ran the fastest 40-yard dash of the day with a 4.57. However, his brother, George has been battling a leg injury lately which has kept him from being 100 percent.
"We just wanted to come out here and show everyone that we belong," said George Jacobsen. "This is a great event that would give us some great exposure."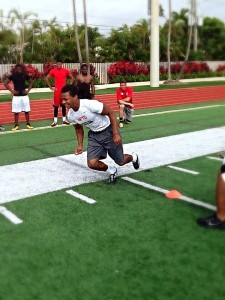 2015 Coconut Creek ATH Korron Rozier:
An outstanding athlete who is ready to bring the Coconut Creek program to the next level. After a good showing at the Miami NFTC, Rozier carried some of that momentum into the ESS combine. Rozier can play a multitude of positions for the Cougars but in college Rozier will thrive in the slot positon.
"I've been receiving a lot of recruiting interest but I really like UCF. I could see them offering me during spring," said Rozier.
Other top performers:
2015 Blanche Ely OL Rochelin Ronain
2015 Blanche Ely CB George Heck
2015 Miami Central RB Malik Witherspoon
2017 St. Thomas Aquinas ATH Zaire Jacobs
2015 Fort Lauderdale WR James Gardner
2015 Deerfield Beach DE Jason Strowbridge
2016 American Heritage-Delray LB Lawrence Graham
2015 Miramar DL Darrel Swanson