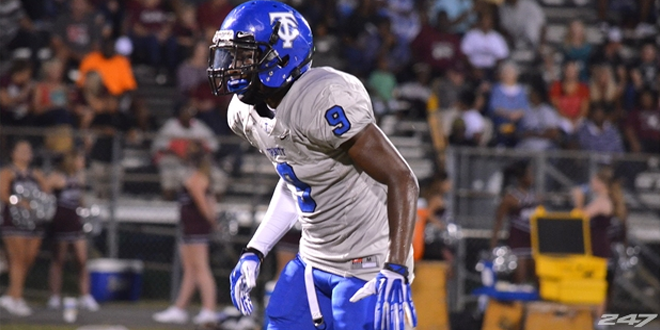 Ben Edwards
Safety
6'0″
195
Trinity Christian (Jacksonville)
Class of 2015
The Recruiting Rankings
247 Sports Composite: 302 (National), 40 (FL) | Profile
247 Sports: 56 (FL)
Rivals: 183 (National), 29 (FL) | Profile
ESPN: 170 (ESPN 300), 32 (FL) | Profile
Scout: NR | Profile
Current Verbal Commitment
Auburn
Question & Answer

Q: Who did you receive your first offer from?
A: Memphis during 10th grade.
Q: What is the most important thing you look for in a school?
A: The coaches, have to be comfortable with them, the atmosphere, the defensive scheme, the school itself such as the tradition, and the education.
Q: What is a hidden talent you have that people don't know you are able to do?
A: I'm pretty good at basketball.
Q: What is on your pre game playlist?
A: My pregame playlist consists of Migos, Rich Homie Quan, Lil Wayne, Rick Ross.
Q: In 3-4 years where do you see yourself?
A: I see myself a successful businessman having multiple businesses and starting my rookie season in the NFL.
Q: What do you plan on studying in college?
A: I plan on studying Business Management.
Q: When did you have that moment where you knew you had the talent to play at an elite level in college?
A: I had that moment my 10th grade year.
Q: Who do you model your game after?
A: I model my game after Ed Reed, Sean Taylor, and Earl Thomas.
Q: Growing up what college football team were you a fan of?
A: I was a fan of Georgia and Florida.
Q: What is your favorite movie
A: My favorite movie is Friday Night Lights.
Q: If you could meet any celebrity who would you pick?
A: I would like to meet Ray Lewis
Q: What do you like to do in your free time?
A: I like to hang out with my friends and play PS3.
Q: What is your favorite quote?
A: "The only place success comes before work is in the dictionary."
Highlight Video

Photo courtesy of prospect's 247Sports Profile