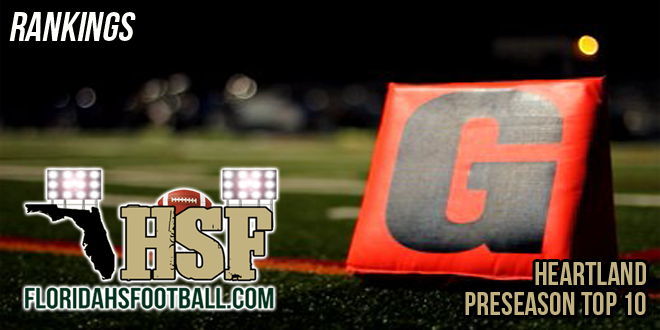 Help support the No. 1 Independent high school sports website in the State of Florida by becoming a FRIEND of FloridaHSFootball.com for as little as $3.00 per month by clicking here.
Each year the Heartland Region show some of the most exciting teams in the state willing to put it on the line and they are going to do it again
LIKE WHAT YOU SEE? To follow updates each week during the season for regional rankings, you will need to be a subscriber to our MVP Subscription service. Sign up for $4.99 per month or $49.99 per year by clicking this link. Are you a high school coach? Email us at football@floridahsfootball.com for a special discount code.
THE VARSITY MESSAGE BOARD: Share your thoughts on the Heartland Top 10 | Register for a FREE username
Below is our Heartland Region Preseason Top 10 Rankings with 2013 records in parenthesis.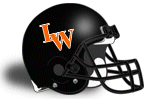 1. Lake Wales (9-5)
Why: Nevermind that longtime coach Rod Shafer resigned to take the Warner Southern college job and several graduating seniors are gone; the Highlanders have plenty of talent back to get back to the state semifinals. Offensively, the only missing piece was at quarterback but the Highlanders were blessed when Xavier Gaines (1290 yards/12 TDs, 665 rushing/7 TDs) transferred in from nearby Frostproof. Joining Gaines will be returners senior tailback Earnest Johnson (672 yards, 5 TDs), senior tailback Justin Henderson (1676 yards, 28 TDs) and senior wide receivers Darion Staten (533 yards, 8 TDs) and Marcus Walker (230 yards, 1 TD). The defense returns senior linebacker Eddie Joseph (92 tackles, 7 sacks), senior linebacker Robert Wimbley (45 tackles, 7 sacks), junior lineman Chonsey Christian (33 tackles, 3 sacks), senior defensive back Javoris Taylor (45 tackles, 3 sacks) and junior lineman Deondre Pride (11 tackles, 4 sacks).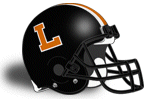 2. Lakeland (9-2)
Why: The stunning loss to arch-rival Kathleen and season ending loss to nemesis Osceola in the first round of playoffs should serve as plenty of motivation for the Dreadnaughts this season. Before the loss to Kathleen, the Dreadnaughts had won 38 regular season games in a row, with the last loss being a forfeit over Venice in the 2010 season opener. The entire backfield is back senior quarterback Aaron Johnson (831 passing, 9 TDs, 692 rushing, senior tailback Ra'don Dwight (718 yards, 18 TDs), sophomore tailback AJ Davis (826 yards, 5 TDs) and senior fullback Jacob Sundey (205 yards, 2 TDs). Being one-dimensional with a lack of big passing plays hurt the Dreadnaughts; the emergence of James Robinson (So., WR) and Leroy DeShazor from Lakeland Christian should help. One secret weapon the Dreadnaughts rely on is junior kicker Zack Feddeler, who converted 26 of 28 point after attempts and 2 of 3 field goals including a 41-yarder.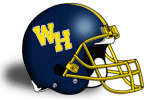 3. Winter Haven (9-3)
Why: As if winning its first district title in three years and advancing to the second round of the state playoff wasn't enough to get people excited about the Winter Haven program, the Blue Devils got attention around the state by shocking the 2013 Class 8A state runner-up from Apopka 31-29 in the spring. 102 kids came out for spring practice, including sophomore quarterback William Tate (18 of 29 for 292 yards, 4 TDs) who stood out in the spring game and has emerged as a new leader. Both tailbacks Keland White (Lakeland Christian) and D'angelo Gaines (Frostproof) transfered out, leaving newcomers seniors Tekendrick Roberson and Brandon Bivins as their replacements. Darius James and Darius Phi'lon both seniors seem to be the front-runners for both receiving positions.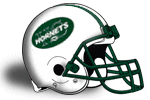 4. Haines City (7-3)
Why: Despite going 7-3 last season, Haines City found itself sitting home come playoff time. To make sure that doesn't happen again this season, the Hornets will rely on a defense led by senior athlete Derwin James (FSU commit), Tavon Cox (Jr., LB), BJ Henderson (Sr., DB), Demaris Span (Sr., DB), Fenold Dorismond (Sr., LB) and Frank Burges III (Sr., DB). James primarily plays defensive back but may seem playing time at several positions on offense and special teams as well. With only one returning lineman back, the Hornets have changed things up on offense and will need time to adjust under its new head coach.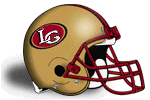 5. Lake Gibson (7-3)
Why: If history has shown us anything over the years, its you can count on Lake Gibson making the state playoffs as since 2000, the Braves have missed the playoffs just twice in fourteen years. The Braves are loaded again on both sides of the ball, the only question mark in the spring was who was going to play quarterback, either senior Casey Whitaker or senior athlete Hunter Orem. Whomever win the battle will have plenty of weapons including senior tailbacks Chris Clarke (338 rushing/ TDs, 383 receiving/3 TDs) and Thomas Boles (670 yards, 12 TDs), junior tailback Derrien Bomar (136 yards, 3 TDs) and senior wide receiver Sammie Jackson (490 yards, 4 TDs). The defense could be one of the best in the county led by sophomore linebacker AJ Deshazor (84 tackles, 2 sacks), year starter senior linebacker Demetrius Brown (51 tackles), senior lineman Reuben Jones (87 tackles, 8.5 sacks), senior lineman Prince Thomas (44 tackles, 3 sacks), Orem (35 tackles, 3 INTs) and Bomar (49 tackles).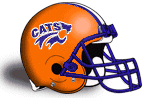 6. Hardee (11-2)
Why: While the front four will be young inexperienced players, the rest of the defense is back including senior linebacker Jerry Browdy (58 tackles, 4 sacks, 3 INTs), senior linebacker Ricky Delarosa (60 tackles, 5 INTs), junior cornerback Marco Deleon (6 INTs, 29 tackles), senior linebacker Derrick Graham (51 tackles, 4 sacks) and junior cornerback Trequan Holley (27 tackles, 2 sacks). Four returning lineman should help senior tailback Keyonte Holley (1078 yards, 9 TDs) have another big year on offense. Newcomer sophomore Hayden Lindsey will play quarterback and rely on senior receiver Jordan Jones to make plays.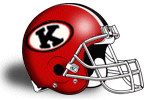 7. Kathleen (9-3)
Why: Their first win over arch-rival Lakeland in 20 years propelled Kathleen to its first district title in six years and to the second round of the playoffs. Head coach Irving Strickland wants his players to move on and begin the task of repeating as district champs. Replacing their starting quarterback, tailback and wide receiver was the top priority for the Red Devils in the spring. Senior Roddrick Haynes moves from receiver to quarterback while junior Marquis Zimmerman moves from receiver to tailback. Haynes will rely on Zimmerman and newcomers sophomores receivers Shelton McNeil and Jermeil Battle in the passing game. While the offense develops the defense, which returns eight starters, will have to carry the team.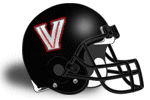 8. Victory Christian (10-4)
Why: Victory Christian rode a huge wave of momentum all the way to the Class 2A state finals. But after losing 17 seniors, they'll have a lot of fresh faces next season as just four starters on offense and four on defense return from last season. A big reason the Storm are expecting to get back to Orlando is the return of senior athlete Caleb Lewis. Lewis started at quarterback (3025 passing/28 TDs/13 INTs, 126 rushing/5 TDs), kicker (30 of 42 PATs, 2 of 4 field goals) and punter (36.67 average). Lewis will have help from senior tailback Brice Ford (553 yards, 3 TDs) and junior wide receiver Sterling Stanley (138 yards, 2 TDs). Senior defensive back Jethro Francois (85 tackles), junior linebacker Gerald Poleon (76 tackles), senior defensive back Josiah Powell (23 tackles, 3 INTs) join Frostproof transfer senior linebacker Cecil Cherry (90 tackles, 4.5 sacks, 1 INT) on the defense.
9. Lakeland Christian (7-3)
Why: Despite having one of the most explosive and high scoring offenses in the county, Lakeland Christian was sitting home come playoff time, thanks to blow out district losses to Frostproof and Tampa Catholic along with a close loss to Fort Meade. The third leading passer, rusher and receiver in the county all return for the Vikings offense. Senior quarterback Christian Alexander (1865 passing/22 TDs/4 INTs, 152 rushing/4 TDs), senior tailback TJ Simmons (1257 yards, 11 TDs) and junior receiver RB Marlow (571 receiving/8 TDs/833 all-purpose yards) are all back as is sophomore receiver Larenz Deshazor (383 yards, 3 TDs). The key for the Vikings is can a defense that gave up 125 points in its three losses, get a lot better and not break.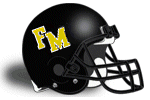 10. Fort Meade (8-2)
Why: An unusual thing happened last season, despite going 8-2, shockingly the Miners missed the playoffs stopping a 16 year consecutive run in the playoffs after making the playoffs 18 out of the last 21 years. Junior athlete Tyler King (850 rushing/7 TDs, 203 receiving, 1123 all-purpose) and senior athlete Ryan Fulse (561 yards, 4 TDs, 50 receiving/2 TDs) will be the leaders on an offense which is searching for playmakers while newcomers Jesse Hearson (Jr., QB), Isham Alexander (Jr., RB) and Malik Mills (Sr., WR) develop. Defensively, sophomore Ladarius Clark, senior linebacker Malik Bighems and senior lineman De'Andre Holley will be the leaders.
THE VARSITY MESSAGE BOARD: Share your thoughts on the Heartland Top 10 | Register for a FREE username