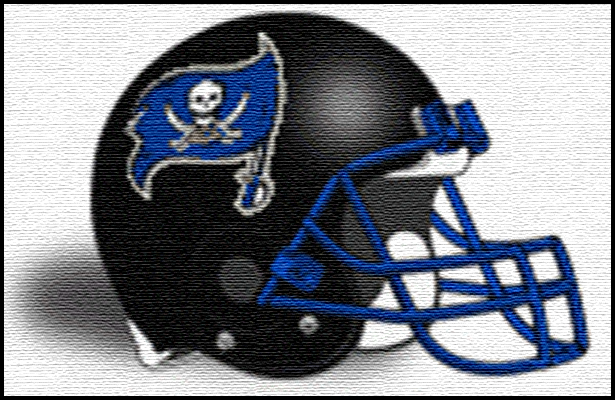 JACKSONVILLE – For most teams, a 41-6 victory is an occasion filled with excellent performance throughout the game.
Tonight was not the case for the First Coast Buccaneers.
The Buccaneers turned the ball over two times in the first half as well as committed a large number of penalties, resulting in a few Ribault drives being extended.
The up and down offensive performance by First Coast was alleviated by a stellar performance by the defense led by linebacker Sherrod Pittman.
The game started off fast for the Buccaneers as they scored on their first drive, however things quickly went downhill.
Quarterback De'Andre Johnson threw two interceptions, one of which was returned for a touchdown by Ribault defensive back Charles Williams. Johnson finished the evening 13-21 for 245 yards, four touchdowns and two interceptions.
The momentum turned in First Coast's favor for good on the first play of the second quarter when wide receiver Jerad Washington took a handoff from Johnson for 48 yards and a touchdown as he weaved past Ribault defenders en route to the end zone.
As the game wore on the Buccaneers found their footing offensively.
Wide receiver Tristan Payton led the way with seven catches for 109 yards and one touchdown. Washington had 96 yards of total offense and two touchdowns on three touches. Wide receiver D.J. Matthews added five catches for 70 yards and one touchdown while running back Xavier Jones chipped in 63 yards on the ground with seven carries.
However, the Buccaneers defense stood out just as brightly as the offense.
The Buccaneers defensive line was the key defensive highlight as they pressured the Trojans quarterbacks all night, amassing six team sacks.
One of the negatives that First Coast will have to work on is staying discipline. The Buccaneers committed over 140 yards worth of penalties, more yards than what the Trojans offense was able to gain against a stiff Buccaneers defense.
And although the scoreboard showed a big victory, First Coast Coach Marty Lee was disappointed with his team's performance.
"We didn't play very good… We can't play like that and beat playoff caliber teams in the future… We gotta get a lot better," Lee said.
While the offense was up and down from Lee's view, the defense was impressive.
"The defensive unit shut them out, we throw a pick for a touchdown… they don't cross the 50 yard line except for penalties. I'm very impressed with the defense. We've always prided ourselves on defense at First Coast," Lee added.