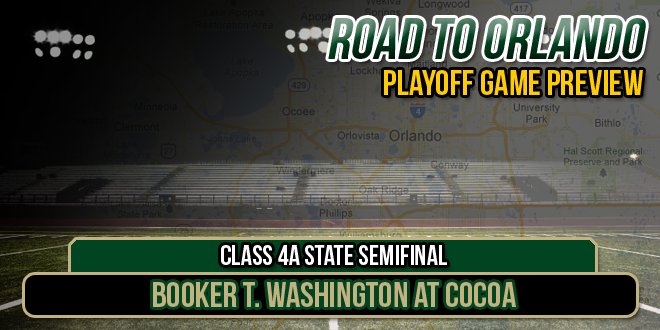 Win Tickets to an FHSAA State Championship Game! Click here to register!
Booker T. Washington (12-0) at Cocoa (11-1)
Last Week's Results: Booker T. Washington def. Glades Central, 35-7; Cocoa def. Clewiston, 26-21
Looking Ahead: Winner players the winner of the Bolles/Madison County game in the Class 4A state championship game.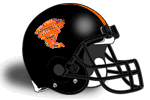 About Booker T. Washington: The Tornadoes come into this game riding on a 38-game win streak, which is the same number of wins Cocoa had on their win streak in 2011 before getting knocked by Colerain, Ohio that year. The 38-game win streak for the Tornadoes however, is a Miami-Dade County record, breaking the previous record of 37 games previous held by Miami Northwestern from the mid-2000's. Through the first two rounds of the playoffs the Tornadoes have outscored their opponents, 106-7. That is huge, but the first round opponent, was certainly nowhere near the level that most would consider for the playoffs while Glades Central, fell flat last week and didn't put up the challenge some think they might have been able to produce. The Tornadoes have certainly not had to worry about who would lead at quarterback after seeing Treon Harris graduate after last season as Maurice Alexander has done a wonderful job leading with over 2,300 yards passing and 24 touchdowns with only three interceptions having been thrown so far this season. The Tornadoes have also had a strong season in the ground game with Mark Walton having rushed already for over 1,100 yards and 18 touchdowns. If anything, the Tornadoes will be hard to contain for Cocoa considering the stats.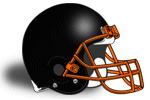 About Cocoa: The Tigers have have played a tremendous schedule like their counterpart at Booker T. Washington, even if the strong opponents came from in state and not out-of-state. The Tigers, which only loss came to out-of-state Trinity, Kentucky, it was not a brutal loss as that game proved to be a tight one as most expected. Through the first two rounds of the playoffs, the Tigers have walked through a game without blinking against Avon Park, while facing a tight battle with Clewiston on the road. Now, Cocoa is back home and will need to play a solid game in all three aspects of the game to be able to keep Booker T. Washington from winning their 39th straight game which dates back to 2012 and getting their first state championship berth since 2010. Bruce Juson, who is only a sophomore has had a solid season, with nearly 2,000 yards passing this season and completing 31 touchdown passes, while only having 4 passes being intercepted. Judson also has another 10 touchdowns on the ground this season as well. The ground game has also been highly effective for the Tigers, having seen Justin Weaver, put over 1,300 yards on the ground through 168 carries and 17 touchdowns. Effectively, this game could be a game with a lot of offensive explosion and very little defense if Cocoa has it their way.
Prediction: Booker T. Washington