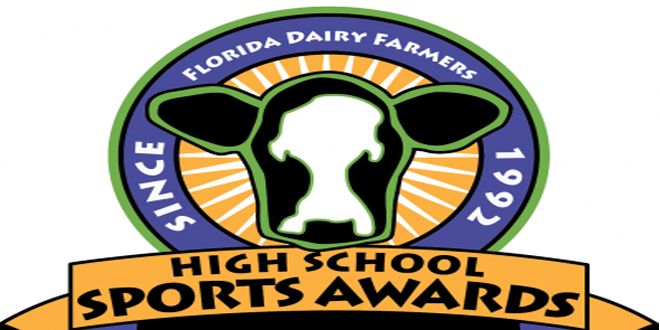 GAINESVILLE (December 8) — The eight individual class finalists for the 2014 Florida Dairy Farmers Mr. Football and Football Coach of the Year have been announced following balloting by a statewide panel of high school football coaches and prep media representatives.
Every finalist was the leading vote-getter in their classification, making each one the Player of the Year or Coach of the Year in his class. The two overall winners will be announced following a final round of balloting by coaches and media.
Following are the eight finalists for the 2014 Mr. Football Award:
De'Andre Johnson, Senior, Quarterback, Jacksonville First Coast, Class 8A Player of the YearJohnson, an FSU commitment, threw for 3,697 yards and 47 TDs (9 INTs), capped by 7 TD passes in regional final loss, to break Tim Tebow's single-season area records; added 342 yards, 9 TDs rushing for 12-1 Bucs.
Tucker Israel, Senior, Quarterback, Orlando Lake Nona, Class 7A Player of the Year Israel, a Clemson commitment, completed 315-of-470 passes (67%) for 56 TDs with 11 INTs to finish his prep career with state-record marks for completions (968), attempts (1,522), yards (14,082) and TDs (162).
Byron Cowart, Senior, Defensive End, Seffner Armwood, Class 6A Player of the Year Cowart, the nation's No. 2 recruit (ESPN), led a defense that posted 9 shutouts and allowed just 51 points for the 14-0 state finalists with 62 tackles (41 solo), 11 sacks, 18 TFL, 7 QBH, 5 FF and 3 blocked punts.
Torrance Gibson, Senior, Quarterback, Plantation American Heritage, Class 5A Player of the Year Gibson, an Ohio State commitment, paced the defending state champs back to the state final by passing for 1,815 yards and 19 TDs with only 2 INTs and rushing 134 times for 981 yards (7.3 ypc) and 12 TDs.
Ronnie Harrison, Senior, Quarterback, Tallahassee Florida High, Class 4A Player of the YearHarrison, an Alabama commitment, was 125-of-209 passing for 2,060 yards and 15 TDs with only 1 INT, ran for 1,029 yards and 15 TDs and accounted for 3,455 all-purpose yards and 35 TDs for 8-4 regional finalists.
Brandon Ziarno, Senior, Quarterback, Melbourne Central Catholic, Class 3A Player of the YearZiarno's final prep season was his best yet, completing 212-of-303 passes (70%) for 3,111 yards and 44 TDs with just 2 INTs while adding 202 yards and 5 TDs on the ground for the 10-2 regional-finalist Hustlers.
Caleb Lewis, Senior, Quarterback, Victory Christian, Class 2A Player of the Year Lewis, the reigning Class 2A POY, led last years' state runner-up to this year's state title, completing 159-of-273 passes for 2,613 yards and 32 TDs with 8 INTs, capped by a 384-yard, 6-TD effort in the state final.
Jarkeice Davis, Senior, Port St. Joe, Running Back, Class 1A Player of the Year Davis rushed 282 times for 2,160 yards (7.7 ypc) and 36 TDs, capped by a 146-yard, 2-touchdown performance in the Sharks' 16-0 state championship win over Hamilton County.
Following are the eight finalists for the 2014 Football Coach of the Year:
Devin Bush, Pembroke Pines Flanagan, Class 8A Coach of the Year In his first year in charge at Flanagan, Bush directed the Falcons to a 13-1 record and their first district and regional championships en route to their first state semifinal appearance.
Bob Hudson, Tarpon Springs East Lake, Class 7A Coach of the Year Hudson has built a strong program at East Lake, this year guiding the Eagles to a 13-1 record and district and regional titles leading up to their second straight state semifinal appearance.
Scott Wilson, Daytona Beach Mainland, Class 6A Coach of the Year Wilson's Buccaneers have been a contender year-in and year-out, and 2014 was no different as they posted a 13-1 record in advancing to their second straight state semifinal, their third in four years.
Jamie Rodgers, Live Oak Suwannee, Class 5A Coach of the Year In three years, Rodgers has restored the Bulldogs' tradition, capping it off with this year's 12-2 season in which they won their first district title since 2003 and made their first state semifinal appearance since 1999.
Tim Harris, Jr., Miami Booker T. Washington, Class 4A Coach of the Year Harris, a first-year head coach and son of legendary former coach Tim "Ice" Harris, directed the powerhouse Tornadoes to their second straight 14-0 record, fourth straight state final and third straight state title.
Verlon Dorminey, Jacksonville Trinity Christian, Class 3A Coach of the Year Dorminey, the reigning Class 3A COY, led the Conquerors to an 11-2 record, their second straight state title and the program's fifth state championship in his impressive 24-year tenure.
Mark Buchanan, Largo Indian Rocks Christian, Class 2A Coach of the Year In his 10th year at the helm, Buchanan led last year's state semifinalists to their best year in program history that included an unbeaten regular season, their first state final appearance and a 12-1 final record.
John Palmer, Port St. Joe, Class 1A Coach of the Year Palmer's Sharks were one of the major surprises of the 2014 season, posting a 12-2 record and winning three straight playoff games on the road en route to their fourth state championship, their first since 2005.