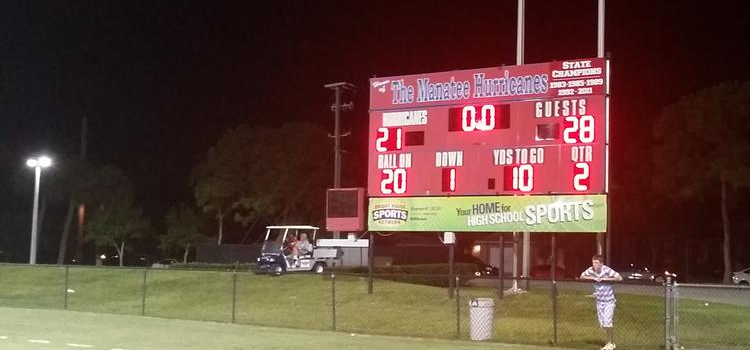 Manatee defense shuts down Venice
The first matchup of the night faced the Venice Indians against rival Manatee high. Manatee used a swarming defense to shut down the Indian offense en route to a 17-0 win in two quarters of play
The Hurricanes offense was led by QB AJ Colagiovanni. Colagiovanni accounted for 96 yards of total offense including a 44 yard touchdown pass.
The Hurricanes defense swarmed to the ball all night, limiting the Indians offensive output. The hurricanes defense added an interception that they returned for a touchdown.
Kicker Nick Null added a 44 yard field goal to round out the Hurricanes scoring.
The Indians offense struggled to gain footing against the Hurricanes defense. Quarterback Bryce Carpenter led the way with 65 yards for the Indians.
Venice scores a win against the Dreadnaughts
The Indians used a Zach Carr field goal with 2.1 seconds left to beat the Lakeland Dreadnaughts 10-7.
The Indians were led in this game by the rushing efforts of Malik Bryant and Carpenter. Bryant had 26 yards of rushing including the only touchdown for the indians while Carpenter added 48 yards.
The Dreadnaught offense showed flashes of promise on offense but never were able to capitalize. The Dreadnaught offense was hampered by two interceptions on tipped passes in Indian territory.
The only score of this half for the Dreadnaughts was on a 75 yard punt return for a score by Tariq Young.
Lakeland steals away the victory against Manatee
The nightcap featuring two of Florida most prominent football teams certainly lived up to the hype. The Dreadnaughts pulled out a seemingly improbable win over the host, driving 83 yards in 32 seconds to score the game winning touchdown to win 28-21 after Manatee had a second and goal from the two only to fumble away the ball.
The Dreadnaught offense awoke in this game led by spectacular efforts by running back AJ Davis and Wide Receiver James Robinson, Davis accounted for 161 yards rushing and one touchdown while Robinson accounted for 130 all-purpose yards including two touchdown catches. Tariq Young added another touchdown catch for Lakeland.
Manatee was stunned in the final seconds to ruin a spectacular showing by wide receiver Kavious Price. On a night where Price was recognized as part of Manatee's state championship 4×100 relay team, Price showed off his speed for the Hurricanes. Price had touchdown runs of 80 and 65 yards for the Canes where he simply out ran the defense. The Hurricanes returned a fumble for a score to round out the scoring.