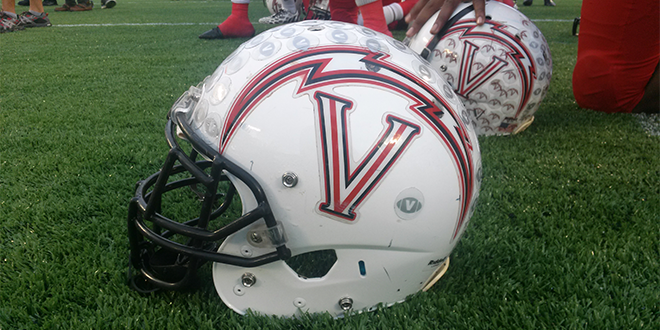 From Lakeland to Frostproof, from Arcadia to Avon Park, it is no secret the Heartland Region is home to some of the best players and traditions round the state.
Nine teams across the region made the playoffs last season, however only Victory Christian and Lakeland Christian advanced past the second round.
A year after falling short in the Class 2A title game, Victory made sure it didn't happen again, claiming the programs first ever state title behind a 54-16 win over Indian Rocks Christian.
In four playoff games, Victory scored at least 40 points every game and was challenged just once in a tight 41-34 win over Warner Christian in the second round.
Lakeland Christian escaped Melbourne Central Catholic 32-26 in the first round and had little trouble with First Academy 53-27 in the second round before falling to Trinity Christian (Jacksonville), the eventual 2014 state champion, 43-28 in the state semifinals.
Winter Haven and Lakeland both advanced to the second round of the state playoffs, but was knocked off by South Fort Myers and Osceola (Kissimmee) respectively.
Bartow, Auburndale, Lake Wales, Avon Park and DeSoto County all fell in the first round of the playoffs.
Can Victory do it again and repeat? Will Lakeland Christian be this year's Cinderella team to make it to the state finals?
For these and other questions we will soon find out.
Chasing History
The four county area (Polk, Highlands, Hardee, Henry) that makes up the Heartland Region has seen its share of success over the last 50 years with 17 state titles and 25 state runner-up finishes.
Here is a list of the areas state champions and state runner ups.
State Champions
Haines City (1973)

Bartow (1977, 1985, 1996)

Lakeland (1986, 1996, 1999, 2004, 2005, 2006)

Avon Park (1987, 1988)

Frostproof (1974, 1992, 1999)

Fort Meade (2004)

Victory Christian (2014)
State Runner-Ups
Hardee (1965, 1988)

Avon Park (1966)

Auburndale (1967)

Kathleen (1968)

Haines City (1971, 1991)

Frostproof (1972, 1981, 1991, 1996)

Fort Meade (1973, 1993, 1999, 2000, 2001, 2003, 2005, 2008)

Lake Wales (1993, 1994)

Lake Gibson (2003)

Victory Christian (2006, 2013)

Lakeland (2008)
Coaching Changes
Of the 100+ coaching changes across the state, only four of those changes were in the Heartland Region.
Auburndale:Kenneth Graham, Billy Deeds

Bartow: Jason Butler, Jake McCrae

Lake Region: Randy Howze, W. Gee Roe (interim)

Lake Placid: Jason Robinson, Jerry Hundell
Up and Coming
Jordan Christian Prep announced it will have football and basketball as the school opens for the first time in 2015.
According to the Lakeland Ledger, the small private school located in Auburndale named Grady Morrell III as its inaugural football coach. Morrell, who starred at Victory Christian and Webber International,  is expecting to field a team between 25 to 30 players this season.
The team which, will be nicknamed the Seahawks, will take on a full varsity schedule this season with other teams around the state including Warner Christian, Foundation Academy and Carrollwood Day.
Jordan Christian Prep was just recently accepted as a member to the Florida High School Athletic Association.
Airing It Out
Hundreds of teams get on a bus and drive hours across the state and sometimes even across state lines every weekend competing in 7-on-7 tournaments.
The lure to compete against some of the top teams in the state and nation, has led to regional and national championships over the years.
However, for every 200 teams that compete, there are 50 that choose to stay in town and compete against local teams during the week and work on team unity.
Avon Park, Hardee and Sebring are three teams who chose to stay home and compete each week.
On a warm Tuesday afternoon over the summer, Hardee, Avon Park and Okeechobee traveled to Sebring to kick off the Heartland 7-on-7 league, now it its third year.
"We're just trying to get a little competition and find chemistry with the team," Sebring quarterback Brian Lane told the Highlands Today.
It's not really a question of who wins or loses, as scoring is hardly tracked, the whole purpose of the league is just to get in work and get better before the real season begins.
"We're just looking to see how kids compete and if they're doing we're coaching them to do," Sebring coach LaVaar Scott told the Highlands Today.
Getting Dirty
While high school football teams all over the state concentrate on sending all of their skill players every weekend to 7-on-7 tournaments; in many cases the rest of the team is often ignored.
Lineman aren't allowed to take part in 7-on-7 and have to rely on college camps and other camps to get work in over the summer and to get college recruiters attentions.
One of the best known camps to attend every summer is held in the Heartland Region.
For the 23rd straight year, hundreds of lineman compete against some of the best lineman from Florida and surrounding states at the Bishop Dullaghan Down and Dirty camp at Webber University.
Over two days, more than 600 lineman faced off in friendly one-on-one drills, Oklahoma drills and individual drills from high school and college coaches.
The two-day camp is ran by former Lake Wales and current Warner University football coach Rod Shafer.
"The game changes and if you don't change with it, you will be a dinosaur. I was a veer coach for a hundred years at Lake Wales but the spread is here. Kissimmee Osceola is really good at long arming (blocking), so we bring in one of their coaches to teach that," Shafer told the Lakeland Ledger.
Two local kids Lake Gibson senior Michael Wiggs and Ridge Community were a few of the 600 players on hand.
"I came in (last year) and was able to get conditioned for summer camp and school. I feel like I picked up one or two things technique-wise. I am a technician and I was able implement these things into my game," Wiggs told the Lakeland Ledger.
McDonald, who claims eight Division-I offers including, Marshall, USF and Tulane, told the Lakeland Ledger, ""I like it because it is real physical. I like that they focus on linemen, both offense and defense. We all help each other."
Road Trip
When a University of Georgia coach came to visit a kid during spring practice and didn't end up offering him a college scholarship, one coach decided to do his part to make sure this wouldn't happen again.
Former Texas Tech defensive back Ricky Sailor, who was working as an assistant coach at Tampa Jefferson, saw the event and came up with a brilliant idea.
Sailor gathered some kids and drove them to Georgia's football camp and one of those was offered a scholarship right there.
A year later, Sailor founded Unsigned Preps and began a bus tour with 23 players visiting several college campuses and the Unsigned Preps Bus Tour was born.
This summer, there were two busses with 80 kids including two from Avon Park, Montrae Braswell and Warren Buckner, who toured South Florida, Florida, Georgia Tech, North Carolina, Clemson and Georgia. Other coaches from Michigan, Central Michigan, Savannah State and Eastern Kentucky were also on hand at various stops.
"It's a great thing for them to be seen by the different colleges," Avon Park football coach Wade Jackson told the Highlands Today. "The colleges want to get the players on campus and see them, time them in the 40 and see them first-hand."
Buckner said "It's a great learning experience and there's nothing like stepping onto the field of a school like Clemson or Georgia. It makes you want to get there and you grind harder the next day.
"You can't help but improve when you're going against the likes of the players they made the trip with. "They're some of the top players in the nation," he said. "It's fun being around that atmosphere and competing and getting better every day."