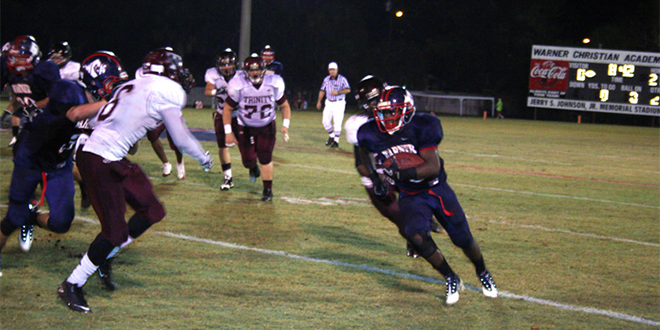 From Daytona Beach to Altamonte Springs, in all parts in between, the East Central Florida region is home to some of the best teams and players in the state annually.
As the 2015 season begins, will a loaded Mainland that has come up just short of the state finals three of the last four years be able to take that next step and get to Orlando finally?
Longtime Lake Brantley coach George Clayton calls it a career after this season. Will the Patriots rebound and send Clayton home with another long playoff run?
Several players across the region decided to leave their old program for a new one. Who made the right decision?
The answer to these questions and more will unfold over the season so stay tuned.
Turmoil
Before 1999, Warner Christian was a little unknown christian school in South Daytona that not many likely outside the Daytona area knew about.
However, that all changed when assistant coach Andy Price was elevated to head coach. From 1999-2011, Price not only put Warner on the map locally he made them very well known across the state.
In 13 years, the Eagles were 113-45 under Price, including 12 state playoff appearances and three consecutive Class 1A state title game appearances from 2008-2010.
After falling in the Class 2A state semifinals to North Florida Christian, Price made the tough decision to leave Warner Christian and take over a fledging Titusville program.
Since Price's departure the transition at Warner has been anything but a smooth one for ensuing coaches.
Former Palm Coast coach Steve Allen was brought in and he kept the tradition going guiding the Eagles to a 20-4 record, including third and second round playoff appearances.
But that apparently wasn't enough for Allen to keep his job as he was let go after the school decided to part ways, stating they wanted a coach on campus every day.
Former Warner Christian athlete DJ Mayo was brought in for the 2014 season and guided the Eagles to the second round of the playoffs before losing to eventual state champion Victory Christian.
Mayo's tenure didn't last long though as he resigned in June after the school dropped football class the final semester of the school year.
Unable to have kids workout in the off-season during school hours put the kids behind according to Mayo.
As the 2015 season begins, Warner is now in the midst of its third coach in three seasons as assistant coach Chris Green stepped into the role.
Green started summer workouts with low numbers as several key starters perhaps seeking stability left the school and transferred to nearby schools.
Among the players leaving were junior quarterback Anthony Butler (Seabreeze), freshman athlete Blake Hinson (Deltona), junior receiver/defensive back CJ Wilson (Mainland), senior lineman Omar Calderon (Mainland), senior linebacker/end Jerric Harris (Mainland), junior linebacker David Youkon (Spruce Creek) and sophomore defensive back/receiver Brandon Jenkins (Spruce Creek).
Down to 15 players, the school made the tough decision to down grade its non-district schedule dropping Deltona (Kickoff Classic), Port Orange Atlantic (Aug. 28) and Matanzas (Sept. 11) and adding St. Pete Canterbury (Kickoff Classic), Jordan Christian (Aug. 28) and Belle Island Cornerstone (Sept. 25).
Despite the schedule changes, the Eagles will remain in District 2A-3 with Deltona Trinity and Halifax Academy meaning their 13-year consecutive playoff appearance streak remains in tact.
On The move
After years of playing in the shadows of Mainland, Seabreeze and Warner Christian; Father Lopez appears to be on its way back to becoming relevant again.
In the 1980's, under Bud Asher, the Green Wave made the playoffs five out of seven years (1982-1988) including two second round appearances.
However since 1988, the Green Wave have only been back four times in the last 26 years.
The school, which opened in 1959, moved to a brand new 98 acre campus during the summer of 2008 accross from Daytona Municipal Stadium.
Perhaps the change was a symbol of what was to come, out with the old and in with the new.
Current head coach Jason Dunlap took over a 1-9 team in 2010 from Jim Sweeney and began an unbelievable turn around. Dunlap went 2-8 his first year, progressed to 5-5 in 2012, 5-6 in 2013 including a first round playoff appearance and 5-5 last season.
Just when it looked like Father Lopez was appearing to turn the page and become relevant again, fate interfered.
Several players during the off-season decided to leave the up and coming program and transfer to bigger schools.
Among those leaving were senior athlete Brant Williams (459 receiving yards, 698 all-purpose yards, two touchdowns) to Mainland, senior receiver/safety Nick Eastman (250 receiving yards, one interception, 30 tackles, three touchdowns) to Spruce Creek and senior lineman CJ Williams (46 tackles, 10 sacks) to Mainland.
Dunlap does have some talent back to keep the building process going including junior quarterback Josh Spencer (1,312 yards, 11 touchdowns), senior athlete Marquis Williams (793 rushing yarsd, 13 touchdowns, 1030 all-purpose yards), senior lineman Juwan Ross (69 tackles, seven sacks), junior linebacker Roman Mack (48 tackles, 10.5 sacks) and Dominique Digioia (263 receiving, one interception, 23 tackles).
Since the move enrollment has steady increased including an all-time high of 483 students surpassing the record of 438 set the previous year.
With enrollment going up and the football program continuing to make progression it looks like Father Lopez is finally heading in the right direction now.
Swan Song
These days longtime Lake Brantley coach George Clayton gets around the campus and practice via four wheeler.
Back trouble has limited Clayton's mobility over the past few seasons ultimately forcing Clayton to retire at the end of this season.
That wasn't always the case though, Clayton (149-69) has roamed the sidelines of Tom Storey Field at Darvin Boothe Stadium for 18 years guiding the Patriots to 14 playoff appearances, five district titles and an appearance in the 2006 state title game.
Lake Brantley opened in 1973 taking kids from nearby arch rival Lake Mary. Success on the field didn't come immediately though as the Patriots went 15 years before making the playoffs.
Under Fred Almon, the Patriots made the playoffs six times in 12 years (1985-1997) before Almon retired in 1997 due to medical reasons.
Clayton, an assistant coach under Almon since 1986, took over the program and immediately took the program to another level.
He kept Almon's triple option offense and has kept the Patriots program the model of consistency missing the playoffs just four times in the last 18 years.
A ten year streak of consecutive playoff appearances was snapped last season in part because of a young defense that gave up 32 points per game thanks to just two returning starters.
With several starters back on defense and a lethal offense featuring senior quarterback Jake Bernhardt (745 passing yards, four touchdowns; 1,027 rushing yards, nine touchdowns) who is a Maryland lacrosse commit, senior fullback Tim Marinan (1,019 rushing yards, 6 touchdowns) and junior tailback Trace Christian (1,016 yards, nine touchdowns) could help Patriots return to the playoff mix again.
Do the Patriots have enough mojo to keep up with District 8A-2 rivals Orange City University, Oviedo and Lake Mary? The four teams figure to be the teams competing for the two playoff spots well ahead of Seminole, Winter Springs and Lyman.
Lake Brantley won't have to wait long with huge games at home against arch-rival Lake Mary (Sept. 18) and Orange City University (Sept. 25).
Win those two games and the players and fans might be carrying Clayton off the field one final time as a playoff-bound team.