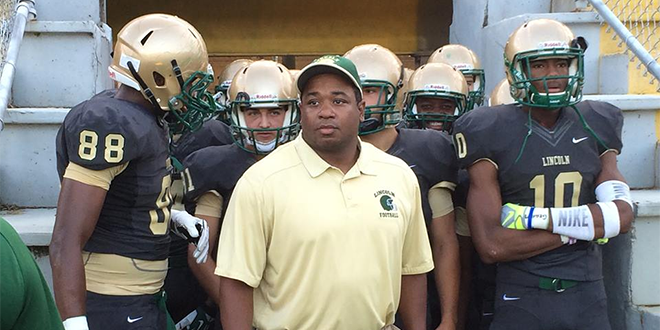 Lincoln at Camden County, GA
When: Tonight, 7:00 p.m.
Where: Chris Gillman Stadium, Kingsland, GA
2014 Records: Lincoln, 7-3, Camden County, 5-5
Lincoln Key Players: Chris Brimm (Jr., QB), Ricky Henrilus (Sr., RB), Michael Carrigan (Sr., WR), Larry Stephens (Sr., CB), Raekwon Harris (Sr., CB)
Camden County Key Players: Antonio Hamilton (Sr., QB), Brandon McMaster (Jr., RB/LB), Kevon Brewington (Sr., RB/DB), Harrison Poole (Sr., RB/DB), Jeremiah Baker (Sr., RB/DB), Dondre Winn (Sr., LB), Zeke Moore (Sr., DB/WR)
About Lincoln: By their standards, last season was a huge disappointment for the Trojans losing in the first round to Tate. Its been four years since Lincoln has hoisted a state title trophy and two years since the Trojans have been in Orlando competiting for a state title. Graduation took a heavy toll on Lincoln but there are enough playmakers back including Brimm (1,630 yards, 21 TDs), Henrilus (774 yards, 9 TDs), Carrigan (280 yards, 3 TDs), Stevens (48 tackles, 2 INTs) and Harris (44 tackles, 2 INTs) that eventually they could be a serious playoff threat. Lincoln has been the premiere program in the Big Bend area winning state titles in 1999, 2001 and 2010, along with state runner-up finishes in 2008 and 2012. Since 1994, Lincoln has had at least one player active in the NFL and is currently tied for eleventh in the country with seven players drafted over the last 21 years.
About Camden: For a program that has played in so many huge important games, the Wildcats choked under pressure in several of them last year. A 49-27 season opening win over Lincoln last year helped Camden County start out 5-0 heading into their region games. Regional play wasn't kind at all to the Wildcats, who dropped all five games by three, six, three, four and 17 points, an average margin of 8.5 points. As a result, the Wildcats missed the playoffs for the first time since 1988 (off the field), when they forfeited five games and first time since 1981 (on the field) when they went 7-3 and missed the playoffs. It's no secret what Camden County is going to do on offense as they have ran the same Wing-T offense for years with teams having a hard time stopping it. Camden County ran for 3088 yards on 494 carries, an average of 308 yards per game. What makes the offense so challenging to stop is the fact the Wildcats run 20 deep in the backfield, literally 20 guys touched the ball last season. Among the deep backfield, which returns five of their top seven rushers, is Hamilton (565 passing, 198 rushing, 11 TDs), McMaster (866 yards, 6 TDs), Brewington (279 yards, 2 TDs), Poole (270 yards, 3 TDs), and Baker (232 yards, 3 TDs). Winn (96 tackles, 2 sacks) and Moore (28 tackles, 4 INTs) lead the defense.
Outlook: Camden Couty was able to get all the rust and dissapoinment of 2014 out of its system routing Richmond Hill 55-0 last weekend in a pre-season game. A young Lincoln team that was blown out by over 20 points last season is likely headed for a repeat performance.
Prediction: Camden County