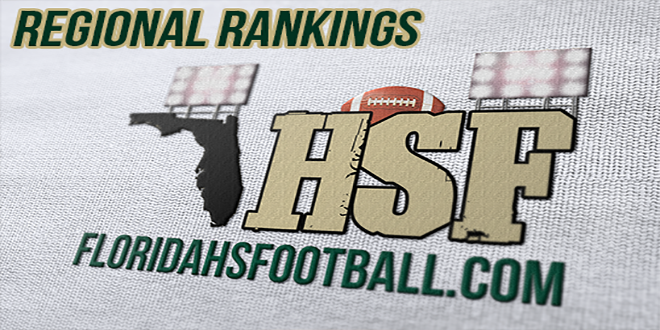 Here are the 2015 Preseason Broward County Regional Rankings from FloridaHSFootball.com
Like what you see? Subscribe now to our Premium Memberships to keep up with regional rankings for all 14 regions this season! For just around 10 cents a day you can keep up with all the action around the state! To subscribe, just click here!
1. St. Thomas Aquinas Raiders
2014 Record: 14-1
Why: What is nice this year is the #1 and #2 teams in Broward County will battle it out at the end of the season in what could be a mythical county championship. The reason, however for starting St. Thomas Aquinas out at number one is talent. The team is surrounded by talent on both sides of the ball and they are a team that should be able to keep on the winning ways as Roger Harriott takes over as head coach this season.
2. Flanagan Falcons
2014 Record: 13-1
Why: Another team that has a lot of talent and the Falcons are looking to go for their second straight district championship this season. Devin Bush Sr. will have the help of his son Devin Bush Jr. and many others to help Flanagan go for another deep playoff run and possibly reach Orlando to play in the Class 8A state championship. However, Miramar is looking to be on the rebound and will have to battle it out in District 8A-12 with them, but also with Plantation and possibly Cypress Bay for the district's two playoff spots.
3. Plantation American Heritage Patriots
2014 Record: 12-3
Why: Coming off their second consecutive Class 5A state championship, the American Heritage Patriots know they have a big target on their backs this season. Despite the loss of several key players from last year, that will not likely stop the Patriots from attempting another run to Orlando. With being in the tough District 5A-16, the Patriots will have to battle it out with Hallandale, Coconut Creek and Miami Jackson for the two playoff spots.
4. Hallandale Chargers
2014 Record: 10-1
Why: Hallandale knows that is should have beaten Miami Central last year as they lead during the first half of the regional semifinal matchup. However, the challenge to make a deep playoff run becomes harder as the Chargers drop down to Class 5A. There they find themselves in a tough District 5A-16 with Plantation American Heritage, Coconut Creek and Miami Jackson. The talent is there, but can the Chargers live up to the potential hype of a huge season?
5. Coconut Creek Cougars
2014 Record: 4-6
Why: The Cougars have been highly successful this summer in 7-on-7 tournaments, although that doesn't translate into everything about what the team could be about. The signs are there though for Coconut Creek to improve greatly upon the 4-6 record from last season with a ton of talent being available for Coconut Creek to use. The biggest issue that will face the Cougars is the gauntlet of District 5A-16 which includes Plantation American Heritage, Hallandale and Miami Jackson, all that will be competing for the district's two playoff spots.
6. Miramar Patriots
2014 Record: 7-3
Why: The Patriots look like they could be on the rebound this year as they bring in a new head coach in Pierre Senatus, who had been part of Booker T. Washington's state championship teams the last few seasons. After having the season cut short by the school district and forcing the Patriots to miss the playoffs, there is a big chip on the shoulders of the team. They will compete among the likes of Flanagan, Plantation and possibly Cypress Bay for the district's two playoff spots.
7. Deerfield Beach Bucks
2014 Record: 4-6
Why: With a new coaching staff and influx of incoming talent from other schools including Monarch, the Bucks are inline for a rebound season. The Bucks, which will be in District 8A-11 will be the favorite in the district, but might have to keep eye out on teams like Douglas and possibly Piper who will compete for the district's two playoff spots.
8. Dillard Panthers
2014 Record: 5-5
Why: Dillard finds themselves in prime position to reach the playoffs this year after missing out on the playoffs last year thanks to a tough district. With District 6A-15 being only four teams, the biggest team that will likely battle with Dillard for the district championship will be Boynton Beach. The Panthers have the talent, but will they be able to go far if they reach the playoffs this year? Only time will tell.
9. Plantation Colonels
2014 Record: 8-4
Why: Plantation might be happy that they are no longer in the same district with St. Thomas Aquinas, but the new district they are in after moving up to Class 8A could certainly give the Colonels many challenges. However, with head coach Steve Davis keeping St. Thomas Aquinas on the schedule, he means business along with having to contend with district foes like Flanagan, Miramar and Cypress just to name a few. It will be interesting to see how far Plantation can go in a district that is capable of fielding multiple playoff teams.
10. Cypress Bay Lightning
2014 Record: 7-3
Why: The Lightning have missed the playoffs for the last two seasons after playing for the Class 8A state title in 2012. However, some of that can be attributed to playing in one of the toughest districts in Class 8A and that will be no different this year with foes like Miramar and Flanagan lurking on the schedule again, but also add in Plantation who moved up from Class 8A. Talent is there for the most along with the schedule, but can the Lightning surprise everyone this season?