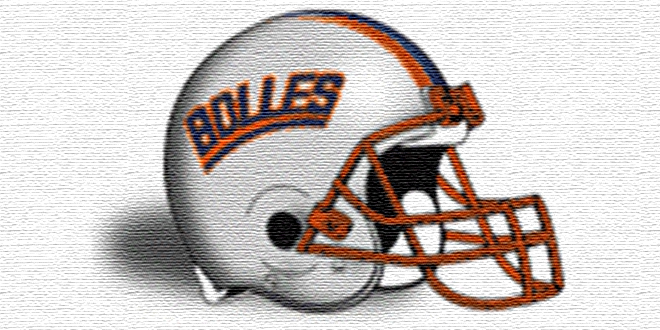 JACKSONVILLE – If Lake Mary coach Scott Perry was looking to see how his young team would respond against superior competition, he had to be somewhat pleased.
Lake Mary hung with 11 time state champion Bolles going toe-to-toe for at least a half before Bolles ran away with it, in a 49-29 win at George Hodges Field.
Without senior quarterback Charlie Peterson, who injured his neck in the Kickoff Classic last week, Perry was forced to start sophomore Brandon Brown.
The season got off to a bang, as senior wide receiver Alex Tichonoff fielded the opening kickoff at the 1 and found a seam and raced 99 yards for a score giving the Rams a quick 7-0 lead just seconds into the game.
Tichonoff was on the receiving end of a 23-yard completion from Brown on the Rams ensuing drive and was not seen again.
"He landed on his shoulder on that catch and without a shoulder you can't catch so we took him out," Perry said.
"It hurt us a lot not having Alex, he's our speed guy and without an outside threat guy we struggled," said Brown.
A Bolles offense that was held in check for the better part of the first quarter finally got in rhythm on its second drive.
Kentucky commit junior quarterback Mac Jones connected with Zac Crosby for a 49-yard score across the middle tying the game at 7-7 with 3:40 left in the first quarter.
Perry gambled a bit on the Rams next drive calling a fake punt that fell incomplete near midfield.
Bolles took advantage of the gutsy call as four plays later, Jones found Isaiah Westbrook, who broke one tackle, for a 35-yard touchdown pass giving the Bulldogs their first lead of the game at 14-7 with .35 left in the first quarter.
Without its leader Tichonoff, Lake Mary struggled offensively yet still was able to keep pace with Bolles for at least a half.
A 37-yard field goal from Grant Goupil cut the Bullogs lead to 14-10 with 9:46 left in the first half.
It didn't last long though as Amari Terry busted a 75 yard run on the ensuing play following the kickoff before being tackled at the 8-yard line. Jones 1-yard sneak increased the lead to 21-10 just a minute later.
Lake Mary answered with a 9-play, 70-yard drive that culminated with a Marquis Mickens 24-yard touchdown run up the middle cutting the lead to 21-17 with 6:07 left in the half.
The special teams had been a staple of success for the Rams early on, however turned out to be a disaster as David Shannon muffed a Bulldog punt and Bolles recovered at the 26-yard line.
Terry made them pay rumbling 21-yards for a score down the left side untouched for a 28-17 lead with 3:16 left in the half.
As well as they played in the first half, things fell apart quickly in the third quarter.
Four plays into the half, Jones connected with EJ Porter for a screen pass, Porter turned on the jets and raced 38 yards for a quick score and 35-17 lead just minutes into the second half.
Held to a quick three and out on its opening possession of the third quarter, Perry again called another fake punt and again it backfired as Bolles blew it up.
Terry struck again for a 17-yard strike five plays later putting the game away at 42-17 with 6:14 left in the third quarter.
"We gave up two long passes, muffed a punt, which is a 14 point swing, our offense had 3 or 4 dropped passes and also had two interceptions and you can't do that against a team like Bolles," Perry said.
Brown, whose brother Daniel started at Lake Mary two years ago, made his first career varsity start and played well at times.
Brown brought the Bolles and Lake Mary crowd to its feet, with an electrifying 50 yard run before being chased down to the 1-yard line. Brown was pressured in the backfield for an apparent 10 yard loss by a host of Bulldog defenders fought off tackle after tackle and spunt out cut right and went downt the sideline before being tackled short at the goal line.
Two plays later, Brown snuck in for a score cutting the lead to 42-23 with under a minute left in the third quarter.
"I'm proud of our team, we put our hearts out there and fought hard," Brown said. "Its a great learning experience for us, but there is always another game."
Brown hit Khaalil Lucas for a first down on the ensuing possession putting the Rams in contention for a potential comeback but Lucas loss possession of the ball and the Bulldogs recovered it at the 27-yard line.
"For his first career start and against a team like this, I thought he (Brown) played really well. He's very elusive and he will learn from this and get a lot better."
Four plays later, Jaylen McCloud rumbled 5 yards for a score and 49-23 lead with 9:11 left in the third.
"We made this schedule to hopefull get us ready for district," Perry said. "We are quite young and our guys are going to grow up with big time games like this."
Bolles (1-0) travels to Heritage next week, while Lake Mary (0-1) will continue its tough stretch hosting against another state power in Dr. Phillips.
"Dr. Phillips will be quite a challenge for us, totally different styles we will see next week," Perry said. "We'll see how it goes, we will have to play a completely different game."