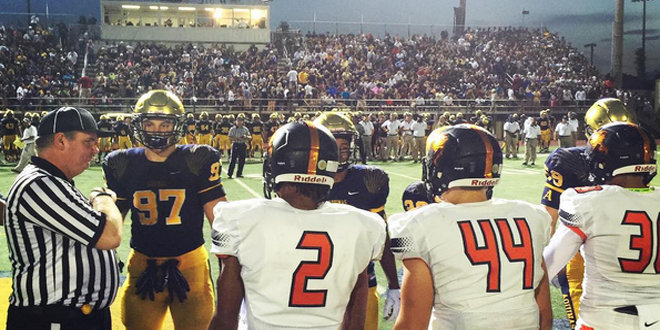 It has only taken a week of football in South Florida to force the region to consider a complete recalibration of just which teams are 'top-tier' heading into the balance of the 2015 football season. South Florida, as has been the case in recent years, was on center stage in the opening weekend of High School football both nationally and regionally. Three teams played on the ESPN family of networks in the opening weekend of high school football.
This past weekend saw three of the traditional powers of the past five years (Miami Central, Booker T. Washington and Miramar) all take painful losses that were broadcast to the entire county.
It also saw several budding programs (Hallandale and Coconut Creek) win impressive road games laying claim to future consideration as the 'next-in-line' in the area. Both teams traveled to Atlanta (along with American Heritage-Plantation) and won.
BIG GAME RECAP: The perennial power that has stood the test of time, in St. Thomas Aquinas, under new head coach Roger Harriott, made a bold opening statement live on ESPN in the 'Big Game' of the week.
St. Thomas Aquinas played host Booker T. Washington at home in Fort Lauderdale under the bright lights of ESPN's featured channel in prime-time last Friday night. The Booker T. Washington Tornadoes came into the game riding a 41-game winning streak and hoped to sneak past St. Thomas with their young, transfer-laden talent in the sophomore class coupled with a few returning senior contributors from last season and a youth All-American freshman quarterback.
It didn't work.
The Raiders won to the tune of a 35-3 thumping.
St. Thomas Aquinas exposed Booker T. Washington as the young and restructuring program that they now are. Head coach Earl Tillman, Jr.'s second go 'round at the helm at Booker T. got off to a slow start. But it's not a total shock as many thought his team would struggle to keep up in the talent arms race with St. Thomas heading into the game.
The game can be summed up easily. Booker T. Washington turned the ball over five times and each time, St. Thomas scored. Simple. Will Booker T. be awful? No, they're still very good. Freshman quarterback Daniel Richardson looked a lot more poised than senior transfer Eric Walker behind center. But tough choices will have to be made. A likely rebound game against Pace this week will help the Tornadoes…or could be hangover game coaches' hate.
Time will tell.
St Thomas' first year varsity starter and Florida Gator commit Jake Allen threw four touchdown passes as he commanded a smooth Raider offense who benefited from an excellent performance by their defense.
University of Miami commit, Sam Bruce, had a great night overall and appeared to have an axe to grind with Booker T. Washington still thinking back to his sophomore year at University School (High) when they stopped the Suns' state championship run in the regional playoffs in FHSAA.
He had two TD receptions and several rushing yards out of the wildcat.
Head coach Roger Harriott said after the game that "the most impressive thing about Sam Bruce is his love for the game," speaking on how hard Bruce works. Harriott has put in some quick hard work himself getting St. Thomas to perform at its best, something they failed to do when seemingly positioned as a lock to win a National Championship before a tough, let down loss on the road in New Jersey last season.
QUICK HITTERS
Linebacker Gee Stanley of Coral Gables led his team in an impressive 14-12 win over Carol City on Thursday night. He was all over the field and is being slept on in recruiting. According to Darrell Streeter (Footballville) Carol City, who many had highly ranked in the state, reportedly benched several key players (including their kicker) because of violations of team rules and lost by 2 points.
Miramar's first year head coach Pierre Senatus led his team on the road into Bradenton to face IMG Academy, a team no one wanted to play. Senatus' young Patriots got down early on a special teams KOR score and IMG rolled from there. The final score was 38-14. Credit Senatus and Miramar for taking a game few would. His Patriots showed fight in the second half and will be a force in district play as their offense appeared to find a rhythm late.
Don't look now but Palm Beach Dwyer may have something special in quarterback Todd Centeio. The junior signal caller tossed four touchdowns in his opening game against Boynton Beach. This team may pose the only threat (regionally) to St. Thomas Aquinas as they look to repeat as Class 7A state champions.
Both American Heritage-Plantation and Flanagan took care of business in the opening games. Heritage Plantation confirmed its impressive kickoff classic win over IMG with another impressive road win over metro Atlanta's Stephenson High. Flanagan beat Douglass by the margin that represents that they have truly taken the next step up under Devin Bush and seem to be poised to become a powerhouse program for many years to come.
Where did Miami Central's run game go? It's tough to go from having Devonta Freeman (Atlanta Falcons) and Joe Yearby (University of Miami) and Dalvin Cook (FSU) and even Anthony Jones (FIU) to now having to rely on guys no one has really heard of. Many are now asking if the Rockets are overrated after a big loss against Maryland's power, DeMatha.
SMALL SCHOOL LOVE: Keep an eye on Hillel Community School in North Miami Beach. They notched and impressive win over Miami Country Day this weekend and are quietly building a nice program with great facilities (turf home field). They're also tapping local coaches with insertion into the youth football community and could leave independent status in the future and make noise in FHSAA