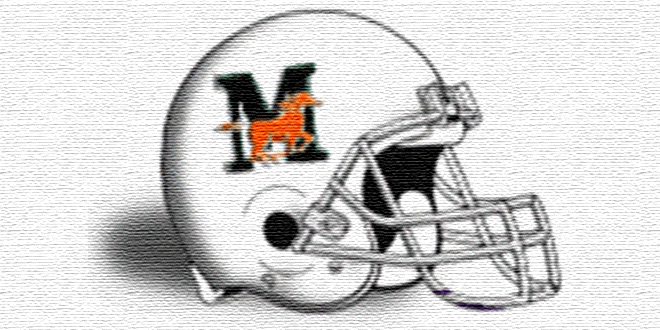 JACKSONVILLE – The start of the annual meeting between Mandarin and host Ed White was delayed for over an hour and half, although Mandarin didn't mind the wait.
Mandarin unleashed a brutal attack on a rebuilding Ed White program and in the process ended a six year run in the series.
For years the lethal combo of Javaris Davis and Taylor Thomas helped White terrorize county rival Mandarin.
Without the duo, who moved on to Auburn and Oregon State respectively, Mandarin earned a little payback of sorts in a 41-7 win last night at Commanders Stadium.
Whether it was senior quarterback Tyler Greenlee, junior tailback Aundre Kearney, junior tailback Mekhi Jackson, junior fullback Ben Stuckey, junior receiver Kyle Keaton, junior receiver Aaron Adams or senior receiver Justin Brown; Mandarin took turns delivering lethal body shots to the White defense.
Seeing his offense struggle early on, Greenlee, who completed 13 of 18 passes for 180 yards and no scores, lead the Mustangs no huddle offense in the second quarter to a pair of scores and 20-0 halftime lead.
Kearney, a Miami commitment, wasn't used much in the first half yet still managed 25 yards and two touchdowns on 4 carries. His first score a 7-yard run with 8:55 left till half gave the Mustangs an early 6-0 lead.
A possession later, Greenlee snuck in from 2 yards out increasing the lead to 13-0 just three minutes later.
Kearney struck again just before half on a 19-yard run giving the Mustangs a 20-0 halftime lead.
Mandarin came out on fire in the second half behind Kearney (60 yards and three touchdowns on 7 carries) and Jackson (140 yards on 25 carries). Kearney third and final touchdown a 9-yard run gave the Mustangs an insurmountable 27-0 lead.
Perhaps thinking of past losses to White, Mandarin didn't let off the gas scoring on its next possession as Jackson added a 4-yard run and 34-0 lead midway through the third quarter.
Two plays later, Anthony Brown picked up a loose White fumble and returned it 40 yards for a score increasing the lead to 41-0.
Caleb Stewart (141 yards on 10 carries) took a handoff from Scott Seigler and raced 87 yards down the White sideline untouched on the ensuing play putting the Commanders on the board.
Early on though the game remained scoreless after the first quarter, because of numerous turnovers and costly penalties.
Mandarin drove down to the 17 yard line on its opening possession of the game however Kearney fumbled the ball and Antonio Tyler was there to recover it for the Commanders.
Tyler nearly recovered his second fumble of the quarter, after Devinn Waters muffed a punt and outhustled Tyler for the ball.
Jadarius Byrd outjumped a Mustangs receiver and came down with an interception thwarting a Mustangs scoring drive.
Ed White jumped off sides numerous times in the first half and the game helping Mandarin continue drives.
The Commanders (0-2) will have to regroup quickly and cut down the penalties when they travel to Raines next week, while Mandarin (2-0) hosts Ribault next Friday.
Scoring Summary
Second Quarter
M-Aundre Kearney 1 yard run, 8:55, 6-0
M-Tyler Greenlee 2 yard sneak, 5:51, 13-0
M-Austin Kearney 19 yard run, 1:43, 20-0
Third Quarter
M-Austin Kearney 7 yard run, 10:39, 27-0
M-Mekhi Jackson 4 yard run, 7:17, 34-0
M-Anthony Brown 40 yard fumble return, 6:24, 41-0
W-Caleb Stewart 87 yard run, 5:39, 41-7