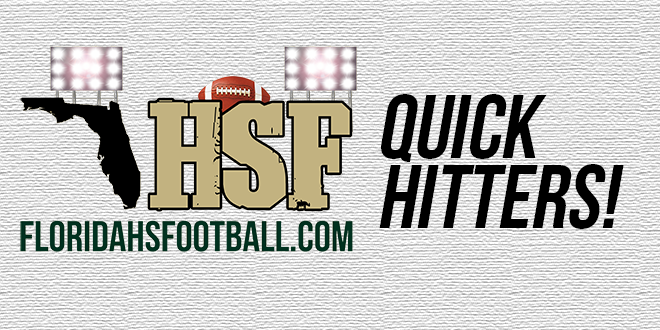 We have come up with a new way to get the information that we wan to give to our Premium Subscribers in a much quicker and easier to read version. Welcome to Quick Hitters, giving you a quick rankings run down for each and the top five games. We might also include a few tidbits on what is going in the region as well depending on what it is about.
Here is this week's Quick Hitters for the Miami-Dade & Keys Region for Week 4.
Quick Hits
Rockets venting frustrations
Over the last two weeks the Miami Central Rockets have vented their frustration out over opponents after their loss to DeMatha Catholic on opening week.
In the time since the loss, the Rockets have blown out Miami Killian in a 35-0 shutout while this past week, also taking out First Coast 41-0, making it two shutout in a row. Could the Rockets make three shutouts in a row when they visit Miami Norland this week?
We will find out soon enough if the Rockets are back on track or not this week.
Miami Jackson does damage
The Miami Jackson Generals did some damage last week sending Booker T. Washington to a 1-2 start after defeating the defending Class 4A state champion 38-35.
It was the first win over Booker T. Washington since Miami Jackson was reopened as a high school in 1999.
Not only Desmond Phillips threw for 287 yards, but also rushed for 148 yards as well and helping Booker T. Washington trail before a late comeback attempt was made by the Tornadoes.
Top 10 Rankings
1. Miami Central, 2-1
2. Columbus, 3-0
3. Miami Carol City. 2-1
4. South Dade, 2-0
5. Miami Norland, 2-1
6. Miami Jackson 1-1
7. Coral Gables, 2-0
8. Miami Southridge, 2-1
9. Booker T. Washington, 1-2
10. Miami Palmetto, 3-0
Top 5 Games
Thursday
Miami High (1-1) at Columbus (3-0): The Stingarees want to rule the district this year, but that will have start with a win over Columbus on the road. Columbus has a stingy defense that has helped them win all three of their games so far.
Friday
Key West (1-2) at North Broward Prep (2-0): A Gold Coast Conference game between last year's conference runner-up in Key West and undefeated North Broward Prep team. A win for either team will set the tone towards winning the conference.
Saturday
No. 1 Miami Central (2-1) vs. No. 5 Miami Norland (2-1) at FIU-North: This should give Miami Central's first true test against a defense that is loaded with Division I talent. If Miami Norland wins this game, it could be the upset of the year given that Miami Central is a favorite to repeat this year.
No. 8 Miami Southridge (2-1) vs. No. 9 Booker T. Washington (1-2) at Traz Powell: Miami Southridge failed to secure a major victory against Columbus last week, but not all is lost given that Booker T. Washington is now 1-2 after entering the season with a 41-game win streak.
No. 3 Miami Carol City (2-1) vs. Hialeah-Miami Lakes (2-0) at Milander: Miami Carol City is coming off a huge win over Lakeland while Hialeah-Miami Lakes is quietly winning games and has started off the season on a strong note. With this being a district game, anything goes.