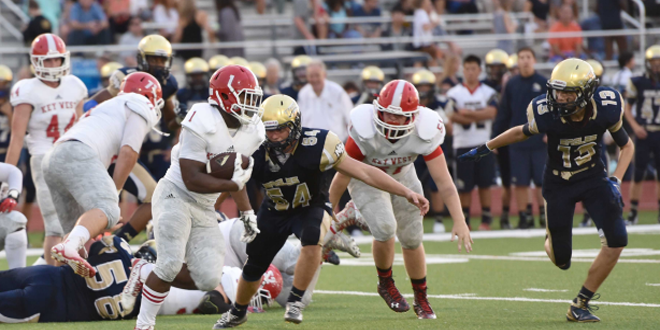 COCONUT CREEK — It was a highly anticipated game as the Eagles opened conference play tonight, but they weren't able to come out with the result they would've hoped for.
The Eagles (2-1) fell to the Key West Conchs (2-2), 44-30, snapping their eight game home winning streak dating back to the 2013 season.
The Eagles did not necessarily get off to the start they would've liked, as despite driving the ball down into Conchs' territory on their first possession, North Broward turned the ball over on downs after quarterback David Vozzola overthrew Kevin Austin on 3rd down, and failed to complete his pass on fourth. When Key West took over, sophomore Kolby Kelleher ran it 55-yards into the end zone on a reverse. The Conchs would fail on their two-point conversion attempt, so Key West would sit with a 6-0 lead with just under six minutes remaining in the first quarter.
However, the Eagles would battle back. Key West would decide to go for it on fourth down just around mid-field, but they would not convert, turning the ball over to North Broward. The Eagles would drive down into the red-zone in just a couple plays, until David Vozzola connected with sophomore Kevin Austin on a 15-yard touchdown catch and run to tie the game. Andres Del Castillo would miss the extra-point, however, and the score would remain tied.
As time was ticking down in the in the first half, Key West was searching for a late score to give them momentum heading into halftime. After the Conchs' risky play call of going for it on fourth and short in their own territory paid off, Conchs' quarterback Michael Cleaver hit a completely wide open Michael Avellant on a 42-yard touchdown pass with a mere five seconds left in the first half to put Key West back in front. Quarterback Michael Cleaver ran in a two-point conversion, and suddenly the Conchs entered halftime with a shocking 14-6 lead, after the Eagles had just tied the game.
Coming out of halftime, Key West received the opening kickoff, and was faced with a 3rd down and short from their own 44-yard line. Not only did they convert the 3rd and short, but star running back Mekhi Sargent burst through a big hole on his way to a 56-yard touchdown run, extending the Conchs' lead. Freshman Klebert Charles would run in a two-point conversion, which would extend the Conchs' lead to a commanding 22-6 early in the third quarter, but again the Eagles would strike back.
After a lackluster Key West punt, the Eagles were set up with great field position starting at the Conchs' 48-yard line late in the third quarter. C.J. Riley would then quickly make a 34-yard pass to bring it down to the Conchs' fourteen yard-line. A couple plays later, Riley struck again with a 2-yard TD pass, his second of the season, cutting the Key West lead down. Riley then made a spectacular over-the-back catch with a defender in his face to make the Eagles' deficit just 22-14 against the Conchs. However, after a long 47-yard run by Mekhi Sargent, he capitalized with a 12-yard touchdown run early in the fourth quarter to put Key West back up 28-14 over North Broward.
After David Vozzola's pass was intercepted by Conchs' defensive back Alvin Howard, Mekhi Sargent would bury the Eagles with an 18-yard touchdown run with just under 8:00 left in the fourth quarter. The two-point conversion was like icing on the cake for the Conchs, as they took a 36-14 lead to put the nail in the North Broward coffin on Friday night. Kevin Austin's second and third touchdowns of the game wouldn't be enough to fuel an Eagles' comeback. Key West would also tack on another eight points late in the game, and the final score would be 44-30, Conchs.
MAKING UP FOR MISTAKES: With just under 10:00 left in the second quarter, the Eagles trailed Key West 6-0 but had taken over possession on the Conchs' 20-yard line after Key West turned the ball over on downs right around mid-field. Quarterback David Vozzola had star receiver C.J. Riley wide open near the end-zone, which would've been a touchdown, but decided to check down to Dymitri McKenzie who gained just three yards. However, North Broward relinquished their mistake, as Vozzola hit sophomore Kevin Austin a couple plays later for a 15-yard touchdown to tie the game.
SUPER NATURAL SARGENT: After a relatively quiet first half, Conchs' star running back Mekhi Sargent began to show his supernatural potency immediately once the second half began. Sargent broke off a 56-yard touchdown run just over one minute into the third quarter, giving the Conchs a 22-6 lead over North Broward. After the Eagles seemed to find a bit of momentum, Sargent snatched it right back from them, with a 47-yard run which immediately followed a North Broward score. The 5-10, 228 pound Sargent then bulldozed his way into the end-zone for his second score of the night to put his Conchs' back up two touchdowns. Sargent would then ruble in for his third touchdown of the game, this time from 18-yards, out. Sargent, who has now run for three touchdowns in each of his last three games, did battle an injury that kept him missing for a couple drives in the first half, but proved the injury did not bother him by exploding in the ground game in the second half. Sargent, who currently holds offers from Towson and Marshall, continued his dominant senior season on Friday night.
TURNOVER MACHINE: After sophomore cornerback Logan Shooster returned an interception for a touchdown last week, and also blocked a punt returning it for a touchdown against Ransom Everglades, he provided another turnover in this one. Shooster picked off a pass late in the third quarter, his second interception in the last two games, which kept the Conchs from scoring at that point. The second year starting cornerback Shooster now has three turnovers over his last two contests.
YOUNG STAR: First year Eagle, and sophomore receiver Kevin Austin had a breakout game in the loss for North Broward tonight. Austin was a major force from the beginning, with a 15-yard touchdown in the first half that would tie the game up at 6 for North Broward. Austin would follow by racking up multiple receiving and even rushing yards until he struck again in the fourth quarter. Austin caught not one, but two touchdowns in the fourth quarter, one for 25-yards, the other for 26-yards, and also caught two-point conversions on each of those conversions. Austin, who has offers from Syracuse and Maryland, now has scored at least one touchdown in every game this season after hauling in three tonight.
BREATHTAKING SCORE: Entering the game, it was known that Key West would not be throwing the ball too much, and they lived up to that notion. After just two passing attempts the whole first half, the Conchs broke off a play that silenced the stadium. Junior quarterback Michael Cleaver rolled right and found a wide open Michael Avellant for a 42-yard touchdown to give the Conchs the lead with just five seconds to go in the first half. That score would give Key West a 14-6 lead heading into a halftime, shifting the momentum of the game to Key West. The play wound up being the difference in the matchup, changing the whole periphery of the game.
SECOND HALF SCORING: After heading into halftime with a score of just 14-6, the Eagles and Conchs exploded for 34 points in the second half combined, finishing with a final score of 44-30, after the game didn't look like it would end it a high scoring affair. The Eagles have now scored 30+ points in every home game this season, and over 20 points in every home game dating back to the start of last season. Key West running back Mekhi Sargent scored each of his three touchdowns in the second half of this game.
WHAT'S NEXT: Following three straight home games to start the season, the Eagles will hit the road next Friday as they continue league play against Inlet Grove. Kickoff will be at 7:00 P.M. E.T. from Riviera Beach between the Eagles and Hurricanes.