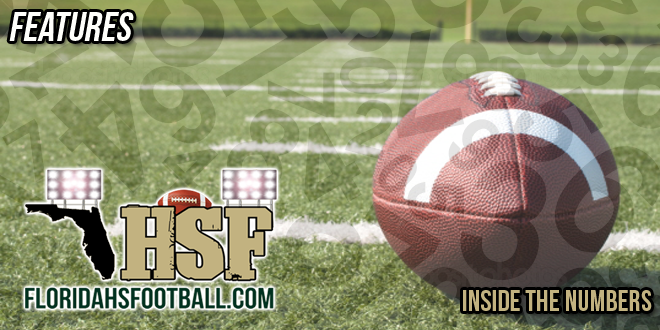 Welcome to Inside The Numbers for Class 4A. We will take a look a variety of different number statistics that accompany each team and their respective districts. We will honor teams based upon points scored so far through the season and highest point averages per game played. We will also look at some of the not so good averages, because hey those are stats to, right?
Each week we will increase the game minimum up by one game each week to keep things on an even pattern. This week we will have a three game minimum for teams to be included inside the numbers and we will raise that number up one each week until we hit a minimum of eight games played.
Minimum Games Played: 4
Undefeated Teams After Week 5
Avon Park, 5-0
Bolles, 5-0
Dunnellon, 5-0
Raines, 5-0
South Sumter, 5-0
Walton, 4-0
West Nassau, 4-0
Total Teams: 7
200 Point Club
Teams that have scored at least 200 points so far this season.
Raines – 247
South Sumter – 215
Bolles – 208
150 Point Club
Teams that have scored at least 150 points so far this season.
Dunnellon – 187
Bishop Verot – 185
University School – 180
The Villages – 171
Cocoa – 163
Umatilla – 159
Walton – 155
Lake Highland Prep – 154
Miami Edison – 150
Top 5 Highest Scoring Averages – Team
1. Raines – 49.4 ppg (5 games)
2. University School – 45 ppg (4 games)
3. South Sumter – 43 ppg (5 games)
4. Bolles – 41.6 ppg (5 games)
5. Walton – 38.75 ppg (4 games)
Top 5 Fewest Points Scored – Team
1. Somerset Academy (Pembroke Pines) – 7
2. Fernandina Beach – 19
3. Monsignor Pace – 20
4. Tenoroc – 24
5. Gulliver Prep – 31
Top 5 Lowest Scoring Averages – Team
1. Somerset Academy (Pembroke Pines) – 1.4 ppg (5 games)
2. Monsignor Pace – 5 ppg (4 games)
3. Tenoroc – 6 ppg (4 games)
4. Atlantic – 7.2 ppg (5 games)
5. Gulliver Prep – 7.75 ppg (4 games)
Top 5 Fewest Points Allowed – Team
1. Raines – 10
2T. Avon Park – 35
West Nassau – 35
4. Keystone Heights – 42
5T. Astronaut – 44
Keys Gate – 44
Top 5 Fewest Points Allowed Averages – Team
1. Raines – 2 ppg (5 games)
2. Avon Park – 7 ppg (5 games)
3. West Nassau – 8.75 ppg (4 games)
4. Dunnellon – 9.2 ppg (5 games)
5. Keystone Heights – 10.5 ppg (4 games)
Top 5 Most Points Allowed – Team
1. Somerset Academy (Pembroke Pines) – 252
2. Rutherford – 173
3. Atlantic (Port Orange) – 163
4. Interlachen – 156
5. Gateway Charter – 150
Top 5 Most Points Allowed Averages – Team
1. Somerset Academy – 50.4 ppg (5 games)
2. Interlachen – 39 ppg (4 games)
3. Gateway Charter – 37.5 ppg (4 games)
4. Andrew Jackson – 36.75 ppg (4 games)
5. Rutherford – 34.6 ppg (5 games)
Top 2 Most Points Scored – District
1. District 4A-4 – 829
2. District 4A-2 – 620
Top 2 Best Scoring Averages Per Game – District
1. District 4A-4 – 34.54 ppg
2. District 4A-2 – 26.96 ppg
Top 2 Fewest Points Scored – District
District 4A-1 – 390
District 4A-8 – 434
Top 2 Worst Scoring Averages Per Game – District
District 4A-6 – 18.27 ppg
District 4A-8 – 19.73 ppg
Top 2 Fewest Points Allowed – District
District 4A-2 – 392
District 4A-8 – 417
Top 2 Fewest Points Allowed Averages Per Game – District
District 4A-2 – 17.04 ppg
District 4A-4 – 17.41 ppg
Top 2 Most Points Allowed – District
District 4A-6 – 765
District 4A-5 – 543
Top 2 Most Points Allowed Averages Per Game – District
District 4A-1 – 26.88 ppg
District 4A-7 – 26.5 ppg
Top 2 Best Winning Percentages – District
District 4A-4 – .750
District 4A-2 – .652
Top 2 Worst Winning Percentages – District
District 4A-8 – .409
District 4A-1 – .412