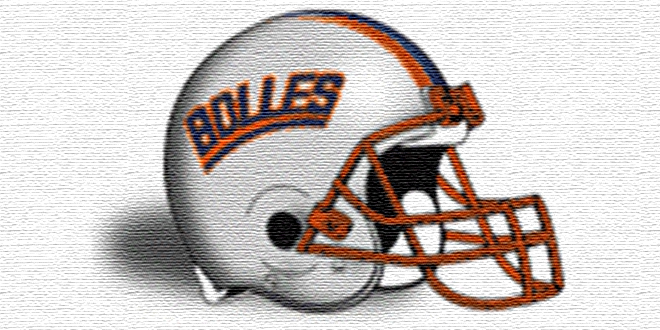 JACKSONVILLE – After five grueling weeks of games against five big boy playoff caliber teams, No. 1 ranked Bolles finally picked on somebody their own size.
Fortunately for them and everybody else in District 2-4A, Bolles (6-0, 2-0) sent a clear message to everybody don't forget about us.
Despite being 103-3 in district play under legendary coach Corky Rogers, many still believe No. 2 ranked Raines (5-0, 1-0) is the team to beat in 2-4A.
Bolles improved to 18-2-1 all-time against West Nassau since 1970, as the Bulldogs scored on three of its first four drives of the first half to take a 35-0 lead into half on its way to a 56-6 win over West Nassau at George H. Hodges Field.
The win was the 450th of Bolles coach Corky Rogers career and more importantly kept the Bulldogs in position to remain tied with Raines for the district lead.
With its key playmaker Ke'Shan Pennamon, a Wisconsin commit, limited to just playing defense with an apparent ankle injury; the Warriors offense behind tailback Davion Dubose was held to just 21 total yards in the first half.
EJ Porter started the scoring off with a 1 yard run on the Bulldogs opening possession after a three and out by West Nassau on the game's opening possession.
Defensive back Joe King out leaped Garett Delano and came down with an interception on the Warriors next drive returning it 50 yards for an apparent score before the officials called it back for an illegal block.
Pennamon blitzed on fourth down and stuffed Porter on a fourth down play forcing the Bulldogs into a rare turnover on downs.
One possession later, Will Mitchell fielded a punt at midfield and handed the ball to Porter on a reverse and Porter coasted down the sideline untouched for a 50 yard punt return for a touchdown increasing the lead to 14-0 with 2:53 left in the first quarter.
With Bolles facing fourth and four at the 35, Pennamon again blitzed and tried to time the snap but jumped offsides to give Bolles a first down and another chance to score.
Three plays later, Kentucky committ Mac Jones connected with Isaiah Westbrook on a 20 yard fade route in the right corner for a 21-0 lead with nine minutes left till half.
Brandon Jackson fumbled the ensuing kickoff at the 35-yard line and Bolles took advantage of the turnover, as Jones found Westbrook on an 11 yard pass in the left corner for a 28-0 lead.
Westbrook scored his third touchdown of the first half on a 1 yard run with 1:48 left in the half for a 35-0 halftime lead.
Just seconds into the second half, Westbrook made it a four touchdown game taking the second half kickoff back 90 yards down the left sideline increasing the lead to 42-0 just 20 seconds into the third quarter.
His 37 yard run on the Bulldogs first play of the second half set up Will Mitchell 2 yard run and 49-0 lead midway through the running clock third quarter.
With the backups in, West Nassau offense, which finished with 131 total yards, finally was able to move the ball as Dubose broke off a 45 yard run down to the 4 yard line. Bryce Jenkins connected with Quinn Coxwell for a 2 yard pass to avoid the shutout cutting the lead to 49-6.
James Omlor 4 yard run closed out the scoring with Bolles up 55-6 less than two minutes left in the game.
West Nassau (4-1, 0-1) now must regroup and will travel to Nease next week before closing out 2-4A play against Fernandina Beach Oct. 16 and Raines Oct. 23 both at home, having to win out to make the playoffs.