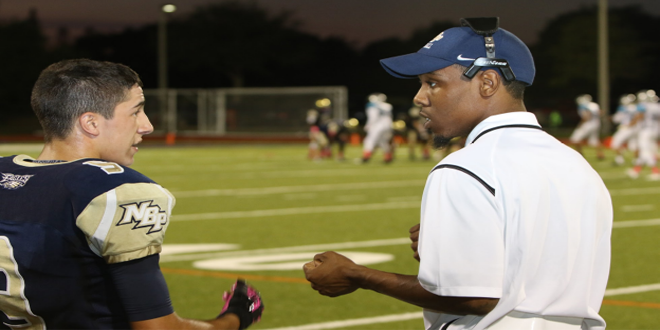 COCONUT CREEK .— Archbishop McCarthy entered this game undefeated, and that did not change on Thursday night.
Mavericks' senior running back Anthony Rey rushed for over 220 yards and five touchdowns on just nineteen carries as Archbishop McCarthy improved to 7-0 with a 56-18 route of North Broward Prep (4-2) on Thursday night. Archbishop McCarthy will remain in first place in the Gold Coast Conference, improving to 3-0 in conference play, while the Eagles drop to 2-2 in conference action.
"It feels great [to score five touchdowns], it was just an average game," Rey joked, "but seriously we had a great game plan, and executed," Anthony said after his career game in the Mavericks' win.
North Broward Prep failed to establish any sort of rhythm offensive, or defensively in this game, and were therefore trampled on their home field in what was an embarrassing loss in a vital conference matchup for the Eagles. Archbishop McCarthy got their way in every aspect of the game right from the start, totally dominating their way to victory.
Archbishop McCarthy rumbled off to a quick start, and it obviously was getting into North Broward's heads. Despite storming out to a 6-0 lead on their opening drive, the Eagles fell down afterwards, after McCarthy jumped out to 27-6 lead after the first quarter alone. Things began getting chippie on the field as lots of Eagles and Maverick players began getting in scuffles and minor fights, which resulted in ten personal foul and unsportsmanlike conduct penalties between the two teams. The Eagles' finished with over ten penalties in the game, at least half of those coming due to fouls after the play.
Eagles' star receivers C.J. Riley and Kevin Austin remained lone bright spots in this game early, as Riley and Austin caught touchdowns in this matchup. Riley took a screen pass 61 yards to the house on the Eagles' first offensive drive of the game, while Austin caught a beautiful 21-yard pass over the shoulder of a Mavericks' defender late in the second quarter, while also catching a touchdown in the fourth quarter. The Eagles' rushing game, which had been their forte in all the games this season, didn't do much. Junior Dymitri McKenzie was held to just 16 rushing yards in this game, just the second time he was held under 100 yards this year. In each of the games McKenzie failed to rush for 100 yards this season, North Broward has lost.
The Eagles' lack of defensive intensity in this game could definitely serve partial credit to the injuries that have transpired. Already without defensive linemen Ted Arthur and Kenny Henningsen, North Broward lost senior defensive lineman Troy Efird and sophomore Kirby Burns to injury in the second quarter, forcing the Eagles to attempt to defend Archbishop McCarthy's tenacious running game and offensive lineman without their top lineman. It was a task North Broward could not withhold as McCarthy rushed for over 200 yards Thursday night.
"We executed our game plan really well," Archbishop McCarthy head coach Byron Walker said, "the difference in the game was we were doing what we wanted to do, and they weren't."
WHAT COULD HAVE BEEN: After Archbishop McCarthy scored in the first quarter to extend their lead to 14-6 over North Broward, Eagles' star C.J. Riley returned the ensuing kickoff back for a touchdown, which made the crowd go wild, and would have cut the McCarthy lead to one, or tied the game if North Broward successfully converted the two-point conversion. However, the touchdown was called back due to a hit to the helmet by a North Broward player behind the run. The Eagles would go on to punt on their drive.
REY RUNS WILD: It's safe to say that Mavericks' running back Anthony Rey had himself quite the night Thursday at North Broward. Rey had not one, not two, not three, not four, but five touchdowns in the game, with one from two, one from seven, one from twelve, and one from 53 yards out. Rey finished with well over 200 yards rushing in the game, and was a key factor in the Mavericks' win. Rey had entered the game with already over 850 yards rushing and 12 touchdowns, and he certainly improved those numbers Thursday. It was a career night for the senior.
LOTS OF LAUNDRY: North Broward and Archbishop McCarthy may have a rivalry in the making after the rough madness that occurred between the two teams Thursday night. The two teams combined for 20 total penalties on Thursday night, with over half of the penalties have come from unsportsmanlike conduct penalties. The two teams were pushing and shoving between each other throughout the game, forcing a blood bath of flags thrown after the play. One thing is for sure—there is no love lost between the Mavericks and Eagles.
"It's something we [Archbishop McCarthy] need to work on," Mavericks' coach Byron Walker said about his team's penalties tonight, "You go different placed, and things get called differently. Some [refs] let you get a little more aggressive than others."
BIRTHDAYS: Eagles' football celebrated two birthdays this week as they prepared to take on conference foe Archbishop McCarthy. Senior quarterback David Vozzola turned 18 years old on Wednesday, while junior linebacker Kallen Jennings turned 17 years old on Tuesday. Both are integral parts of the team, and their birthdays coincidentally fall within a day of each other. Unfortunately, they were not able to pick up a birthday victory.
WHAT'S NEXT: North Broward Prep will travel to Boca Raton to take on the St. Andrews Scots in a non-conference matchup next Friday night. Kickoff will be at 7:00 P.M. E.T. Archbishop McCarthy will travel to Key West to take on the Conchs in another Gold Coast Football Conference showdown.