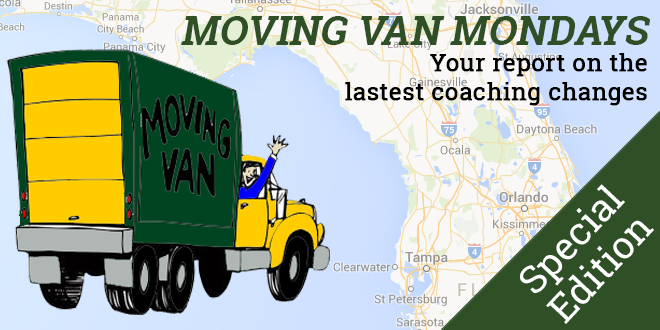 It is that time of year where coaches pack the offices up, load up the trucks and make their moves into and out of offices across the state with a variety of coaching changes that take place. Starting now and each Monday through spring football, we will present Moving Van Mondays, catching you up with the latest coaching change news in an easy formatted style.
For this week, we will present several editions of Moving Van Mondays breaking down the changes in each classification as well as the independents.
Here is what has occurred in Classes 6A and 5A since the start of the offeseason.
CLASS 6A
Hialeah-Miami Lakes seeks new coach
Less than a week after the season ended, Horane Allison resigned from his position after going 4-6 in one of the state's toughest districts, which includes Miami Carol City, Miami Central, Miami Northwestern and Miami Norland.
King seeks new head coach after Thomas steps down
After two seasons, Trey Thomas and King have parted ways after going 10-11 in his two seasons in District 6A-7 that includes teams like Armwood. Hillsborough and Brandon, according to Big County Preps.
Pace sees a legend retire
After 25 years, Mickey Lindsey retired following the conclusion of the 2015 season, a retirement that had been planned for nearly a year. No word on who Lindsey's replacement could possibly be or when a hire will be made.
Goebel out at Pine Ridge
After two years, Ben Goebel was relieved of his coaching duties following the end of the 2015 season following back-to-back 2-8 seasons. No word on when the Deltona-based school will make a hire.
CLASS 5A
Rumph leaves American Heritage-Plantation to take job at Miami
On Monday, American Heritage-Plantation head coach Mike Rumph, landed his dream job, getting a chance to be the cornerbacks coach at the University of Miami under new head coach Mark Richt. Rumph leaves American Heritage with two state championship wins. Rumph, an alum of the Hurricanes, was a major contributor to the 2001 Hurricanes national championship team.
Baker County forces MacPherson out, hires alum in Rodgers
After two years, Baker County decided to part ways with Tom MacPherson in December after going 10-11 during his tenure. MacPherson guided the Wildcats to a three-way tie for first in District 5-5A losing to Menendez in the district shootout final quarter. Two weeks after MacPherson was forced out, former Baker County player and assistant coach Jamie Rodgers came back home to take the vacant job at his alma mater. Rodgers who comes over from Suwannee High in Live Oak, went 32-15 at in his four years at the school, guiding the Bulldogs to the Final Four and Elite 8 over the last two seasons.
Belleview makes sweeping changes
Phillip Yancey stepped down November 8 after finishing 1-9 season this past season and retired finishing with stints between Belleview and Vanguard, where he coached Daunte Culpepper and the Knights to a state runner-up finish in 1994. With the team moving on past Yancey, it didn't take the Rattlers having to look very far to get their fifth head coach, hiring former Trinity Catholic head coach John Brantley III. Brantley led the Celtics to a 67-20 record over seven seasons, going to the playoffs every year, while also winning the school's second state championship in 2010.
Varnadore resigns unexpectedly at Crystal River
Following the completion of his third season at Crystal River, Nate Varnadore surprisingly resigned from the program. Varnadore, who went 10-20, guided the Pirates to a 5-5 record season this past fall. Now comes in former East Lake, Nature Coast, Newberry and Alachua Santa Fe coach Tommy Keeler, taking over the Pirates program for the 2016 season.
Cypress Lake makes change after disappointing seasons
Xavier McCray, a former University of Florida linebacker, was let go after back-to-back two-win seasons at the Fort Myers school. No word on when a new coach will be hired to replace McCray.
Eastside makes a change after rough year
After five years, Jeff Parker resigned after guiding the Rams to a 1-10 and district runnerup playof berth. Now comes in longtime Gainesville and PK Yonge assistant coach Ceddrick Daniels who will take over the Rams program for the 2016 season.
Dameon Jones calls it quits after best season at Hallandale
After guiding the Chargers to their most successful playoff run in the program history, Dameon Jones hung up the whistle for good at his alma mater three days after Christmas. Jones had served as head coach from 2007-2009 and again from 2011 until resigning, according to SFHSSports.com.
Orange Park seeking new head coach
After three years, Craig Nosse stepped down after guiding the Raiders to a 16-24 overall record with no playoff appearances during that span. No timetable has been set for hiring a replacement.
Ridgeview seeks third head coach in four years
Following the completion of his second season, Charlie Libretto resigned from his duties after going 4-16 over the last two years at the Orange Park school.
Rodgers leaves Suwannee for alma mater
Former Baker County player and assistant coach Jamie Rodgers went back home to take the vacant job at his alma mater. Rodgers went 32-15 in his four years at Suwannee, guiding the Bulldogs to the Final Four and Elite 8 the last two seasons.
Tavares seeks third head coach in as many seasons
Per FHSAA classifieds ad, Tavares is seeking a new football coach after David LaMarre parted ways after just one year on the job. LaMarre came to Tavares last season from St. Francis Catholic in Gainesville.
Wesley Chapel seeks new leadership to rebuild
Following the end of the season, Wesley Chapel and Tico Hernandez parted ways after four wins in three season as head coach.
Zephyrhills ousts alum Roberts citing need for on-campus coach
Despite winning and making the playoffs for two seasons straight, Zephyrhills ousted head coach Reggie Roberts after six seasons on Monday, the Tampa Bay Times reported. The reports indicated that the principal has desired to have an on-campus coach after the retirement of the school's athletic director before the holiday break. Roberts, who works as a detective sergeant with the Zephyrhills Police Department, would have to take a significant pay cut if he took the physcial education job that came open to leave the police force, according to reports.