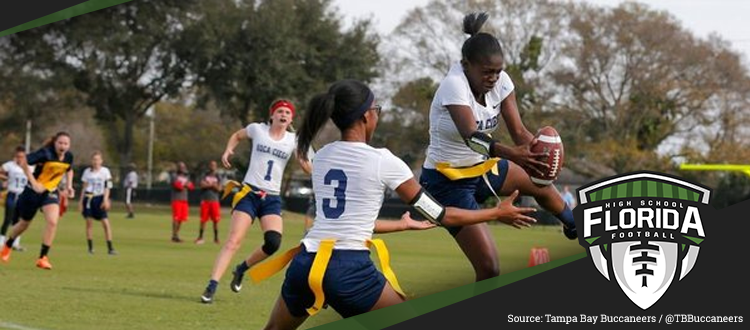 Here is how the Top 10 in Class 1A fared last week. All information is accurate as possible and not responsible for missing or incorrect scores.
1. Robinson (1-0)
Was off last week due to spring break in Hillsborough County, but the Knights will get back at the action this week.
2. Fort Pierce Westwood (4-0)
The Lady Panthers shutout 2A Fort Pierce Central for the second time this season, this time winning in a 39-0 contest last week.
3. Seminole Osceola (2-1)
Dropped a 19-12 overtime decision against unranked 2A St. Petersburg last week. Was also suppose to play Clearwater, but no word if that game was officially rescheduled for a later date.
4. FAMU (1-0)
The Lady Baby Rattlers were off last week due to spring break in Leon County, but the action will get going again this week.
5. St. Petersburg Northeast (3-0)
The Lady Vikings handled business last week before heading on spring break by shutting out Gibbs, 40-0.
6. Seabreeze (3-0)
Sandcrabs won a tough 12-6 game over an emerging 1A HM New Smryna Beach team earlier in the week before having a game against Port Orange Atlantic getting called off due to weather. That game will be rescheduled for a later date.
7. Orange Park (2-0)
The Lady Raiders were on spring break last week, but do not pickup on the action again until they host Baldwin next week in a key District 1A-4 contest.
8. Harmony (1-0)
After being off for spring break last week in Osceola County, the Lady Longhorns will retake the field this week against rival Kissimmee Gateway.
9. Monsignor Pace (5-0)
The Lady Spartans have continued to roll through teams as they posted two shutouts against Miami Norland (34-0) and North Miami Beach (41-0), while playing a tough Oxbridge Academy, securing a 13-6 win over the Thunder Wolves.
10. Glades Central (4-0)
Posted a 19-0 shutout against Suncoast last week as the Lady Raiders head into spring break this week before picking back up on the action next week.
Honorable Mention
Boca Ciega (4-0) – defeated Palm Harbor University, 28-0; defeated Boca Ciega 25-19
Spoto (2-0) – OFF
Oxbridge Academy (2-1) – lost to Monsignor Pace, 13-6
Suncoast (3-1) – lost to Glades Central, 19-0; defeated Coral Springs Charter, 31-0
Stranahan (3-0) – defeated Pompano Beach, 50-0
Godby (1-0) – OFF
Armwood (1-0) – OFF
Lincoln (0-1) – OFF
Chiles (1-0) – OFF
Choctawhatchee (1-0) – Game vs. Crestview washed out due to weather
Englewood (2-0) – defeated Andrew Jackson, 27-6; game vs. Stanton washed out due to weather
Terry Parker (3-0) – defeated Westside, 20-0; defeated Raines, 39-6
Paxon (2-0) – defeated Ribault 32-6
West Port (3-0) – defeated Palatka, 48-6
Mainland (4-0) – defeated Pine Ridge, 16-0; defeated Warner Christian 19-0
New Smyrna Beach (2-1) – lost to 1A No. 6 Seabreeze, 12-6
Niceville (0-1) – game vs. Fort Walton Beach washed out due to weather
Archbishop McCarthy (1-3) – lost to Pembroke Pine Charter 22-0, lost to Coconut Creek 18-6