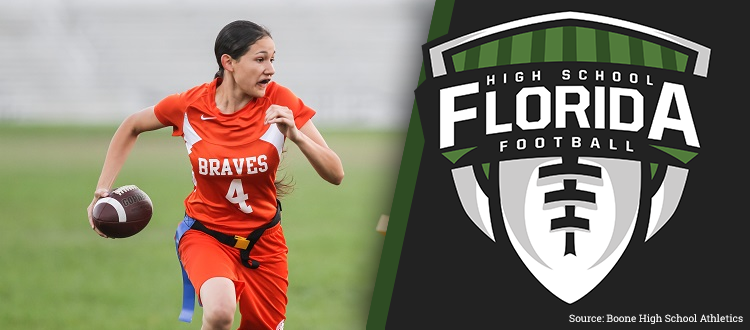 As week three begins, there was a little movement in the poll this week as No. 2 and No. 8 both lost causing some shakeup in the poll.
Top ranked Seminole Ridge remains on top of the poll, with Oak Ridge, Fleming Island and Apopka not far behind.
1. Seminole Ridge (4-0)
Last week: 1
Why: Defending state champs, winners of 68 of their last 69 games, keep rolling along picking up wins over Palm Beach Gardens 33-0, No. 2 Everglades 25-6 and Palm Beach Lakes 22-0. If there was any doubt about their top ranking, the Hawks put that away with a dominating win over the previously ranked No. 2 ranked team Everglades earlier this week. New coach, same result, doesn't matter. Hawks have scored at least 22 points in four straight games, while the defense is nearly untouchable surrendering just 6 points in four games.
2. Oak Ridge (3-0)
Last week: 3
Why: Tierra Celestine threw three touchdown passes and returned an interception for a score leading the Pioneers to an easy 35-13 win over Freedom. Through three games, the Pioneers have outscored their opponents 115-25, posting one shut out so far. Huge game with St. Cloud coming up March 29 in Orlando with first place at stake in the district.
3. Fleming Island (2-0)
Last week: 4
Why: After a week off enjoying Spring Break, the Golden Eagles, who have outscored its opponents 59-6, get back to work this week hosting Oakleaf in a district encounter.
4. Apopka (3-0)
Last week: 5
Why: A pair of dominating wins over Colonial 35-7 and arch-rival Wekiva 33-0 have vaulted the Blue Darters up two more spots in the latest rankings. For the third straight game, the Blue Darters scored at least 33 points, while the defense which has surrendered just 7 points posted their second shutout of the season.
5. Alonso (2-0)
Last week: 6
Why: After a week off thanks to Spring Break, Alonso is ready to get back into it. The Ravens, who opened up the season with a pair of close wins over Bloomingdale 14-7 and Sickles 7-0, will have their hands full again with No. 5 Plant in a critical showdown Tuesday.
6. Plant (1-0)
Last week: 7
Why: It's been 12 days since the Panthers throttled 54-0 Freedom in their season opener thanks to Spring Break. We will see just how good Plant really is when they travel to No. 4 Alonso with first place in District 7-2A at stake.
7. Boone (4-0)
Last week: HM
Why: Boone has been on the radar since the pre-season after going 12-2 last season, we were just waiting for that breakout win to move them up. They got it dominating previously undefeated and No. 8 ranked Timber Creek 26-13 to take control of District 3-2A. Since a 1 point win over HM Dr. Phillips the Braves defense has been on point averaging 8.5 points per game.
8. Taravella (2-0)
Last week: 9
Why: The long layoff hasn't seem to phase them as Taravella has opened its season with a 6-0 win over a solid Deerfield Beach team and a 20-0 win on the road at Coral Springs.
9. Everglades (3-1)
Last week: No. 2
Why: After three games, the Gators were cruising undefeated and unscored outscoring its opponents 74-0, that is until a showdown with No. 1 Seminole Ridge. Not only did they give up their first points of the season they gave up 25 and lost by 19 in a 25-6 loss.
T10. Plantation (4-0)
Last week: HM
Why: While other South Florida teams have been getting more attention, the Colonels have been quietly moving up and taking care of business on the field outscoring opponents 136-6 including wins over Fort Lauderdale 41-0 and Nova 48-0 this week.
T10. Plant City (0-0)
Last week: 10
Why: Part of ranking the Raiders was the tradition and success of last season. Little did we know there was a huge whole in the schedule the first few weeks. As Plant City still hasn't played a game and finally open its season March 22 against Tampa Bay Tech.
Dropped out: No. 8 Timber Creek (3-1)
Honorable Mention
Not listed in any order
Bloomingdale (1-1)
Why: Since the tough 14-7 loss to Alonso, the Bulls answered with a dominating 26-0 win over Riverview. After taking Spring Break off, they are back with key district games against Strawberry Crest and Durant looming this week.
Deerfield Beach (4-1)
Why: With the exception of a six point loss to Taravella earlier in the week, the Bucs have been on fire with wins this week over Monarch 19-14 and Flanagan 20-13 to stay with Taravella and Monarch in the district race.
Dr. Phillips (4-1)
Why: Since a 20-19 season opening loss to No. 6 Boone, the Panthers have posted four straight shutouts and have outscored everybody 125-0 since. Dr. Phillips hosts Timber Creek March 30 in a critical District 3-2A game that will likely decide the No. 2 seed in that district behind Boone.
East Bay (1-0)
Why: The Indians took the week off to celebrate Spring Break after winning a nail bitting 18-12 game over Tampa Bay Tech. District games against Durant March 22 and Plant City March 24 are looming this week.
Hialeah (4-0)
Why: While its still young and new, the Thoroughbeds appear to be one of the top teams in Miami so far with wins over Dr. Krop 19-0, Hialeah Gardens 31-0, Mater Academy 27-6 and Miami Beach 19-12.
John I. Leonard (4-0)
Why: For the third time in four games, Leonard found a way to win another close game with a 13-7 win over West Boca Raton to improve to 4-0 in District 10-2A play. The lone easy win of the season came earlier in the week in a 18-0 win over Atlantic.
Kissimmee Osceola (2-0)
Why: Kowboys have their opponents 55-8 with district wins over Celebration 21-0 and Orlando Freedom 34-8. After taking Spring Break off, the Kowboys return to district play this week against city rivals Liberty and Gateway.
Lake Worth (3-0)
Why: Like Leonard, Lake Worth keeps winning close game too, including a 6-0 win over a struggling Boca Raton team to remain neck in neck with Leonard for first place in the District 2A-10 race.
Miami Beach (3-1)
Why: While its still early and relative brand new, the Hi Tides have got a off to a great start with three shutout wins over Reagan 12-0, American 6-0 an North Miami 9-0 before falling 19-12 to Hialeah.
Miramar (2-0)
Why: No results were available for their game with West Broward, the Patriots enter Spring Break after throttling McArthur 28-2 and winning a dogfight with Hollywood Hills 6-0.
Monarch (3-1)
Why: Monarch split a pair of games this week throttling Parkland Douglas 25-6 before losing a tough 19-14 game to Deerfield Beach to move into a tie with Deerfield Beach for second place just one game behind Taravella.
Robert E. Lee (4-0)
Why: Generals continue to keep pace with No. 3 Fleming Island for the top seed in District 2A-1 with wins over Raines 19-6 and Sandalwood 18-2. Through four games, the Generals have outscored the opponent 70-14 and have yet to give up more than 6 points.
Steinbrenner (2-0)
Why: Steinbrenner took the week off with Spring Break and now looks to stay in contention for the top seed in the district tournament with district games against Freedom and Plant looming this week.
St. Cloud (2-0)
Why: The Bulldogs were on Spring Break last wee and will get back to work this coming week with games against Celebration an Poinciana. St. Cloud, who started the season with wins over Lake Nona 27-6 and Cypress Creek 19-13, looks to keep in stride with No. 2 Oak Ridge for the top seed in the district.
Timber Creek (3-1)
Why: Wolves were cruising, outscoring its opponents 78-0, and were undefeated and unscored on until a meeting with Boone as the Braves not only stopped the 3 game shutout streak but also stunned them 26-13 to hand them their first loss of the season.
Vero Beach (3-0)
Why: Through three games, the Indians have yet to be challenged outscoring their opponents 69-6 on their way to a perfect 3-0 District 2A-4 record.
Western (4-0)
Why: Western has been roping up the competition with two more wins this week over Cypress Bay 14-6 and Parkland Douglas 41-6 to remain undefeated. Through four games, the Wildcats have outscored their opponents 108-18 and not allowed more than 6 points a game.