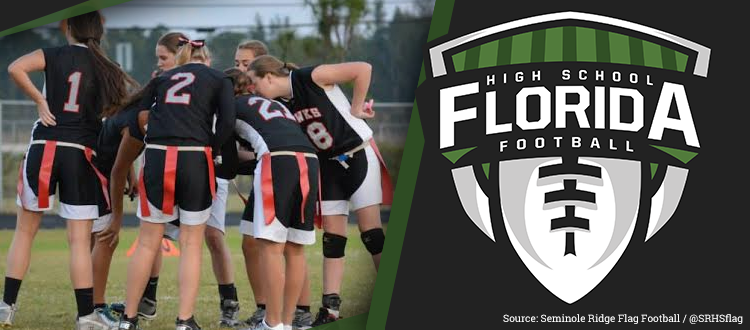 The Seminole Ridge Lady Hawks continue to dominated the top spot in the Class 2A Flag Football rankings going into Week 4. There were some shifts among other teams that saw Fleming Island and Oak Ridge trading spots, while Plant was able to make a statement against a previously higher ranked Alonso team. Check out to see who is where in the Class 2A rankings this week down below.
1. Seminole Ridge (4-0)
Last Week: No. 1
Why: The Lady Hawks get back to business this week as they take on Royal Palm Beach on the road while hosting Wellington in two District 2A-9 contest that could help Seminole Ridge lock down the No. 1 seed for the district tournament.
2. Fleming Island (3-0)
Last Week: No. 3
Why: The Lady Golden Eagles are flying high in the sky having posted two shutouts and has only given up six points officially so far this season. The Golden Eagles shutout rival Oakleaf 33-0 last week and will host Atlantic Coast this week.
3. Oak Ridge (3-0)
Last Week: No. 2
Why: The Lady Pioneers get back to work this week as they take on St. Cloud and Celebration in two critical District 2A-5 contest that will certainly shape the seeding for the district tournament.
4. Apopka (3-0)
Last Week: No. 4
Why: The Lady Blue Darters have been flying high, only having given up 7 points so far in three games and will travel to Spruce Creek on Wednesday before making the trip to Tallahassee to play in the Capital City Classic tournament.
5. Plant (3-0)
Last Week: No. 6
Why: Cannot ignore the fact that the Lady Panthers are rolling strongly, having shutout previous No. 6 ranked Alonso 21-0 and easily handling HM Steinbrenner later during the week. The Lady Panthers will play at Sickles this week.
6. Boone (4-0)
Last Week: No. 7
Why: The Lady Braves get back to work after a week off for spring break as they host Orlando University in a critical District 2A-3 contest before closing out the week against Independent Colonial.
7. Taravella (2-0)
Last Week: No. 8
Why: The Lady Trojans have give up zero, as in zero points so far this season and will look to continue that trend this week coming off of spring break when they visit Plantation.
8. Everglades (3-1)
Last Week: No. 9
Why: The Lady Gators have posted three shutouts so far this season and the only loss has come to 2A top-ranked Seminole Ridge. They will host Cypress Bay in a non-district contest at the end of the week.
9. Alonso (3-1)
Last Week: No. 5
Why: The Lady Ravens will have to pray that Plant somehow drops couple of district game unexpectedly in the next couple of weeks for the top district seed as they dropped a 21-0 decision to the Lady Panthers this past week. However, they did pick things back up later in the week by defeating 1A King 26-0.
10. Plantation (4-0)
Last Week: No. T10
Why: With spring break over, the Lady Colonels should be getting back to work, however our current schedule does not list a game for the next two weeks, but that could be different once a proper schedule is received by us.
Honorable Mention
Not listed in any order
Bloomingdale, 2-1; Deerfield Beach, 4-1; Dr. Phillips, 4-1; Dwyer, 3-1; East Bay, 2-1; Hialeah, 4-0; John I. Leonard, 4-0; Jupiter, 2-0; Kissimmee Osceola, 3-0; Martin County, 2-0; Lake Worth, 4-0; Miami High, 2-0; Miami Beach, 3-1; Miramar, 2-0; Monarch, 3-1; Robert E. Lee, 4-0; Steinbrenner, 3-1; St. Cloud, 3-0; Timber Creek, 3-1; Vero Beach, 3-0; Western, 4-0; Wharton, 3-0