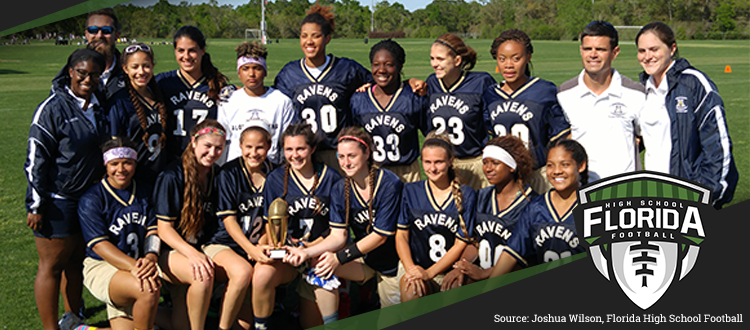 The Seminole Ridge Lady Hawks continue their domination in Class 2A as they stay undefeated going into Week 5. However, there were some changes in the Top 10 as three teams dropped out while three new teams moved into the rankings this week with two teams entering the first time this season, while one returns the rankings after a one week hiatus.
1. Seminole Ridge (6-0)
Last Week: No. 1
Why: The Lady Hawks easily rolled through Wellington last week 40-6 in a shorten week that saw the contest against Royal Palm Beach go awash due to Mother Nature's antics. Will get ready to face Jupiter and Dwyer in likely will be the most comeptitive district matchups for the season, this week.
2. Fleming Island (4-0)
Last Week: No. 2
Why: The Lady Golden Eagles continue to play lights out defense shutting out Atlantic Coast 52-0. After looking at results of the second best team in the district with Robert E. Lee who also played Atlantic Coast last week, the difference in shutout margins gave us confidence that keeping the Lady Golden Eagles at No. 2 is not a bad move.
3. Plant (4-0)
Last Week: No. 5
Why: With Apopka's 1-2 weekend at the Capital City Classic and dismal win over Spruce Creek also add on top of Oak Ridge's loss to 2A HM St. Cloud, allowed the Lady Panthers to make a big jump in this week's rankings. The Lady Panthers took care of business by posting another shutout – this time against Sickles to the tune of 45-0. The Lady Panthers will get ready to tango with 1A No. 1 Robinson tonight which went 2-1 at the Capital City Classic in Tallahassee.
4. Alonso (7-1)
Last Week: No. 9
Why: What a week can do for a team that got shutout by now No. 4 Plant back in Week 3. Since that point The Lady Ravens have been on a tear and exceeded Coach Matt Hernandez's expectations at the Capital City Classic. In all the Lady Ravens posted five shutout last week that included wins over Wharton (7-0), Gaither (39-0), 1A No. 9 Godby (19-0), Leon (27-0) and 1A HM Lincoln (31-0) to win the Capital City Classic championship for the second time since the tournament launched in 2011.
5. Boone (5-0)
Last Week: No. 5
Why: The Lady Braves are still undefeated after four weeks of games and it looks clearer and clearer that they will lock up the top spot in District 2A-3 after they defeated Orlando University 34-7 last week. They will play West Orange and Wekiva, with the West Orange game likely allowing them officially lock in the top seed with a win.
6. Taravella (3-0)
Last Week: No. 6
Why: Easily took care of business against a competitive and previously ranked Plantation team in a 7-2 decision. Will play Monarch 2A HM Monarch later this week in a contest that could likely decided the seeding for the district tournament later on in the month.
7. Everglades (4-1)
Last Week: No. 8
Why: Squeaked by Cypress Bay with a 7-0 win with their only loss still being to No. 1 ranked Seminole Ridge. They will take on 1A No. 5 Monsignor Pace later on this week in a battle of Broward vs. Dade.
8. Plant City (4-0)
Last Week: HM
Why: The Lady Raiders are back in the rankings after notching two more victories to say undefeated on the season and look to be heading towards to the top seed in District 2A-6. They will take on Newsome and Bloomingdale this week in two key district games.
9. St. Cloud (6-0)
Last Week: HM
Why: Last week might have proved to be the most challenging week for the Lady Bulldogs with the weather and three games on the schedule. The Lady Bulldogs first knocked off previously ranked Oak Ridge 27-13, 20-0 win over Kissimme Gateway and 13-7 non-district win over Wekiva. All of that puts the Lady Bulldogs in position for the likely top seed in the district tournament at the end of the month.
10. Western (6-0)
Last Week: HM
Why: This team has been on a roll since the season started and defeated South Plantation 21-15 and previously ranked Plantation, 14-12 to take the top spot in their district. The Lady Wildcats face Hollywood Hills and Fort Lauderdale this week on the field..
Dropped Out: No. 3 Oak Ridge, 4-1; No. 4 Apopka, 5-2; No. 10 Plantation, 4-2
Honorable Mention
Not listed in any order
Apopka, 5-2; Deerfield Beach, 5-2; Dr. Phillips 5-1; Dwyer 6-1; East Bay 6-2; Hialeah, 6-0; John I. Leonard, 5-0; Jupiter 4-1; Kissimmee Osceola, 4-0; Martin County, 3-0; Lake Worth, 5-0; Miami High, 3-0; Miami Beach 3-1; Monarch 5-1; Oak Ridge, 4-1; Robert E. Lee, 6-0; Steinbrenner, 4-1