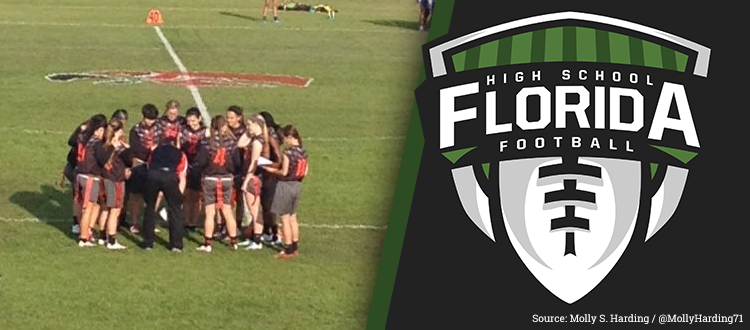 Another week down and Seminole Ridge keeps its grip on the top spot of the Class 2A Flag Football rankings. However, three teams ended up dropping games that saw them exit and allowed three new teams to enter the rankings this week as the second to the final week of the season comes upon us.
1. Seminole Ridge (8-0)
Last Week: No. 1
Why: The Lady Hawks are still not missing a beat as they took down Dwyer 36-0 and Jupiter 27-6 to keep a tight grip on the top spot in Class 2A as they will go into the District 2A-9 tournament at the end of the month as the top overall seed. They will play non-district foes in Pahokee and Oxbridge Academy this second to final week of the regular season.
2. Fleming Island (6-0)
Last Week: No. 2
Why: Defense keeps leading the way for the Lady Golden Eagles who posted shutouts on Sandalwood and Mandarin last week to stay undefeated on the season and in District 2A-1. Can officially lock in the top seed for the district with a win over Robert E. Lee this week.
3. Plant (4-1)
Last Week: No. 3
Why: We hold the line here with Plant dropping their first game of the season against Class 1A's top rated team in the Robinson Lady Knights. It collectively speaks for the level of competition both teams have faced this season and a six point loss doesn't say that Plant is a bad team. In the end this might just make the Lady Panthers even stronger as they wrap up the season over the next couple of weeks. The Lady Panthers will take on Gaither and Wharton this week to wrap up the district schedule
4. Alonso (7-1)
Last Week: No. 4
Why: Scheduled game against Steinbrenner was pushed back to this week which allowed the Lady Ravens to have a week off and recover after posting five shutout wins the week before. It appears at this point the Lady Ravens could lock up the number two spot in the district with wins over Steinbrenner and Tampa Freedom this week, as long as Plant wins out both games as well.
5. Boone (6-0)
Last Week: No. 5
Why: The Lady Braves continue to win games and remain undefeated, but this past week saw the score a little too close for comfort as they barely got past West Orange 18-12. Question remains to be seen if the Lady Braves can continue to keep things rolling on the winning path as they take on Wekiva, Winter Park and East River this week, which a win over Winter Park will officially lock in the top spot for the District 2A-3 tournament.
6. Taravella (4-0)
Last Week: No. 6
Why: This was a tough call to leave the Lady Trojans alone in the rankings after squeaking out a three-overtime 21-20 victory against Monarch last week. However, Taravella is leading the way in their district and is winning no matter how it is done. Will take on Coral Glaces and Piper this week.
7. Western (8-0)
Last Week: No. 10
Why: This Lady Wildcats team continues to turn heads in Broward County as they are still on a roll having posted two shutouts last week as they defeated Hollywood Hills 8-0 and Fort Lauderdale 26-0. As the top seeded team in District 2A-12, Western will use the next two weeks to officially wrap up its non-district schedule before the district tournament.
8. Lake Worth (7-0)
Last Week: HM
Why: It was time to bring Lake Worth into the fold here after they posted two more win this past week to officially give the Lady Trojans the top seed in the District 2A-10 tournament. Lake Worth will wrap up its regular season schedule this week with games against Dwyer, Forest Hill and Spanish River this week.
9. Kissimmee Osceola (6-0)
Last Week: HM
Why: Say hello to the Lady Kowboys with a K as they pulled off a stunning upset on previously ranked St. Cloud this week on a last minute drive to secure the win as well as knocking previously district favorite in Oak Ridge to move into the rankings this week. Will officially wrap up district play with games against Kissimmee Gateway and Lake Nona this week while also taking on county rival Poinciana in a non-district matchup.
10. Dr. Phillips (7-1)
Last Week: HM
Why: This move could turn heads or possibly not as their has been nothing short of impressive of what the Lady Panthers are doing for Dr. Phillips after since they dropped their first game of the season to now No. 5 Boone (a one-point loss, 20-19) by ripping off 6 shutouts out of their last 7 games.
Dropped Out: No. 7 Everglades (5-2), No. 8 Plant City (5-1), No. 9 St. Cloud (7-1).
Honorable Mention
Not listed in any order
Apopka 6-2; Bloomingdale, 5-2; Dwyer, 6-2; Everlgades, 5-2; Ferguson, 6-0; Hialeah, 8-0; John I. Leonard, 5-1; Miami High, 5-0; Plant City, 5-1; Piper 6-1; Robert E. Lee, 7-0; St. Cloud, 7-1; St. Petersburg, 5-2; Seminole (Seminole), 5-1; Steinbrenner, 5-1; Timber Creek, 7-2; Varela, 4-1