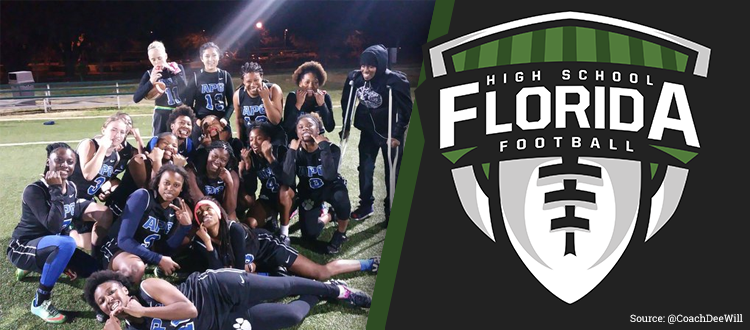 We have reached the final week of the regular season, with district tournaments looming just a week away. A week of surprises, has once again shifted the Class 1A Flag Football Top 10 rankings.
1. Robinson (10-1)
Last Week: No. 1
Why: Solidified top spot with 46-0 win over previously undefeated Spoto in lone action last week, travels to Alonso in final game of regular season tonight.
2. Monsignor Pace (10-0)
Last Week: No. 3
Why: Clinched the top spot in the district pounding Carol City 55-6 helping them jump up to the No. 2 spot. Final game against Mater Academy this Wednesday. They also dumped a shutout on previous undefeated 2A Hialeah, 32-0 during the week as well.
3. Mainland (10-0)
Last Week: No. 4
Why: A dominating 26-12 win over New Smyrna Beach propels Mainland up to No. 3 with games at Spruce Creek and Oak Ridge rounding out the end of the regular season.
4. Coconut Creek (10-0)
Last Week: No. 8
Why: The Lady Cougars went 3-0 last week with wins over Boyd Anderson 24-0, Stranahan 34-6 and Dillard 27-6 to make a huge jump this week. The defense continues to be lights out surrendering a staggering 6 points a game.
5. Choctawatchee (9-0)
Last Week: No. 5
Why: Indians dominated arch-rival Fort Walton Beach 26-6 last week to finish district play perfect at 6-0 and now will be tested with games at home this week against Chiles, Lincoln and Leon.
6. Godby (8-2)
Last Week: No. 6
Why: Cougars had little trouble in a pair of wins over Florida HighHigh 46-6 and Leon 19-0 and have now won three in a row going into road games against Boca Ciega and St. Pete Northeast.
7. Chiles (8-1)
Last Week: 7
Why: Wins over Rickards 46-0 and Wakulla 31-0 keep the Timberwolves right behind Godby for the top team in Tallahassee. Chiles travels to Fort Walton Beach to take on both Choctaw and Fort Walton Beach in a pair of games this week.
8. Fort Pierce Westwood (8-1)
Last Week: No. 2
Why: Martin County pulled off the stunner ending Westwood 28 game regular season winning streak shocking Westwood 8-0 last week. However, they Lady Panthers did bounce back to beat Okeechobee 21-0 to clinch the top seed in District 1A-11.
9. Seabreeze (6-1)
Last Week: No. 9
Why: The Lady Sandcrabs bounced back with a big 34-7 win over DeLand last week, while its district game against Warner Christian was rained out and won't be made up. Flagler Palm Coast comes over this week for Senior Night to end the regular season.
10. Boca Ciega (9-0)
Last Week: HM
Why: Spoto loss is Boca Ciega gain as they finally move into the rankings with a 13-7 win over Seminole Osceola last week. Defense has been superb with 5 shut outs and has only allowed one opponent to score more than 7 point on them.
Dropped Out: No. 10. Spoto, 7-1
Honorable Mention:
Brooks-DeBartolo, 6-1; Dillard 6-2; Dunedin, 7-1; Englewood, 7-2; Glades Central, 7-1; Glades Central, 9-1; Harmony, 7-1; Jones, 5-0; Orange Park, 8-2; Keystone Heights, 7-1; Miami Edison, 8-0; Paxon, 6-2; Spoto, 7-1; Suncoast, 9-2; Terry Parker, 8-0; Westside, 8-1