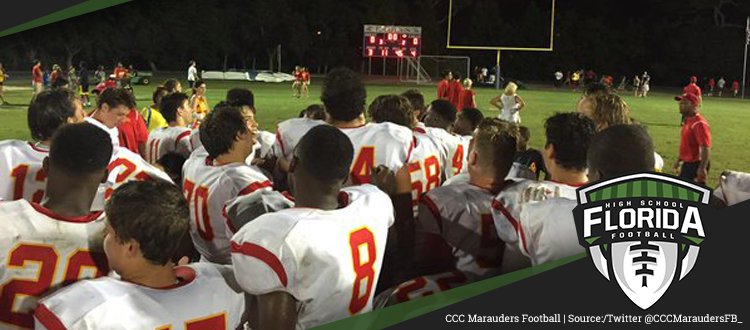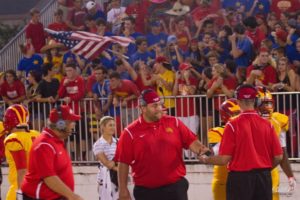 CLEARWATER CENTRAL CATHOLIC MARAUDERS
Head Coach: Chris Harvey
District: 3A-5
2015 Record: 12-1
Offensive Formation: Spread
Defensive Formation: Unknown
RETURNING ATHLETES
Name, Height, Weight, Year, Info & 2015 Stats in parenthesis
• ATH C.J. Cotman, 5-10, 180, Sr. (3rd-year starter; 69 tackles, 3 INTs, 21 breakups, 54 carries for 655 yards, 12 TDs; 32 rec for 593 yds., 3 TDs; 1,566 All-Purpose yards; 1st team FHSF Class 3A All-State Elite Team)
• QB Jakob Parks, 6-4, 200, Sr. (2nd-year starter; 2,056 yards passing, 20 TDs, 3 INTs, 2nd team FHSF Class 3A All-State Elite Team)
• RB/CB Ra'Shaad Stewart, 6-1, 180, Sr. (2nd-year starter; 621 rushing yds, 8 TDs, 65 tackles, 1 INT; 1st team FHSF Class 3A All-State Elite Team)
• RB/CB Jervon Newton, 6-0, 185, Sr. (952 yards rushing, 12 TDs, 58 tackles. Can also play QB when needed)
• LB Tyler McDonald, 6-2, 221, Sr. (101 tackles, 14 TFL, 2 sacks, 1 INT, 3 FF, 2 FR; 1st team FHSF Class 3A All-State Elite Team)
• DE/LB Jerquan Newton, 6-1, 210, Sr. (93 tackles, 7 sacks, 1 FR, 1 FF)
• WR/FS Dilan Scargle, 5-11, 175, Sr. (48 tackles, 3 TFL, 15 rec. 187 yds. 2 TDs)
• WR/DB Amari Burney, 6-2, 205, Jr. (3rd-year starter; 20 rec., 404 yds, 7 TDs, 91 tackles, 2 INTs, 4 TFL, 2 FF, 5 FR, 21 pass deflections; 1st team FHSF Class 3A All-State Elite Team)
• MLB/FB DeAndre Fitz-Henley, 6-0, 208, Jr. (Was an OLB last year; 124 tackles, 2 FF, 1 FR, 2 sacks; 2nd team FHSF Class 3A All-State Elite Team)
• SS/RB Dandre Ferguson, 6-1, 185, Jr. (56 tackles, 352 yards on offense, 2 TDs)
NEWCOMERS ON THE FIELD
Name, Height, Weight, Year, Additional Info in parenthesis
• OT Dillan Gibbons, 6-6, 305, Sr. (transferred in from Northside Christian and Committed to Notre Dame)
• OL Nick Joseph, 6-0, 250, Jr. (has been with the CCC program for three years, but will be starting on varsity for the first time this season)
2016 SCHEDULE
* – denotes district game
• Aug. 25 vs. Berkeley Prep, 7
• Sept. 2 vs. Indian Rocks Christian, 7:30
• Sept. 9 vs. DeSoto County, 7:30
• Sept. 16 vs. Clearwater Academy, 7:30
• Sept. 23 @ Tampa Catholic, 7
• Sept. 30 @ St. Petersburg Catholic, 7*
• Oct. 7 @ Trinity Catholic, 7
• Oct. 14 vs. Calvary Christian (Clearwater), 7:30*
• Oct. 21 @ Admiral Farragut, 7
• Oct. 28 @ Cardinal Mooney, 7*
• Nov. 4 BYE WEEK
STORYLINES TO FOLLOW
• A run to state possible? From all indicators this team could be one that makes a push for state and could see a rematch with Jacksonville Trinity Christian from the 2013 Class 3A title game this season. Coach Harvey noted that most of the team from 2015 is back intact and that the senior group were all freshmen when the team played for the state championship in 2013, so that is an added bonus that very few teams enjoy at all. However, the run to state will certainly have to go through a mainstay like American Heritage-Delray or possibly through a resurgent Chaminade-Madonna program this season.
• Athleticism is all around: The team is surrounded by some very strong athletes all who have been two or three year starters for the Marauders. C.J. Cotman will no doubt be the leader of the team again who can play all over the field making plays from the defense to the special teams side of things. On offense look for Jakob Parks to have another big year from under center and should be able to easily match his passing total. Rising junior Armari Burney will also contribute nicely on the defense, but also expect him to see his fair share of time on the offense as well, likely hauling in balls for Parks.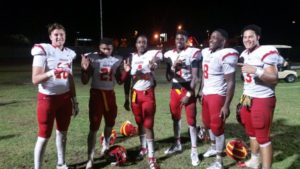 • Have to go both ways: For CCC like a lot of small school program is having to play athletes both ways. The Marauders will have a roster of 37 players this season despite the fact that have a return of 16 starters combined on both sides of the ball, but with some them playing both ways. So the concern for the Marauders at this point will not be so much winning games they need to win, but making sure that everyone stays healthy so those games can be won. Coach Harvey hopes that some of the younger guys will have made strides during the summer to be able to contribute this fall.
KEY NON-DISTRICT GAME TO WATCH
• Sept. 23 at Tampa Catholic – This is a huge cross-bay rivalry that has blossomed over the last few years that makes it a must see game no matter which side of Tampa Bay it is own. The Marauders hold a 5-1 edge over the last five seasons, that includes a playoff win in 2012. Ultimately this will be a test for both teams that will gauge what the back stretch of the season will shape up to be. And we will not rule out the possibility of these two teams meeting again in December for a state championship, if it comes down to that as well with Tampa Catholic in the north bracket for Class 3A.
KEY DISTRICT GAME TO WATCH
• Oct. 28 at Cardinal Mooney – This game wasn't much of matchup last year as all the teams below CCC in district play were sub .500 overall in 2015. However, there is expected to be improvement from Cardinal Mooney this year and this game could be closer given the fact the Marauders have to go on the road for the game. However, it also wouldn't be surprising if this game means nothing by the time it comes around as well.
AUDIBLE FROM THE COACH
"We're aware of the expectations for us to be playing some really good football teams at the end of November and December, but we think this steam can compete with those teams. Athletically, we're as good as anyone in the state," – Coach Harvey
THE OUTLOOK
It should be no surprise that the Marauders are once again a big favorite in Class 3A to make a deep playoff run this season. Given that 16 overall starters are back, some playing both ways, this should provide a huge spark of confidence for a team that is very much itching to get back to the state championship game in Class 3A.
CCC looks to repeat this scene again in 2015 as District Champions. (Photo Credit: CCC Athletic Department)

Head Coach Chris Harvey takes over for longtime coach John Davis who had led the Marauders to four straight semifinals appearances and a berth in the state championship game in 2013. They are some big shoes to fill for Harvey, who is replacing Florida Dairy Farmers Class 3A Coach of the Year for 2015. However, Harvey is no stranger to the program, having served as an assistant under Davis this past season.
One major difference this year for the Marauders will be the abundance of senior leadership, which is something that was lacking with only six seniors on the team last year – one that happened to manage to complete CCC's first undefeated regular season in school history. Given that the senior leadership this year has already had a taste of what a state championship game can look like three years ago, this should help the Marauders look even years better compared to last season.
During the spring the Marauders got a matchup against crosstown Clearwater High School, where both programs easily fought for four full quarters with CCC coming away with a 21-14 victory, according to the Tampa Bay Times. Jervon Newton ran for 100 yards in the game while Ra'Shadd Stewart accounted for two of the teams touchdowns. Jakob Parks also accounted for one touchdown pass to C.J. Cotman, according to the report from the Times.
Overall, this expect the Marauders to be a highly competitive team as they feel they will be able to compete among the best of the best in Class 3A this season and compete for that elusive state championship that has yet to be won by any team – public or private – in Pinellas County.