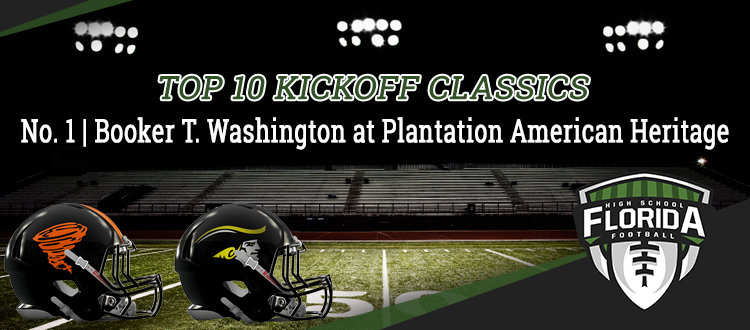 1. Booker T. Washington at Plantation American Heritage
When: Friday, 7:30 p.m.
Where: Heritage Field, Plantation
Why: Both of these teams enter the season ranked in the Top 10 by USA TODAY with the Tornadoes ranked No. 8 while the Patriots are ranked No. 6. The Patriots are also ranked by MaxPreps, coming in at No. 11 for the preseason. This game is huge as Ice Harris returns to the sideline as the head coach for Booker T. while Patrick Surtain Sr. takes over as the head coach for American Heritage. Harris returns after two years away while coaching at the University of Miami under former head coach Al Golden, while Surtain moves up from defensive coordinator, taking over for Mike Rumph, who ironically took a position at the University of Miami under new head coach Mark Richt. Both programs are loaded with talented athletes (too many to list here) and this showdown will certainly have a major impact on the national rankings for next week as both teams are being predicted by most to win state championships this season in each of their respective classifications.
Predictions
USA TODAY HSS Score Predictor: American Heritage 32, Booker T. Washington 26
Josh's Prediction: Booker T. Washington 28, American Heritage 27
Who do you think will win?