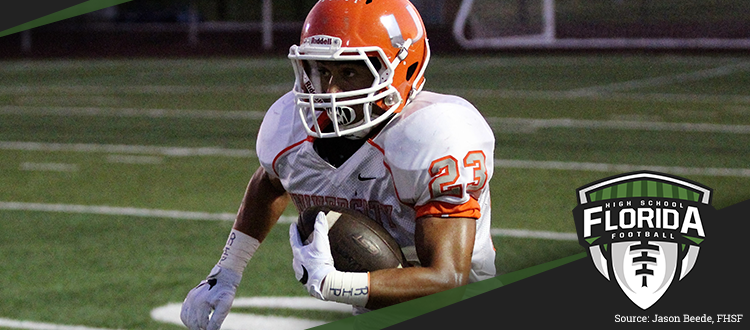 Class 8A is about as wide open of a classification as you can find in Florida high school football. Who will emerge from the cloud of dust once all the district games are settled at the end of October? It will start with these best district games to watch in Class 8A for Week 4.
DISTRICT 8A-1
Sandalwood (2-0, 0-0) at Spruce Creek (2-1, 0-0)
Skinny: The visiting Saints lost their starting quarterback last week with a major injury, however, there is still talent that will separate them from the host Hawks.
DISTRICT 8A-2
Orange City University (3-0, 0-0) at Sanford Seminole (2-0, 0-0)
Skinny: This might be looked back upon as the de facto district championship at the end of the season as the two best teams in the district clash early in district play.
DISTRICT 8A-6
Steinbrenner (1-1, 0-0) at Sarasota Riverview (2-0, 0-0)
Skinny: Steinbrenner was the runner-up last season, but there a ton of concerns that they won't be able to match last year's success with Riverview looking like a team that could be in the mix.
DISTRICT 8A-10
Spanish River (2-1, 0-0) at Boca Raton (2-0, 0-0)
Skinny: This could be a closer game this year between both programs. If Spanish River does indeed get the win over Boca Raton, the dynamics of the district will be totally changed for the rest of the season.
DISTRICT 8A-13
Dr. Krop (2-1, 0-0) vs. North Miami Beach (1-2, 0-0)
Skinny: Dr. Krop and North Miami Beach are both considered in the mix to emerge out of the district this season and this game will help decide the direction their potential playoff paths will look like.
Hialeah (2-1, 0-0) vs. North Miami (2-1, 0-0)
Skinny: Two more teams that could be in the mix for the district's two playoff spots and again this will decide which way both team's playoff paths will start to look like after this week.
DISTRICT 8A-15
Ferguson (1-1, 0-0) at Belen Jesuit (1-1, 0-0)
Skinny: Still a lot of unknowns about both of these teams, which makes this game an interesting one to watch. Ferguson is averaging more points scored per game than Belen, but the Wolverines are giving up less so far than the Falcons.
DISTRICT 8A-16
South Dade (1-2, 0-0) vs. Miami Palmetto (3-0, 0-0)
Skinny: A little strange to see South Dade entering a district game already down with two losses. However if Palmetto plays the game cleanly, they could help shake up the entire district race with a win here.