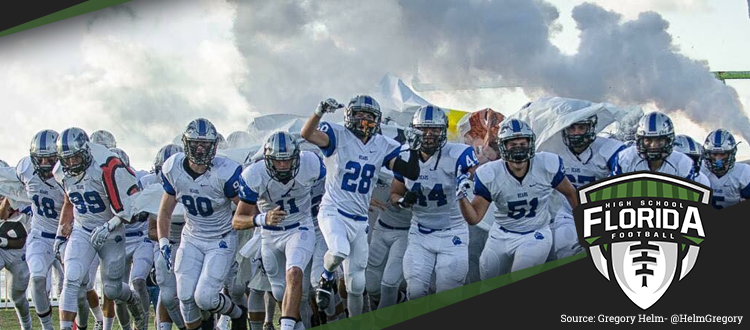 It is hard to believe, but Week 5 is already upon us here in Florida and that means we are getting to about the midway point of the season. However, there is no shortage of games to watch on as here is our Top 10 games to watch for Week 5.
1. Miami Central (4-0) vs. Booker T. Washington (3-1)
FHSF Rankings: Miami Central No. 1 in 6A; Booker T. Washington No. 2 in 4A
Why: Here comes the annual showdown between the two powers from Class 6A and Class 4A. Miami Central has run through most of their opponents so far through the first four weeks of the season with the exception of Norland last week. The Rockets were played toe-to-toe by the Vikings and that caused a scare. Booker T. Washington bounced back last week against Southridge after dropping to Miami Jackson the week before. The key thing to watch will be to see who gets the quicker start. Whoever does get the quicker start is likely going to have the edge for most of the game.
Predictions
Josh's Prediction:Miami Central 24, Booker T. Washington 21
USA TODAY HSS: Miami Central 33, Booker T. Washington 14
Joe Pinkos: Miami Central 20 over Booker T. Washington
2. Dr. Phillips (3-1) at Mainland (4-0)
FHSF Rankings: Dr. Phillips No. 4 in 8A; Mainland No. 4 in 6A
Why: This game wasn't close last year as Mainland walked out a 21-point differential win at Dr. Phillips. However, Dr. Phillips appears to be a much-improved team this year having won big in three games while playing Apopka, the top-ranked team in Class 8A, to a 1-point loss last week. Mainland has started slowly in most of their games so far this season, which could be seen as an issue. But can Mainland score 40 points in this game against a Dr. Phillips defense that has given up less than 8 points a game so far? That is the biggest unknown coming into this game and one fans will have fun watching.
Predictions
Josh's Prediction:Mainland 30, Dr. Phillips 21
USA TODAY HSS: Mainland 28, Dr. Phillips 18
Joe Pinkos: Dr. Phillips 5 over Mainland
3. Armwood (3-0) at Plant (3-0)
FHSF Rankings: Armwood No. 2 in 6A; Plant No. 10 in 7A
Why: One of the most looked forward to rivalry games in the Tampa Bay-area over the last decade, this one decides who is really the supreme leader of football teams in Hillsborough County. Armwood could be likely approaching this game totally different than years past as the Tampa Bay Times reported that some key personnel is out for the game. However, some feel Plant is a way better team this year – enough that they could send a message to the rest of the state that they are back to being a full contender in Class 7A.
Predictions
Josh's Prediction:Plant 31, Armwood 28
USA TODAY HSS: Armwood 34, Plant 14
Joe Pinkos: Armwood 16 over Plant
4. Tate (4-0) at Niceville (4-0)
FHSF Rankings: Tate unranked in 6A; Niceville No. 6 in 6A
Why: A highly anticipated game that has been circled on the calendar for months by both teams in a rematch of last year's Class 6A-Region I final that saw Tate upset the Eagles at home. Both teams have come out with high powered offenses this season as both have been averaging at least 30 points a game so far. The question here will be if either team's defense can make a statement to stop the other or will this be an offensive barn burner? Fans who love Panhandle football should be at this one to watch.
Predictions
Josh's Prediction:Niceville 35, Tate 24
USA TODAY HSS: Niceville 28, Tate 21
Joe Pinkos: Niceville 7 over Tate
5. St. Augustine (3-1) at Bartram Trail (3-1)
FHSF Rankings:St. Augustine unranked in 6A; Bartram Trail ranked No. 7 in 7A
Why: If you look at the record of this rivalry you will see it has been lopsided – totally in favor of St. Augustine with a 17-0 record. Well, the 18th meeting comes up this week between these two St. Johns County programs and Bartram Trail will once again be looking to capture that first win against St. Augustine. According to Will Brown of the St. Augustine Record, 10 of the 17 games have been decided by one touchdown or less in the series. That makes for a very competitive rivalry, despite the record in the series, something that should be expected once again on Friday night.
Predictions
Josh's Prediction:Bartram Trail 24, St. Augustine 21
USA TODAY HSS: Bartram Trail 21, St. Augustine 20
Joe Pinkos: St. Augustine 1 over Bartram Trail
6. Miami Norland (3-2) at Plantation American Heritage (4-0)
FHSF Rankings:Miami Norland unranked in 6A; American Heritage No. 1 in 5A
Why: After Miami Norland showed they could contend with Miami Central last week, there is certainly a lot of eyes on this game as they take on the top-ranked team in Class 5A with Plantation American Heritage. American Heritage which has gone through gauntlet of a schedule to start off the season winning games against Colquitt County (GA), Don Bosco Prep (NJ) as well as Miami Northwestern, Norland could be a bit a surprise test as the Vikings defense could show up again to put another top team on brink of having a loss for the first time this season.
Predictions
Josh's Prediction:American Heritage 30, Norland 10
USA TODAY HSS: American Heritage 24, Norland 6
Joe Pinkos: American Heritage 13 over Norland
7. Boyd Anderson (3-0) at IMG Academy (4-0)
FHSF Rankings:Boyd Anderson No. 9 in 6A; IMG Academy not eligible for ranking
Why:Boyd Anderson comes into this game looking hungry to be the first Florida team this season to have a chance at knocking off the Ascenders. However, this game is going to test the Cobras as IMG Academy has already been through it all this season from being tested in California to having produced an ugly blowout win on a team from Oklahoma. The Cobras will have to play a nearly perfect game, with few mistakes as possible to get a win in Bradenton.
Predictions
Josh's Prediction: IMG Academy 35, Boyd Anderson 14
USA TODAY HSS: IMG Academy 44, Boyd Anderson 7
Joe Pinkos: IMG Academy 7 over Boyd Anderson
8. Rickards (2-1) vs. Lincoln (2-1)
FHSF Rankings: Rickards No. 6 in 5A; Lincoln No. 8 in 7A
Why: This is a big city rivalry for Tallahassee the last few years, both Rickards and Lincoln are looking to make a state championship run this season and so far they are on the right track. Rickards, which dropped a Week 1 game to Madison County and not getting to play in Week 2 due to Hurricane Hermine has steadily bounced since. The same thing can be said for Lincoln which lost to Niceville in Week 1 and didn't play in Week 2 due to Hermine and has progressed since. For the Trojans though they had a statement victory last week after knocking off the top team in Class 3A against Jacksonville Trinity Christian.
Predictions
Josh's Prediction:Lincoln 28, Rickards 27
USA TODAY HSS: Lincoln 35, Rickards 31
Joe Pinkos: Lincoln 4 over Rickards
9. Cocoa (2-1) at Viera (3-1)
FHSF Rankings:Cocoa No. 1 in 4A; Viera No. 4 in 7A
Why: Both teams are ranked in Class 4A and Class 7A respectively coming into this game, but this more of a chance for Viera to win a game they almost won last year against a highly competitive Cocoa team. While the Hawks are not the same team they were last year with a high powered offense, they have found different ways to keep winning through having a tough a defense that played Lakeland Kathleen tough last week for a win. However, though, some have wonder if Lake Highland Prep might have exposed something a little bit about Cocoa, which gave up over 20 points, in what was expected to have been more of a blowout kind of game last week . Only time will tell with this one.
Predictions
Josh's Prediction:Cocoa 35, Viera 30
USA TODAY HSS: Cocoa 32, Viera 28
Joe Pinkos: Cocoa 4 over Viera
10. Melbourne Central Central Catholic (4-0) at Union County (2-1)
FHSF Rankings: MCC No. 6 in 3A; Union County unranked in 1A
Why: Expect this game to be competitive once again, after a competitive meet up last year in Melbourne saw the Union County Tigers escape with an 18-7 win over the Hustlers. The Hustlers which have started out the season 4-0 and scoring at 47 points a game will walk into a tough environment in Union County that is hard for most teams to win games at. Fort Union County, they will have to make sure they are ready for anything thrown at them as the Hustlers have only given up an average of 6.5 points per game so far.
Predictions
Josh's Prediction:Melbourne Central Catholic 35, Union County 21
USA TODAY HSS: Union County 35, Melbourne Central Catholic 34
Joe Pinkos: Melbourne Central Catholic 10 over Union County
Last Week
FHSF:5-5
USA TODAY HSS: 5-5
Joe Pinkos: 5-5
Season Records
FHSF: 19-11
USA TODAY HSS: 15-15
Joe Pinkos: 18-12