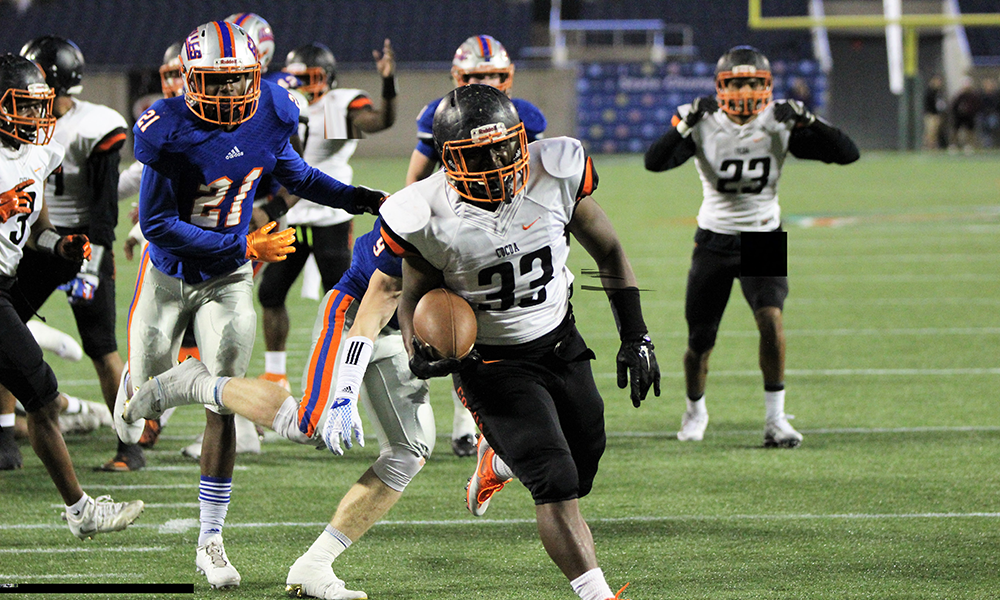 STATE CHAMPIONSHIP GAME COVERAGE POWERED BY

ORLANDO, Fla. — The Cocoa Tigers couldn't have been more one-dimensional in their 4A state championship game against Bolles.
Luckily for them, that one dimension was more than enough for a 31-17 victory for Cocoa Thursday night at Camping World Stadium in Orlando.
Cocoa rushed for 430 yards and only attempted one pass in winning the fourth state title in school history and first since 2010, denying Bolles from extending their state record to 12 state championships.
Running back Javian Hawkins put the Tigers (11-1) on the board only 71 seconds into the game on the first long run of the night, a 70 yarder to paydirt to give Cocoa the early lead.  Hawkins finished the evening with 118 yards on only nine carries.
Lasedrick King punched in the first of his two scores on a 10 yard run with 3:55 left in the opening period to put Cocoa up 14-0.
Bolles (12-1) answered early in the second quarter and made it a one touchdown game on a 5 yard TD pass from Alabama commit Mac Jones to E.J. Porter.  But it only took four plays for the Tigers to answer, as senior quarterback and USF commit Bruce Judson tore off a 75-yard run to put Cocoa back up 21-7.  Judson was only 0-1 passing on the game but ran for 158 yards on only 18 carries.
TD Bolles!! Cocoa 14 Bolles 7 with 8:25 remaining in the Half. #321Recruits #Flhsfb pic.twitter.com/qfeGOhXW7V

— 321 Recruits (@raefsu23) December 9, 2016
Cocoa added a 22-yard field goal by Alex Petruzzello in the final minute of the first half to extend the Tigers lead to 24-7 at halftime.
A 28-yard field goal by Bolles Jamey Brophy was the only scoring of the third quarter, and Cocoa entered the final period with a 24-10 lead.
King then ripped off a 73 yard run to the endzone for his second score of the night, and the Tigers lead was extended to 31-10 with 10:27 left. Cocoa had three touchdown runs of 70 yards of more in the evening, and King was the third Cocoa player over 100 yards on the night, finishing with 132 yards on the ground on only 12 carries.
Lasedrick King rips off a 73 yard TD run for Cocoa. #flhsfb pic.twitter.com/XfqHxYhX8t

— FloridaHSFootball.com (@FlaHSFootball) December 9, 2016
Bolles added a late 1 yard run by E.J. Porter to get to within 14 points again with 4:40 left, but Cocoa recovered the ensuing onside kick and ran out the clock from there.
1 yard TD run by EJ Porter for Bolles to close the gap on Cocoa. #flhsfb pic.twitter.com/1LYW7bjdc0

— FloridaHSFootball.com (@FlaHSFootball) December 9, 2016
Jones was 10 of 18 passes and a TD pass for Bolles, but only threw for 61 yards and was held to 25 yards rushing on seven carries. Jalen McCloud was the Bulldogs leading rusher with 91 yards on 16 carries.
Bolles tries the onside kick but Cocoa recovers #flhsfb pic.twitter.com/SY79VDlU6I

— FloridaHSFootball.com (@FlaHSFootball) December 9, 2016
Bolles lost in the state title game for the fourth time in five years, once again denying coach Corky Rogers his 11th state championship as Bulldogs head man.
Cocoa actually had only 46 plays in the game, 11 less than Bolles, but averaged 9.4 yards a rush on 45 carries.  To get back to Orlando for the first time in six years, Cocoa knocked off the four-time defending state champion Booker T. Washington 24-21 in the 4A state semifinals.  Washington defeated Bolles in 2012, 2013, and 2014 4A state title games.
Cocoa wins their fourth state title in school history, first since 2010! #flhsfb pic.twitter.com/HRo74korO7

— FloridaHSFootball.com (@FlaHSFootball) December 9, 2016
COCOA HEAD COACH JOHN WILKINSON AFTER THE GAME