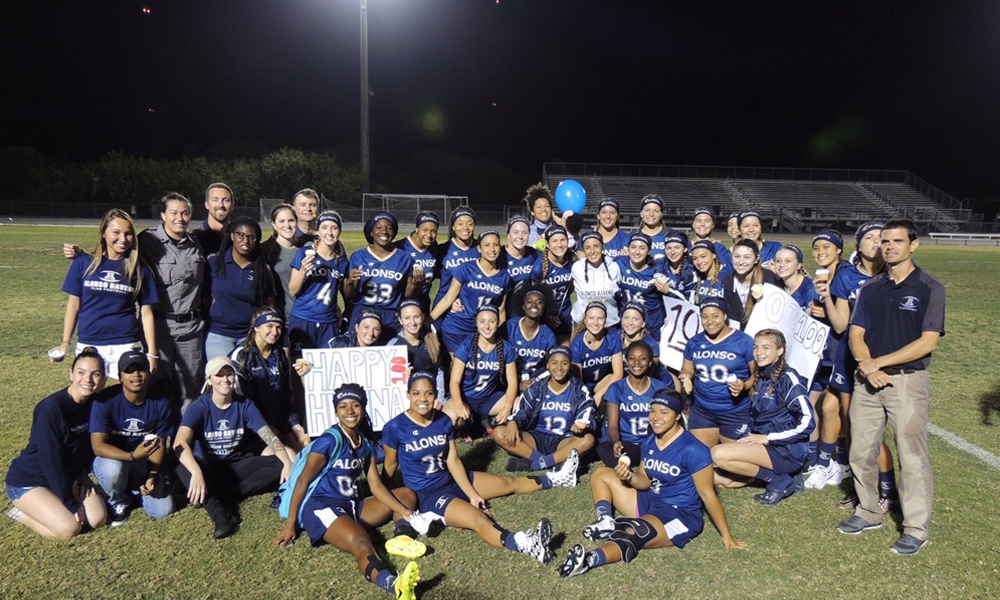 Help support the No. 1 Independent high school sports website in the State of Florida by becoming a FRIEND of FloridaHSFootball.com for as little as $3.00 per month by clicking here.
Here are the latest FloridaHSFootball.com Girls Flag Football Class 2A rankings following the second week of regular season games.

Current ranking, followed by team record and previous ranking

1. Alonso (Tampa), 2-0, 1
Notable Wins: Bloomingdale (Valrico)
The Buzz: Alonso got off to a great start to their season going 2-0 on the week and defeating 2A No. 9 Bloomingdale (Valrico) in what proved to be a tight battle for four quarters. However, 2A No. 3 Plant (Tampa) waits in the fold Monday night, plus a game against 1A King (Tampa) on Tuesday night. After that, the Ravens will start things off the Capital City Classic in Tallahassee on Friday against 1A No. 10 Orange Park as part of a three-game weekend.

2. Seminole Ridge (Loxahatchee), 2-0, 3
Notable Wins: None
The Buzz: The Hawks return to the field this week with district games against Palm Beach Gardens and Palm Beach Lakes (West Palm Beach) and could extend their winning streak even further with these games.

3. Plant (Tampa), 4-1, 2
Notable Wins: None
The Buzz: Plant went 4-1 on their opening week dropping only an 18-6 decision to previous 2A No. 9 Bloomingdale (Valrico). However, knowing that several key players were missing due to prior commitments to a basketball all-star, that made a significant difference in the game. Thus the reason they only drop one spot in the rankings. A big game awaits the Panthers on Monday night against 2A No. 1 Alonso (Tampa) and a potential trap game against Steinbrenner (Lutz) on Thursday.

4. Apopka, 0-0, 4
Notable Wins: None
The Buzz: The Blue Darters finally hit the field for the first time in the regular season and it won't be an easy challenge as they get ready to take on DeLand in a district matchup and then head to Tallahassee for three games as part of the Capital City Classic tournament. They will open up the tournament with 1A No. 4 Lincoln (Tallahassee) in the Gold bracket.

5. Martin County (Stuart), 2-0, 6
Notable Wins: None
The Buzz: Martin County got their season started this past week and shut out their crosstown rival 2A South Fork (Stuart) and 1A Okeechobee. The Tigers will travel to 2A Lake Worth and district rival Treasure Coast (Port St. Lucie), before hosting 1A No. 9 Miami Jackson to close out the week.

6. Park Vista (Lake Worth), 3-0, 7
Notable Wins: Lake Worth
The Buzz: The Cobras get back on the field this week after spring break and will take on district rival Forest Hill (West Palm Beach) on Thursday as the only game this week.

7. Dwyer (Palm Beach Gardens), 0-0, 5
Notable Wins: None
The Buzz: Dwyer will finally take the field for the first time in the regular season this week for game action. They will take on district foes in Palm Beach Central (Wellington) and crosstown rival Palm Beach Gardens.

8. Hialeah, 3-0, 8
Notable Wins: Mater Academy (Hialeah)
The Buzz: The Thoroughbreds handed out a shutout loss (20-0) to what could be looked as a pretty good Mater Academy (Hialeah Gardens) program in district play and rolled through crosstown rival American (Hialeah), 37-0 to stay undefeated on the season. A big district game against Dr. Krop (Miami) awaits as well as another district game against Hialeah Gardens.

9. Bloomingdale (Valrico), 4-1, 9
Notable Wins: Plant (Tampa)
The Buzz: For Bloomingdale, losing to 2A No. 1 Alonso (Tampa) last week should not have anyone sweating. However, they should take a little pride — but not much — in that victory of 2A No. 3 Plant (Tampa) as part of the four wins last week as a good challenge awaits the Bulls this week in district foe Strawberry Crest (Dover).

10. Dr. Phillips (Orlando), 2-0, 10
Notable Wins: Boone
The Buzz: Dr. Phillips holds steady after being off last week for spring break. The Panthers will have one game this week against an upstart district foe in Evans (Orlando) that is currently undefeated on the season as well.

The Next 10
11. St. Cloud, 1-0, 11
12. Western (Davie), 3-0, 12
13. Fleming Island (Orange Park), 1-0, 13
14. Piper (Sunrise), 1-1, 15
15. South Broward (Hollywood), 3-0, 20
16. East Bay (Gibsonton), 2-0, 19
17. Seminole (Seminole), 1-0, 18
18. Coral Gables, 3-0, NR
19. Cooper City, 2-0, NR
20. Oak Ridge (Orlando), 2-0, NR

Dropped Out: No.. 14. Everglades (Miramar), 1-2; No. 16 Miami High, 0-1; No. 17 Osceola (Kissimmee), 1-1