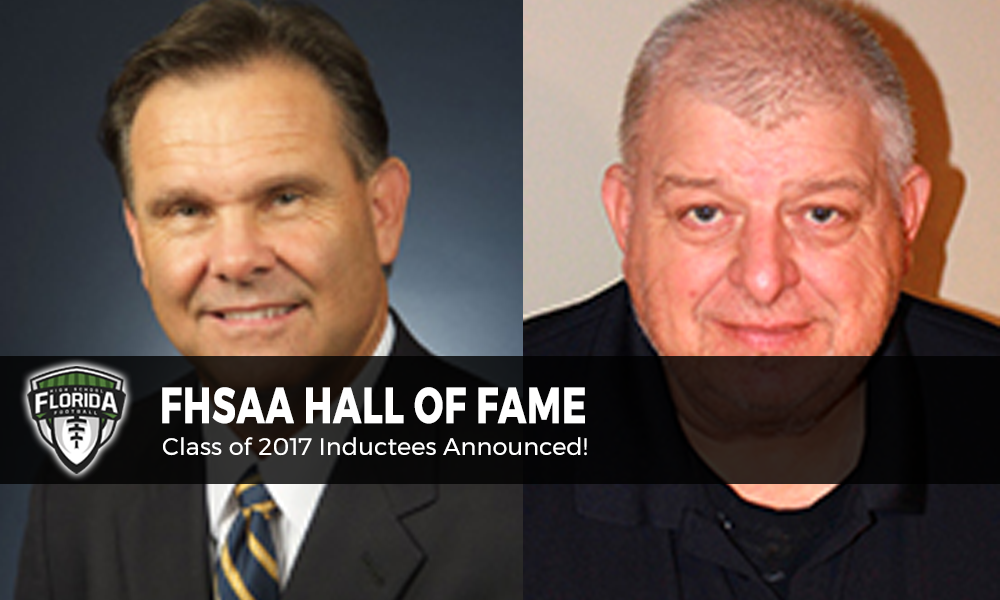 Gainesville, Fla. — The Florida High School Athletic Association has announced their Hall of Fame Class for 2017.
Leading the way are legendary head coaches Bill Kramer from Naples High School in Collier County and retired Suwannee and Hamilton County head football coach, Mike Pittman.
Kramer, who still currently coaches, was the first head football coach in Southwest Florida to win a state championship leading the Golden Eagles to a title in 2001, his fourth season at the school. He also guided Naples to two more state championship appearances in 2003 and 2007, with the 2007 team bringing home Naples' second state championship. Currently, Kramer currently has a 186-45 record at Naples. Prior to coaching at Naples, Kramer got his coaching start at American Senior High in Hialeah where he coached woman's track and field and was an assistant coach for football for many years. Kramer coached the American Patriots football team from 1995-1997. Kramer is also a 2015 Florida Athletic Coaches Association Hall of Fame inductee. Read Kramer's full FHSAA Hall of Fame bio here.
Pittman, who retired from coaching football in 2014, was also selected to be part of the 2017 FHSAA Hall of Fame Class as he became the first coach to lead a team to win four consecutive football state championships. It is a feat that has only been matched four times by other programs (North Florida Christian, Booker T. Washington, Miami Central and Jacksonville Trinity Christian). Pittman is also only one of three head football coaches to win four consecutive state championships (the other two coaches are Tim Cokely and Verlon Dorminey). Pittman lead the Bulldogs to a 92-37 overall record from 1985-1996 and also guided Hamilton County to three playoff appearances where he retired from coaching in 2014. Pittman is a 2013 Suwannee High School Athletic Hall of Fame inductee. Read Pittman's full FHSAA Hall of Fame bio here.
Other inductees in the 2017 FHSAA Hall of Fame Class include (from the news release):
The induction ceremony will take place in Gainesville on Sunday, September 17 at the University of Florida Hilton Hotel.