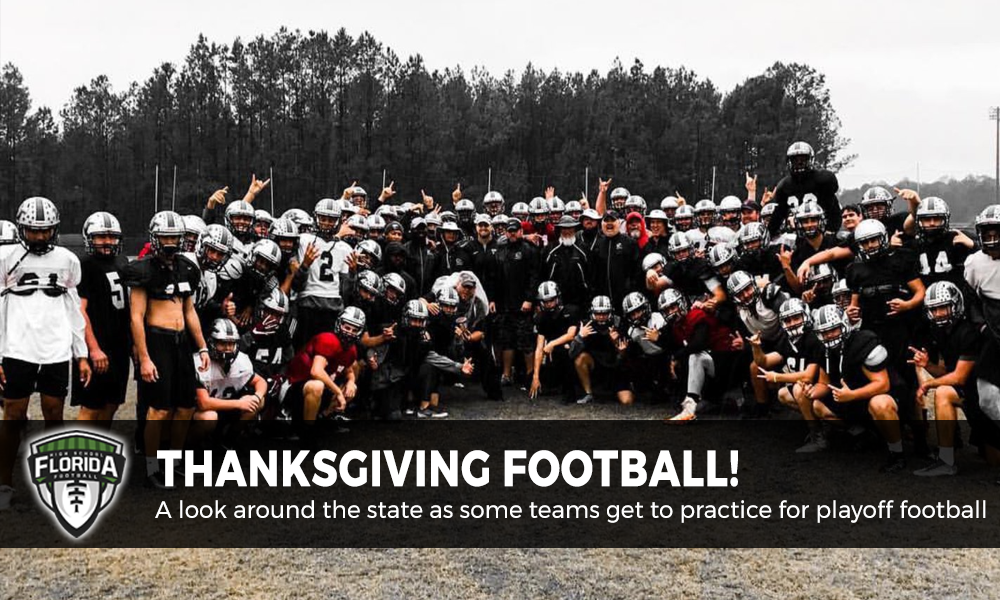 Help support the No. 1 Independent high school sports website in the State of Florida by becoming a FRIEND of FloridaHSFootball.com for as little as $3.00 per month by clicking here.
Each year for the 550-plus football programs in the state, the idea of getting to practice on Thanksgiving is a goal for teams. Come early November, 192 teams still get to be on that path towards practicing on Thanksgiving. Today only 48 teams got to take the field (or at least inside the gym due to the rainy weather in North Florida) for a Thanksgiving Day practice.
With only 24 games on the slate tomorrow, 24 teams will get to move on after tomorrow night with eight teams in Classes 1A through 4A knowing they will be playing for a state championship in two weeks in Orlando.
However, for now, we take this moment to spotlight some of the teams that got to put on the helmets, pads, and cleats for a Thanksgiving Day practice (and some giving…):
OXBRIDGE ACADEMY
The Oxbridge Academy ThunderWolves (West Palm Beach) are in their first state semifinal in school history, so this is a big treat for them as they get set to host Florida High (Tallahassee) tomorrow night:
Happy Thanksgiving from the @GoOxbridge Football Team! #BestDayToPractice #BuiltDifferent #BuiltRight pic.twitter.com/T7mFCllIjk

— Brendan Kent (@TheCoachKent) November 23, 2017
BARTRAM TRAIL
Practicing on Thanksgiving has become a tradition over time for head coach Darrell Sutherland and his Bartram Trail Bears (St. Johns) program. Defensive End Philip Burnett shared this photo of the team after practice this morning:
https://twitter.com/PhilipBurnett99/status/933815134082027525
COCOA
Cocoa which is appearing in its 11th straight state semifinal game (which is believed to be a state record) and defending its Class 4A state championship had a lot of players thankful for another Thanksgiving practice, via this photo from senior Center Josh Padrick:
Thankful for my family and my football family. Love you guys the rides not over yet! #TigerPride pic.twitter.com/4oDQvJ3AhI

— Josh Padrick (@josh__padrick) November 23, 2017
CARDINAL GIBBONS
For the Cardinal Gibbons Chiefs (Fort Lauderdale), which are making their first trip to the Regional Finals since 1994, they are showing a big gratitude of thanks through some messages the players have recorded for this Thanksgiving:
@WorshipMax with a special message for #ChiefNation pic.twitter.com/7veTpEskMm

— GibbonsFootball (@GibbonsFootball) November 23, 2017
Happy Thanksgiving from @Evanloesel pic.twitter.com/6niD4Aixcr

— GibbonsFootball (@GibbonsFootball) November 23, 2017
Happy Thanksgiving from @iam_dbiii pic.twitter.com/yCBCakgLQn

— GibbonsFootball (@GibbonsFootball) November 23, 2017
A Happy Thanksgiving message from @RyanSaddler36 pic.twitter.com/3deg7pLx6d

— GibbonsFootball (@GibbonsFootball) November 23, 2017
WESTERN
For the Western Wildcats (Davie), this is the first time that the school is getting to enjoy a Thanksgiving Day practice as the team won their first playoff game in school history just two weeks ago:
Davie Boys Thanksgiving practice! Who's got it better than us? #Nobody #Thankful #Family pic.twitter.com/pdpW4pcf6K

— Adam Ratkevich (@CoachRack75) November 23, 2017
COLUMBUS
Columbus (Miami) is no stranger to this type of scenery as in most recent years, the Explorers have been able to practice on Thanksgiving. Today was no exception to that rule:
https://twitter.com/ColumbusFtball/status/933737386198163456
CHAMPAGNAT
For the second straight year, Champagnat (Hialeah) has been able to hit the field for a Thanksgiving morning practice as they get set to travel to Tampa tomorrow night to face off against Cambridge Christian:
Happy Thanksgiving! Another great practice! From your FHSAA Class 2A Regional Champions! #earnednotgiven #onegoal #finish pic.twitter.com/9V81Mix5f2

— Dennis Marroquin (@Coach_Marroquin) November 23, 2017
TAMPA BAY TECH
Rain? Don't care they said down at Tampa Bay Tech as the Titans prepare for their Class 7A-Region 3 final tomorrow night against Venice. They took some time out during the morning to have breakfast together as a team:
Family breakfast #thankful pic.twitter.com/2okCgPrutU

— Jayson Roberts (@tech813coach) November 23, 2017
DR. PHILLIPS
For Dr. Phillips (Orlando), the alumni of the football program stopped by as the Panthers prepare to travel to Sarasota Riverview tomorrow night. The Panthers are looking to make a second straight trip to the Class 8A state championship:
DP Football alumni stopping by Thanksgiving practice! pic.twitter.com/oQzl4vCrRt

— DP Athletics (@PantherZone) November 23, 2017
And yes they were able to really get a good practice in:
Happy Thanksgiving to all of the DP Nation! pic.twitter.com/tN9WuRZMWO

— DP Athletics (@PantherZone) November 23, 2017
VENICE
For Venice, the Indians spent some of the day giving back to the community. The Indians will host Tampa Bay Tech tomorrow night in their Class 7A Regional Final:
@VeniceIndianFB giving back to the community on #ThanksgivingDay #SalvationArmy before regional matchup @mysuncoast pic.twitter.com/XwKPlER5eE

— Duhane Lindo (@DuhaneClive) November 23, 2017
Whether we are playing Thanksgiving week or not you will always find Venice Football volunteering at the Salvation Army on Thanksgiving Morning! #HappyThanksgiving #GivingBack #ItsGreatToBeAnIndian pic.twitter.com/8HebRREAoq

— VeniceIndianFootball (@VeniceIndianFB) November 23, 2017
WEKIVA
Wekiva (Apopka) is only 11 years old and they getting to taste Thanksgiving football for the first time, which they are very thankful for:
Happy thanksgiving from @WekivaFootball . We are thankful to be practicing on Thanksgiving morning. #1Mustang #RespectOurName #regionalchampionship 7:30pm @WPCatsFootball tomorrow at Showalter Field. pic.twitter.com/POfpBOpLSX

— Wekiva HS Football (@WekivaFootball) November 23, 2017
PLANT
A tradition for the Plant Panther (Tampa) over the last decade in most years, the Panthers getting to practice on Thanksgiving Day at Dad's Stadium is certainly one not to forget:
Plant! Plant! Plant! pic.twitter.com/kFY0ZVnRkl

— Jim Murray (@jmurray1616) November 23, 2017
TRINITY CHRISTIAN
The rain couldn't stop Trinity Christian (Jacksonville) from practing as they took it inside. The Conquerors are just three more games away from completing the first five-peat in Florida history, but first they will have to take care of business with a long road trip to West Florida in Pensacola:
It's an annual tradition @TC_Jax_Football Thanksgiving Day practice!!! The rain can't keep us from getting that final walk-thru!!! Everyone enjoy your turkey today. We're on that business trip tomorrow fellas!!! #Thanksgiving #TCfootball #GoConquerors pic.twitter.com/v7MkG2iV4c

— TrinityChristianFB (@TC_Jax_Football) November 23, 2017
CLAY
The Clay Blue Devils (Green Cove Springs) has recently been in on the tradition of Thanksgiving practices over the last few years. The Blue Devils, who travel to Macclenny tomorrow night to take on district rival Baker County in a Class 5A Regional Final, got some encouragement from former players who are now in college:
Thanksgiving day tradition former players now in college sharing the great message! #Bluedevilnation pic.twitter.com/pmIMg3KMX1

— Clay Football (Fans) (@ClayHSFootball) November 23, 2017
ST. AUGUSTINE
The St. Augustine Yellow Jackets are quite familiar with the tradition Thanksgiving weekend football brings. Although the rain drove the Thanksgiving morning practice into the gym, they are still thankful for being able to be a part of this:
Thank you to Evans Automotive and Roxanne Smith for your continued support of our football team and all of our families and friends that came out and supported our players and coaches this morning! Jacket Nation is strong and proud! pic.twitter.com/RYweONs5fn

— SAHS Jacket Football (@SAHSJackets) November 23, 2017
ARMWOOD
The Armwood Hawks (Seffner) are no stranger to the tradition of practicing on Thanksgiving with a morning practice and team breakfast to complete it all:
Armwood Hawks pic.twitter.com/x5RBaNL2wp

— Coach_Davis (@Coach_EDavis) November 23, 2017
Here is breakfast pic.twitter.com/ddv0ebMJC1

— Coach_Davis (@Coach_EDavis) November 23, 2017
HAPPY THANKSGIVING EVERYONE!