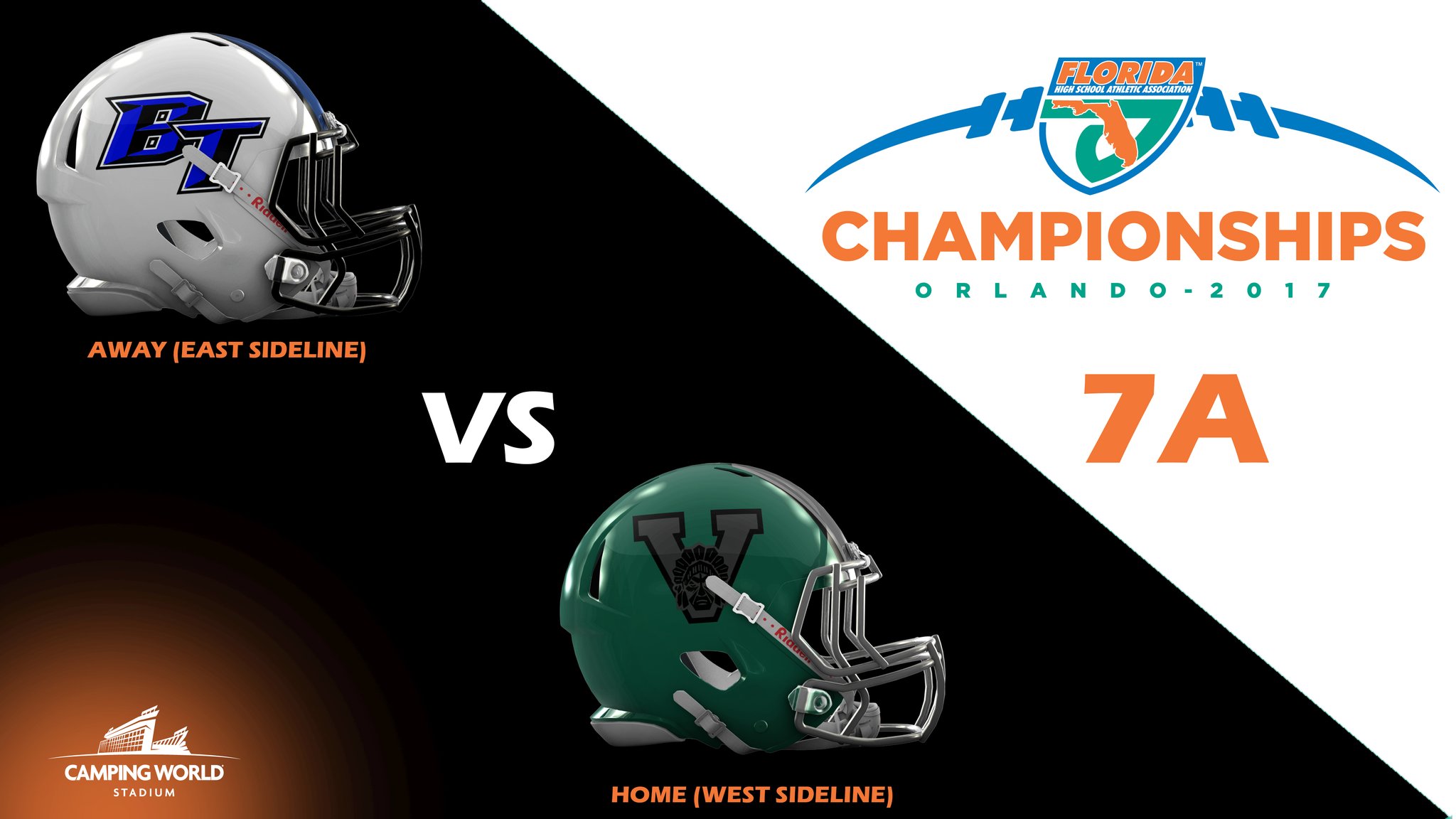 CLASS 7A STATE CHAMPIONSHIP
Bartram Trail Bears (11-3) vs. Venice Indians (13-1)
GAME TIME & LOCATION INFO
When: Saturday, December 8
Where: Camping World Stadium, Orlando
Kickoff: 3:07 p.m. EST
Tickets: $12 General Admission, $17 Reserved Seating — purchase online at ticketmaster.com
TELEVISION & ONLINE INFO
Pregame Show: Varsity Sports Network/NFHSNetwork.com (FREE) — LIVE at 9:00 a.m. EST
TV Broadcast: Spectrum Sports, Channel 1147 in Spectrum coverage areas
Online Stream: Boxcast TV via Spectrum Sports ($9.95 fee to watch)
Social Media Updates: @FlaHSFootball on Twitter — Entire game
Halftime Recap: Florida HS Football Facebook Page — LIVE at Half
Postgame Recap: Florida HS Football Facebook Page — LIVE following the game
Postgame Show: Varsity Sports Network/NFHSNetwork.com (FREE) — LIVE at 30 minutes following the Class 6A State Championship Game
ABOUT BARTRAM TRAIL
Head Coach: Darrell Sutherland
Road To Orlando: d. East Ridge 56-14 (Regional Quarterfinals), d. Lincoln (Tallahassee) 49-21 (Regional Semifinals), d. Fleming Island 38-13 (Regional Finals), d. Plant 34-29 (State Semifinals)
Last State Championship Game Appearance: First appearance
Playoff History: Bartram Trail is 20-14 in playoff games with three previous state semifinal appearances (2007, 2011, 2013).
Rankings: No. 10 in the final Associated Press Florida High School poll; No. 12 in Joe Pinkos' end of regular season rankings.
Top Players To Watch: QB Joey Gatewood, Sr.; QB Riley Smith, Sr.; RB Devin Ellison, Jr.; WR Xavier Hutchinson, Sr.; WR Griffin Helm, Jr.; WR Gunnar Hitzeman, Jr.; OLB Corbein Hagans, Sr.; MLB Johnny Amell, Sr.; DB Harry Bowker, Jr.; DB Timothy Adams, Sr.
The Skinny: Darrell Sutherland has been the only coach of the football program at Bartram Trail since the school opened its doors in 2000. The Bears had three previous state semifinal appearances but finally broke through with a 34-29 state semifinal win over Plant a week ago. Bartram Trail has a two-headed monster at quarterback in Auburn commit Joey Gatewood (1,355 yards passing, 12 TD's, 1 INT, 150 carries, 1,029 yards, 15 TD's rushing) and Riley Smith (1,367 yards passing, 17 TD's, 7 INT's, 587 yards, 8 TD's rushing). The leader on the ground for the Bears is RB Devin Ellison (1,197 yards, 8.4 average, 17 TD's). Both Gatewood and Smith have similar numbers and both are 6-foot-5 and around 230 pounds. Bartram Trail is pretty balanced offensively as well, with 2,817 yards passing and 3,428 yards rushing. The leading target for both QB's is WR Xavier Hutchinson (68 receptions, 916 yards, 11 TD's). Griffin Helm and Gunnar Hitzeman are two big-time receiving targets as well for Bartram Trail. The Bears defense has struggled at times, but has played a brutal schedule with games against Georgia power Cartersville and Cocoa as well as St. Augustine. The Bears have been much better at forcing turnovers in the postseason, with 6 turnovers forced in the regional final against Fleming Island and two in the state semifinals versus Plant. LB Johnny Amell leads the Bears defensively with 83 tackles, including 8 for loss and 5 sacks. OLB Corbin Hagans (70 tackles, 6 for loss, and 3 sacks) also contributes to the Bears defense.
ABOUT VENICE
Head Coach: John Peacock
Road To Orlando: d. St. Petersburg 49-13 (Regional Quarterfinals), d. Braden River 41-32 (Regional Semifinals), d. Tampa Bay Tech 48-14 (Regional Finals), d. St. Thomas Aquinas 27-20 (State Semifinals).
Last State Championship Game Appearance: 2000 (Class 5A)
Playoff History: Venice is 26-17 in playoff games including a 5A state championship in 2000 and appearances in the state semifinals in 2002 and 2016.
Rankings: No. 2 in the final Associated Press Florida high school poll, No. 3 in Joe Pinkos end of regular season ranking.
Top Players To Watch: QB Bryce Carpenter, Sr.; RB Brandon Gregory, Jr.; RB Court Doss, Jr.; WR Javon Heiligh, Sr.; ILB Caleb Smith, Sr.; DT Tyrone Barber, Sr.; DE Carson Sullivan, Jr.; DE Riley Prachar, Sr..
The Skinny: Venice finally got over the St. Thomas Aquinas hump, defeating the three-time defending 7A state champions 27-20 in last week's state semifinal to earn its first state championship game appearance since their only state title in 2000. Now a meeting with a high-powered offense and two-headed quarterback with Bartram Trail's Joey Gatewood and Riley Smith. Venice has it's own high-powered attack, as the Indians are led by senior QB Bryce Carpenter who had video game-like numbers (2,837 yards, 42 TD's, 10 INT's). Carpenter also rushed for over 1,000 yards and 18 TD's on the ground, giving him 60 total touchdowns. RB Brandon Gregory (92 carries, 622 yards, 8 TD's) is the leading rusher among running backs for Venice. The Indians also have a record-breaking wide receiver in Jaivon Heiligh (123 receptions, 2000 yards, 142.9 yards per game, 32 TD's). Defensively the Venice defensive line is led by Riley Prachar (106 tackles, 12 tackles for loss, and 7.5 sacks). LB Caleb Smith leads the Venice defense with 146 tackles, and Carson Sullivan and Tyrone Barber had 125 tackles each. Venice had 34 sacks as a team and outscored it's opponents 556-201. The last time Venice was in the state championship game, they set an FHSAA record for points in a title game with a 77-14 win over Dwyer.
GAME OUTLOOK
This has all the makings of a shootout
Saturday
afternoon at Camping World Stadium in Orlando. Venice has scored 556 points in 2017, Bartram Trail 593 points. Venice has the high-powered attack led by quarterback Bryce Carpenter, who has 60 total touchdowns, including 32 TD's receiving by Jaivon Heiligh, and Bartram Trail has the two-headed quarterback monster of Joey Gatewood and Riley Smith. They could need more lights on the scoreboard at Camping World Stadium
on Saturday
, but bad weather could affect the offensive festival between these two teams. Venice is in the state title game for the first time
in 17 years
, and Bartram Trail has never advanced to this level, so there may be nervousness on both sides to start. The difference here seems to be the Venice defense, which allowed 192 less points than Bartram Trail. Someone's defense will have to make a stop to get a difference between these two teams.
WHO THE COMPUTERS PREDICT
We take a look at the computers and their predictions for the 2017 FHSAA State Championship games:
Joe Pinkos' Forecast: 
USA TODAY High School Sports Score Predictor: Venice 42, Bartram Trail 35
THE EXPERT PICKS
We gave our media pickers the biggest challenge of the year by not only predicting the winner of each state championship game, but the actual score of each game as well. Here are their picks:
Joshua Wilson, FloridaHSFootball.com: Venice 45, Bartram Trail 34

Will Turner, FloridaHSFootball.com: Venicer 42, Bartram Trail 35

Bill Hammel, Irish Bill's Twist On Sports: Venice 38, Bartram Trail 35

Mike Ridaught, The Prep Zone: Venice 39, Bartram Trail 31

Marty Pallman, The Prep Zone: Venice 35, Bartram Trail 28

Larry Savage, Gainesville Sun: Venice 31, Bartram Trail 20

Corey Davis, DuvalSports.com: Bartram Trail 31, Venice 28

Doug Pugh, Big County Preps: Venice 42, Bartram Trail 31

Jake Perper, Prep Sports Scouting: Bartram Trail 35, Venice 30

Joel Hillsman, Total Sports Coverage: Venice 51, Bartram Trail 45