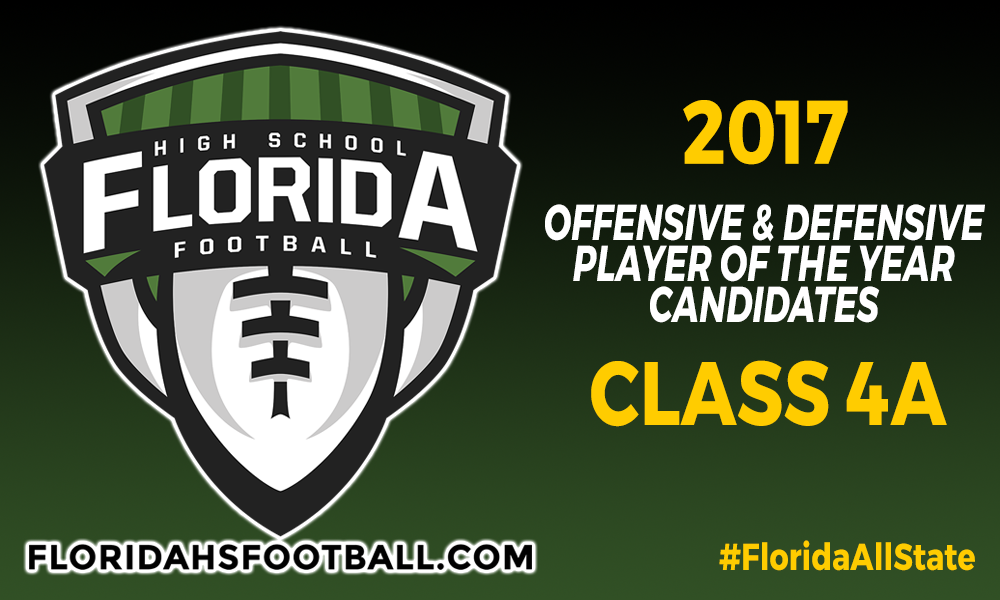 GAINESVILLE, Fla. — With the final step to fully closing the 2017 season is almost here, we are proud to reveal our candidates for our Class 4A Player of the Year candidates. For Coach of the Year, five coaches are selected as candidates based upon the resume they had for the season. For Player of the Year, three players are selected on offense and three on defense as candidates for Offensive Player of the Year and Defensive Player of the Year. One player from each classification of the six candidates total will be selected as the Overall Player of the Year for their respective classification.
EDITOR'S NOTE: Watch the first team reveal for all eight classifications including the award winners for Coach of the Year, Offensive Player of the Year, Defensive Player of the Year and Overall Player of the Year, this Wednesday night on the FloridaHSFootball.com Gridiron Report on Varsity Sports Network, starting at 8:00 p.m. EST / 7:00 p.m. CST by clicking here.
Without further ado, here at the candidates for 2017 Class 4A Player of the Year:
Offense
• QB Ivory Durham IV, Sr., Jacksonville Raines – Responsible for nearly 3,500 yards of total offense, Durham was the most prolific passer in Class 4A this season, throwing for 3,004 yards and 35 touchdowns while scoring nine more times on the ground while leading the Viking to their first state championship in 20 years.
• RB Javian Hawkins, Sr., Cocoa – The Class 4A leader in rushing yards Hawkins, rushed for 1,783 yards on 193 touches, scoring 20 touchdowns in the process of leading the Tigers back to the Class 4A state championship game.
• RB Brandon Marshall, Jr., Jacksonville Raines – The leader in Class 4A for most rushing touchdowns at 22, Marshall was another key point to the Vikings offense rushing for 1,719 yards on 180 carries.
Defense
• DL Jaquan Beaver, Sr., Miami Booker T. Washington – One of the bright spots to a somewhat disappointing season for the Tornadoes, Beaver was a force on the defense, collecting up 85 tackles and 15 sacks along the way.
• LB Taro Ward, Sr., Starke Bradford – Ward made his known around the Northeast and North Central Florida against opposing defenses collecting up 123 tackles, forcing three fumbles and intercepting the ball three times, while helping lead the Tornadoes to the state semifinals.
• LB Javon Bonsell, Sr., Jacksonville Raines – A key leader to the Vikings defense, Bonsell had a big season collecting up 72 tackles, sacking opposing quarterbacks 11 times and intercepting a pass.