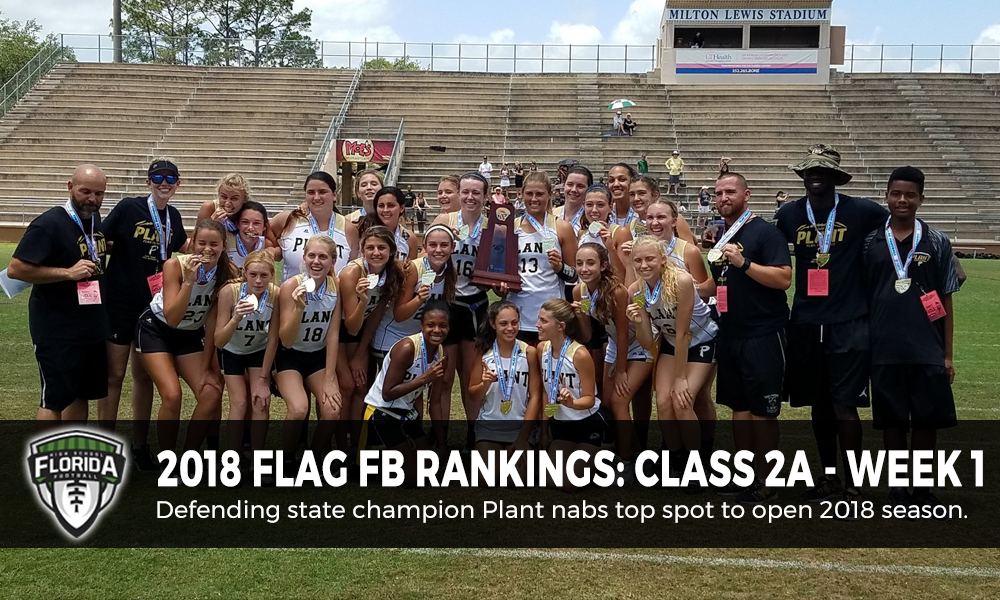 Help support the No. 1 Independent high school sports website in the State of Florida by becoming a FRIEND of FloridaHSFootball.com for as little as $3.00 per month by clicking here.
Welcome to Florida High School Football's 2018 Class 2A Top 25 Rankings for Flag Football. Each week during the season we will update the Top 25 rankings as well as provide The Next 15 teams that we have ranked to complete the Top 25 rankings. Information used to determine the preseason rankings include record and performance from 2017, recent history and tradition and the potential for team success in 2018. After this week we will release updated rankings which will then be determined based upon information including record and games played by teams. It is important that teams update their information with scores with us on a regular basis each week by emailing us score reports at flag@floridahsfootball.com, sending us a direct message on Twitter @FlaHSFootball or updating scores in the ScoreStream app.  Lack of information (scores) reported by the teams will only hurt their chances of being ranked, especially if they are having a solid season.
1. Plant (Tampa)
2017 Record: 16-2
The Buzz: The defending Class 2A state champion. Will likely rely on a lot of defense as they lost some key starters on offense due to graduation like All-State quarterback Payton Paro and wide receiver Sam Ashby but do have the likes of center senior Sydney Crosby and sophomore running back Honor Culpepper to keep things going. However, until someone defeats the Panthers on the field, they get the nod to start off on top as the team to beat in District 2A-7.
2. Dr. Phillips (Orlando)
2017 Record: 16-1
The Buzz: State semifinalist from last season is stepping up the schedule some with a return to the Capital City Classic for the first time in several years and should be in the mix for another deep run as they will be the team to beat in District 2A-3 with key All-State players like rusher Aahliyah Gova and Nisa Costa returning.
3. Alonso (Tampa)
2017 Record: 8-5
The Buzz: A team with a decent amount of talent returning including All-State quarterback Jazmin Rhoden and wide receiver/linebacker Latrice Hall, the question will be if the Ravens can get over the district tournament slump and into the regional playoff bracket. If they can beat the top team in Class 2A in Plant at home on March 20, this would help elevate them to the top spot and put them in prime position of making a run through the district.
4. Seminole Ridge (Loxahatchee)
2017 Record: 16-1
The Buzz: The Hawks were finally dethroned after 52 consecutive wins, which lasted just over three years, last season when Plant took the win in the Class 2A title game in Gainesville. However, graduation losses could be a factor this year for the Hawks, losing two first team All-State players in athlete Emily Higgins and wide receiver Kristi Kemper. That fact could potentially open the door to Dwyer or Jupiter to the district. For now, the Hawks sit here in the Top 5 until otherwise proven wrong.
5. Cooper City
2017 Record: 15-2
The Buzz: A team that while it will play mostly a schedule inside of Broward County, they Cowboys proved their worth last season with a deep run to the state semifinals before being ousted by eventual state runner-up Seminole Ridge, they are taking their chances by hosting Godby later on the season, one of the top teams in Class 1A. Keep an eye on sophomore running back Kimberly Slinkosky who was one of the biggest reasons for their run last season.
6. East Bay (Gibsonton)
2017 Record: 13-3
The Buzz: A team that seems to be forgotten about at times, East Bay had a nice run through the District 2A-7 tournament, reaching the regional finals before eventually being knocked out by eventual Class 2A champion Plant. While the loss of the Hostelley twins in Sydney and Sara due to graduation will have an impact, they still have several players that made honorable mention All-State that will be big time contributors once again.
7. Park Vista (Lake Worth)
2017 Record: 12-2
The Buzz: Reached the regional playoffs for the last two years straight, the Cobras will be in the mix to once again capture the District 2A-10 title this season. They will take on Martin County, a competitive playoff team and state runner-up from 2016 and a much-improved Wellington team later on in the season right before the district tournament. Look for Olivia Razzo, first-team All-State wide receiver from last season, to be the Cobras' biggest fact once again.
8. Martin County (Stuart)
2017 Record: 13-1
The Buzz: Martin County will still be the team to beat in District 2A-4 this season, but will not have key players like quarterback/defense back Elizabeth Moberg, defensive back Keke Smith and running back Jessica Levy on the field, however Coach Jeff Padgett feels that players like Kiara Smith, who just moved into Florida from West Virginia, and Elise Leggit, who missed he sophomore season due to a broken hand, will be the biggest contributors this season for the Tigers.
9. St. Cloud
2017 Record: 10-5
The Buzz: The Bulldogs should once again be the team to beat in District 2A-5, a split district consisting half with Orange County teams and half with Osceola County teams. One of the biggest players returning will be linebacker Rakela Cummings who was second team All-State from last season. If the Bulldogs get off to a great start and compete well at the Capital City Classic next month, they could have a deep run ahead in the playoffs after getting knocked out early in the regional semifinals by East Bay.
10. Apopka
2017 Record: 12-3
The Buzz: Talk about deflation to end the 2017 season, that is what happened to Apopka when they were upset and dispatched out of the district champion spot by DeLand. However, clear the slate because things should be looking up once again for the Blue Darters who will play top teams in the state once again like Harmony to open the season as well as those at the Capital City Classic next month. Top key players to keep an eye on include senior quarterback Allie Hague who accounted for 40 touchdowns last season while, who was an honorable mention quarterback in Class 2A, plus linebacker Ant McFarley another honorable mention All-State player from 2017 as well as Cassidy Proctor and Gracie Darlington. McFarley, Proctor, and Darlington are all players head coach Matt Houvouras calls versatile being able to play multiple positions.
The Next 15
Rank, Team (City), 2017 record
11. Bloomingdale (Valrico), 10-4
12. Dwyer (Palm Beach Gardens), 9-4
13. Piper (Sunrise), 14-2
14. Miami Southridge, 12-2
15. Wharton (Tampa), 10-4
16. Hialeah, 11-2
17. Dr. Krop (Miami), 11-3
18. Jupiter, 8-4
19. Steinbrenner (Lutz), 8-5
20. Fleming Island, 7-3
21. Vero Beach, 10-3
22. Coral Gables, 8-2
23. Riverview (Riverview), 8-5
24. Western (Davie), 8-4
25. Miami High, 7-3