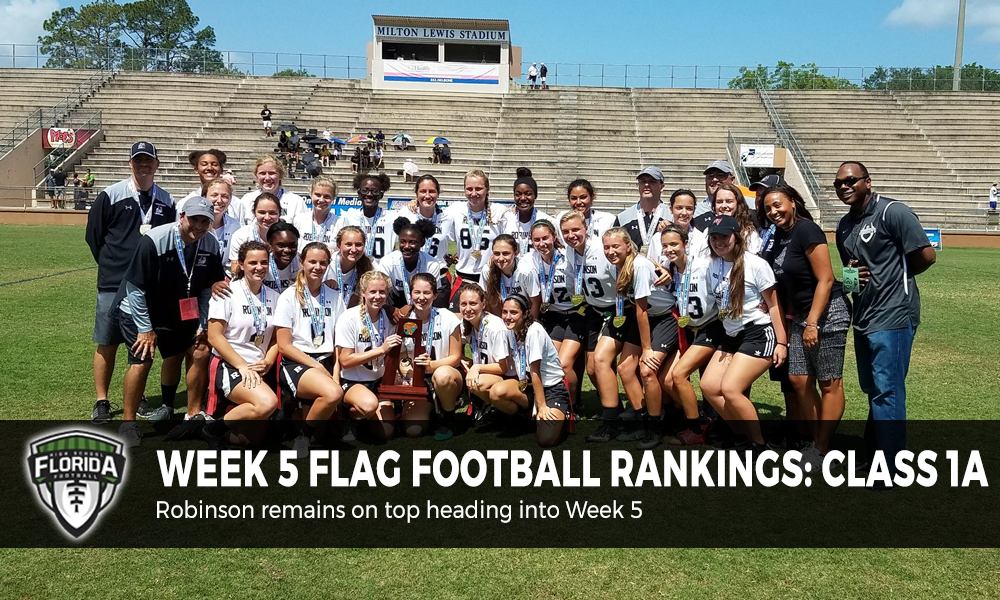 Each week during the season we update the Top 25 rankings in Class 1A providing our Top 10 teams as well as provide The Next 15 teams that we have ranked to complete the Top 25 rankings. Information used to determine the rankings include record, quality wins, defeating ranked opponents and strength of schedule. It is important that teams update their information with scores with us on a regular basis each week by emailing us score reports at flag@floridahsfootball.com, sending us a direct message on Twitter @FlaHSFootball or updating scores in the ScoreStream app.  Lack of information (scores) reported by the teams will only hurt their chances of being ranked, especially if they are having a solid season.
1. Robinson (Tampa)
Record: 5-0
Last Week: 1
Quality Wins: Bloomingdale
The Buzz: The wins keep rolling for Robinson who posted two wins last week with a shutout over Blake and a battle win against Bloomingdale. Will travel to 2A No. 3 Plant later this week before heading to Tallahassee for the Capital City Classic.
2. Choctawhatchee (Fort Walton Beach)
Record: 4-0
Last Week: 2
Quality Wins: Niceville
The Buzz: Despite getting the shutout against Niceville last week, it will go down as a quality win for the Indians who have consistently battled with their rivals for the last few years in their district.
3. Godby (Tallahassee)
Record: 5-0
Last Week: 3
Quality Wins: Lincoln, Madison County, Rickards
The Buzz: Fought hard last week in a battle with second-year Madison County that finished with a 12-6 overtime win before shutting out Rickards to cap off the week.
4. Miami Edison
Record:3-0
Last Week: 2
Quality Wins: None
The Buzz: The Red Raiders have not played a game since March 13 and could be a little bit rusty when they get back out there on the field this week against Miami Springs.
5. Jensen Beach
Record:5-0
Last Week: 5
Quality Wins: None
The Buzz: The Falcons continue to remain undefeated posting district victories over Sebring and a very tough Fort Pierce Westwood team. Will take on a very tough Glades Central team early this week while taking on Pahokee to cap off the week later in the week.
6. Harmony
Record: 6-0
Last Week: 6
Quality Wins: Apopka
The Buzz: The Longhorns picked up wins against Gateway and East River to remain undefeated on the season. They will take on Poinciana and Jones this week to potential lock in the No. 1 seed for their district tournament.
7. Clay (Green Cove Springs)
Record: 4-0
Last Week: 7
Quality Wins: None
The Buzz: The Blue Devils keep their record perfect as they shutout Middleburg and Westside in key district games last week. They will take on a very strong Baldwin team to open the week and will have Florida Deaf & Blind to cap off the week.
8. Pembroke Pines Charter
Record: 7-0
Last Week: 8
Quality Wins: None
The Buzz: Pines Charter returns from spring break this week with games against Dillard and Northeast to potentially lock in a spot in the district tournament in a few weeks.
9. Miami Jackson
Record: 3-0
Last Week: 10
Quality Wins: Martin County
The Buzz: The Generals picked up a big win on spring break against Class 2A Martin County. The Generals will take on Keys Gate Charter before heading to Tallahassee later this week for the Capital City Classic.
10. Glades Central (Belle Glade)
Record: 4-0
Last Week: 12
The Buzz: Glades Central has shown consistent strength so far this season despite some of the scores. They picked up a big win against Port St. Lucie and will face a challenge against No. 5 Jensen Beach as well as matchup against Lake Placid.
The Next 15
Rank, Team (City), record, previous ranking
11. Tarpon Springs, 6-0, 13
12. Terry Parker (Jacksonville), 3-0, 9
13. Florida High (Tallahassee), 4-0, 18
14. Lincoln (Tallahassee), 3-2, 16
15. Rickards (Tallahassee), 1-2, 11
16. Crystal River, 4-0, 17
17. Seabreeze (Daytona Beach), 6-2, 20
18. Monsignor Pace (Miami), 5-0, 19
19. Niceville, 3-1, 14
20. Suncoast (Riviera Beach), 5-0, 22
21. Mainland (Daytona Beach), 3-1, 15
22. Boyd Anderson (Lauderdale Lakes), 7-0, 24
23. Madison County (Madison), 4-1, 23
24. Osceola (Seminole), 4-1, 25
25. Stranahan (Fort Lauderdale), 6-1, NR
Dropped Out: No. 22. Orange Park, 3-1