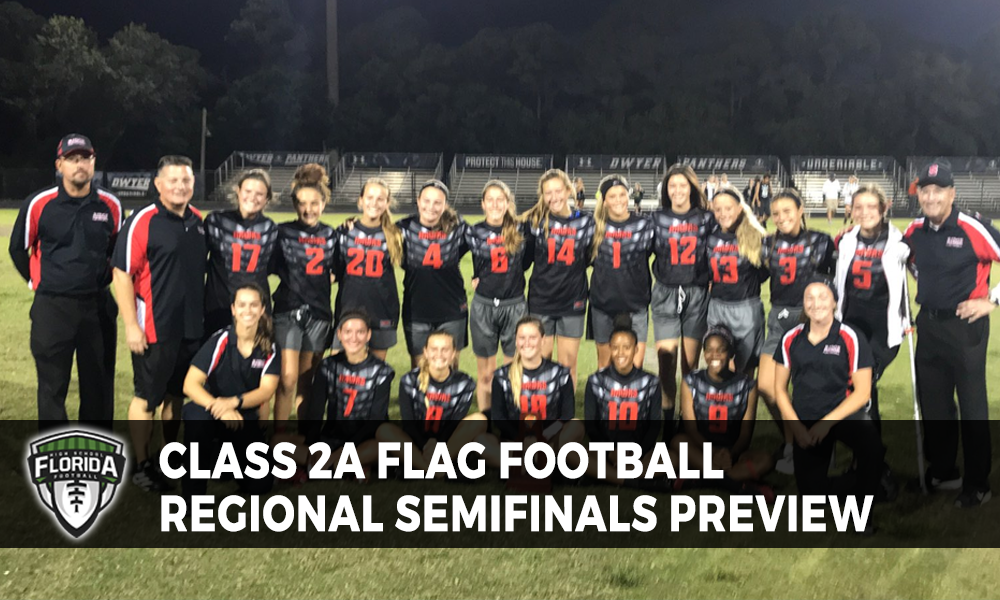 With defending Class 2A state champion Plant not reaching the regional playoffs this year, the door is open for a new state champion to be crowned. 16 teams are left and after Thursday night, only eight teams will be standing to play in the regional finals on Monday.
Here is our preview of the eight regional semifinal games on Thursday night in Class 2A with rankings showing of the current Overall Top 25:
Note: You can help us score games using the ScoreStream app. Click here to learn how you can get the app on your phone!
No. 5 Wekiva (13-0) at Sandalwood (9-3)
Quick Hit: Both programs are in the flag football playoffs for the first time in school history. Wekiva has shown some amazing strength having scored over 400 points up through the district tournament this season with a talented defense. With Sandalwood, they have improved over the season, but facing teams that have had stronger weapons this season has been their weakness. That factor right there could be the difference in this game being potentially close or be potentially blown wide open.
Predicted Winner: Wekiva
No. 22 Fort Pierce Central (9-2) at No. 8 Dr. Phillips (12-1)
Quick Hit: For the first time in school history, Fort Pierce Central's girls flag football team is in the playoffs. This team, while not flashy with their scores, they have played some incredible defense that has either won them games or kept them in games all season long. However, going against one of the best programs in Class 2A, this will be the biggest challenge yet. For Dr. Phillips, the biggest concern will be to override the Cobras' defense and keep themselves ahead enough to secure the victory. With several games being down to the wire this year, this is not where you want to see this. This will be a great matchup.
Predicted Winner: Dr. Phillips
No. 14 Bloomingdale (11-3) at Lake Nona (10-1)
Quick Hit: Not much is known on what Lake Nona has done this year other than win some games quietly and sneaking in the backdoor to the regional playoffs through a 7-6 defeat of St. Cloud in the District 2A-5 championship game. Bloomingdale has been much more noticeable this year, having played a quality schedule that included Riverview who they lost to in the regular season, but got redemption on in the District 2A-8 championship game, Plant, and Robinson. Thinking at this point is you go with the team that has played the stronger schedule because you play that schedule to be ready for moments like this.
Predicted Winner: Bloomingdale
Lakewood Ranch (10-3) at No. 1 Alonso (13-0)
Quick Hit: Lakewood Ranch won District 2A-8 in their first year of being playoff eligible. However, drawing the state's top overall team in the first round of the regional playoffs is not the warmest greeting you get. For the Mustangs, they are going to need to play a perfect game. That is what it will take for them to beat Alonso. The biggest concern why this might not happen is the schedule they played. With the mostly round-robin scheduled played by Manatee County schools due to travel at this time, Lakewood Ranch has not faced any true tough tests from teams outside its own area with the exception of a 14-12 win over Harmony. On the side for Alonso, the Ravens have been the shutout queens of the season with 11 of their 13 games seeing a shutout being posted. That speaks for the defense of they bring out on to the field. If anything, Alonso is the to beat throughout this entire playoff bracket.
Predicted Winner: Alonso
West Boca Raton (11-2) at No. 3 Seminole Ridge (11-1)
Quick Hit: Not much is known about West Boca Raton except they have quietly won games this season and rode through the District 2A-10 tournament with two big wins including shutting out No. 1 seed Park Vista to claim the title. Looking at Seminole Ridge, they are not as flashy or quick hitting of a team as they were just two seasons ago, but the fight hard and they work hard to win games, some of them which have been very, very close this season. In fact, the only loss this season was to Glades Central, a Class 1A playoff team. At the end of the day, I think experience comes down to who wins this game and that goes right to the host Hawks in this one.
Predicted Winner: Seminole Ridge
No. 18 Western (11-2) at No. 20 Blanche Ely (11-0)
Quick Hit: Western snuck into the regional playoffs with a revenge, 8-7 win over Piper in the District 2A-12 district championship last week after coming up short during the regular season. Western has been in the hunt for this last two years, which they now get to go on the road and face off against Blanche Ely. For the host Tigers, they only played nine regular season games so this could be a bit concerning as most of the games were limited to teams being nearby and not the strongest. For Western, they have played a much stronger schedule over the last two years and I think this comes into play here.
Predicted Winner: Western
No. 12 Dr. Krop (9-1) at No. 6 Cooper City (13-1)
Quick Hit: One of the very, very few rematches of the 2017 playoffs that we will see here. In fact, this is the only rematch in the playoffs in Class 2A from last season, so that might give you an indicator of how well they parity is here in girls flag football. Dr. Krop has played well enough this season to keep things rolling, but nowhere as strong enough to potentially win a GMAC (Miami-Dade) title. Cooper City, has once again shown they are not a team to be taken lightly. They played a tougher schedule that includes their only loss on the season to Godby. I think for Cooper City the schedule they have played works out more in their favor than not in this situation and the fact they are at home as well.
Predicted Winner: Cooper City
Miami Killian (8-2) vs. Miami High (8-3) at Traz Powell
Quick Hit: Miami High has once again done circles on teams in their area, quietly sneaking up on others and making a statement at the district tournament. Miami Killian did the same thing, winning games they needed to and then really turned things up in their district tournament. Now both teams meet here and only one thing can be said – someone will be one step closer to Boca Raton. The biggest question as who gets there. Looking at both teams, they are pretty evenly matched. However, with Miami High has been here in this position since starting their programs just a few years ago, I think the advantage goes to the host Stingarees over the visiting Cougars.
Predicted Winner: Miami High