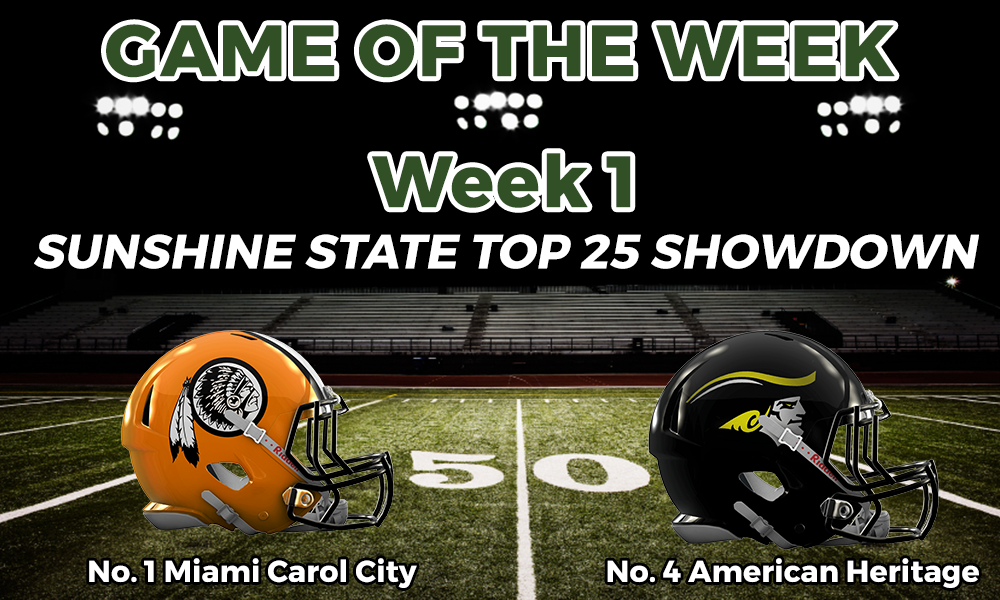 NO. 1 MIAMI CAROL CITY AT NO. 4 AMERICAN HERITAGE (PLANTATION)
When: Friday, August 24, 7:30 p.m.
Where: Heritage Field, Plantation
Miami Carol City Outlook: Miami Carol City rolled into Tallahassee last Saturday and never looked back steam rolling Rickards (Tallahassee), 63-0, in the Jonathan A.P. Ferrell Memorial Classic at Bragg Stadium. According to the Tallahassee Democrat, the Chiefs dominated the game from start to finish not allowing Rickards to have any breathing room. Carol City is loaded with a ton of talent including RB Naqyuan Wright, DB Jarvis Brownlee, DT Malcolm Ray, WR Amari Johnson, plus with the addition of transfer senior QB Daniel Richardson from Booker T. Washington (Miami), the Chiefs will have plenty of playmakers to go to.
Plantation American Heritage Outlook: American Heritage took a 48-24 victory last week at home against University School (Fort Lauderdale) that saw junior quarterback Edwin Rhodes throw for three touchdowns according to the South Florida-Sun Sentinel. The Patriots entered the season looking a bit different than the past two state championship teams which have been loaded with Division I prospects, but they feel they won't be that far off this year. With a 27-game winning streak, the longest in Florida, on the line, the Patriots will be looking to make sure it goes to 28 but facing one of the top teams from Dade County is going to provide an early season test.
FloridaHSFootball.com Pick: Carol City over American Heritage
Joe Pinkos: Carol City by 7
USA TODAY HSS Score Predictor: American Heritage 28, Carol City 20
POLL: Who wins Friday night between No. 1 Miami Carol City and No. 4 American Heritage (Plantation)?

GAME DETAILS:
Friday, 7:30 ET
Heritage Field
Plantation #flhsfb@CarolCitySr1 @AH__Athletics

— FloridaHSFootball.com (@FlaHSFootball) August 21, 2018